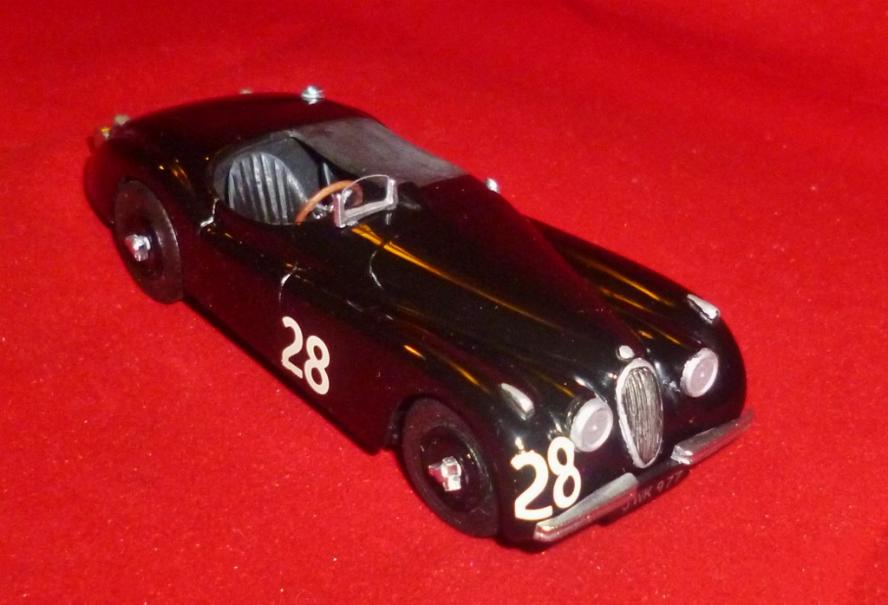 1950 Jaguar XK 120 OTS "JWK 977"
Jaguar XK120 JWK977 was one of six alloy bodied cars raced by the works team. In fact, all the original run of XK120s were alloy bodied, not just for lightness but because it was actually easier to procure than steel which was still "rationed" post war. Demand for the car caught William Lyons by surprise, he had envisaged at most a single years manufacturing life, so the aluminium body was coach built in the traditional manner. Such was the demand that in 1950 a switch was made to a quantity production pressed steel shell, although they retained the aluminium doors, bonnet, and boot lid.
One of the world's most outstanding sports cars it found particular favour in America where, with the MG, it spearheaded a sports car revival. The 3.4Ltr XK straight-6 engine was quite advanced for the time and remained the basis of Jaguar engines until the late 1980s. It had dual overhead-cams, twin side draft SU carburettors and an alloy head.
The cars also had removable windscreen so aero-screens could be used if preferred. The removable rear wheel spats, which gave a more streamlined look, had to be omitted from cars running centre-lock wire wheels as there wasn't enough clearance for the knock offs. Unfortunately, the brakes, being drums all round, had a tendency to fade with heavy use.
The six alloy-bodied XK120 "Open Top Sports" cars were allocated to Leslie Johnson, Peter Walker, Nick Haines, Clemente Biondetti, Ian Appleyard and Tommy Wisdom. The cars were regularly raced across Europe and the U.S. scoring victories in production car races and some of the most gruelling rallies in the motorsport world.
In 1949 Peter Walker was second in the Silverstone Production Car Race. The following year Walker and the number 28, XK120 reg' JWK977, won the 1950 running of the same event from Tony Rolt, Leslie Johnson spun on some oil but recovered to finish 8th giving Jaguar the team prize. Walker's average speed was 131.773kph for the one-hour race.
For the 1951 race there were 11 XK120s entered with all Jaguars top drivers in teams of three for the team trophy. The impressive youngster Stirling Moss won the race and Peter walker, in the number 27 XK120, had a rotten race ending up 15th overall.
Peter Douglas Conyers Walker was a reliable driver particularly adept at extracting the best from sports cars, notably in endurance racing where he was victorious in the 1951 24 Hours of Le Mans race, and the Goodwood 9hrs in 1955. A crash in 1956 left him badly burned and this sports car ace retired.
Jaguar XK120 ch#660042, JWK997 is now in private ownership but does occasionally appear in historic races and Jaguar rallies.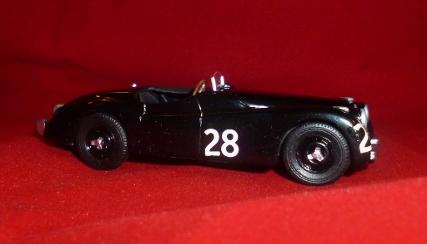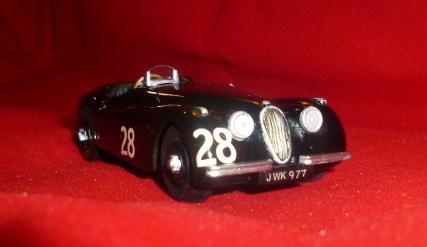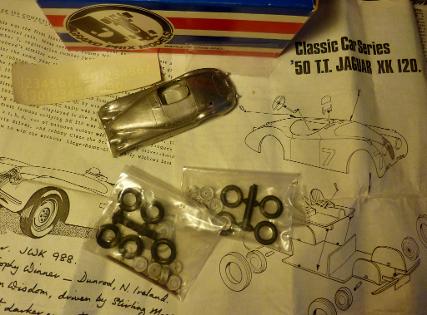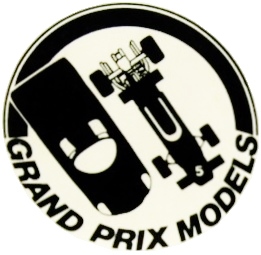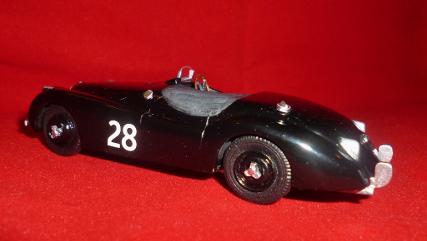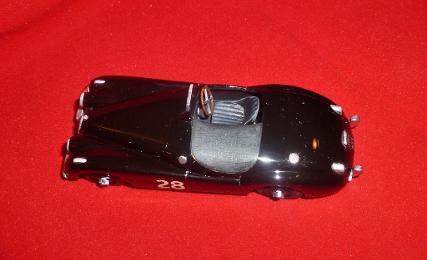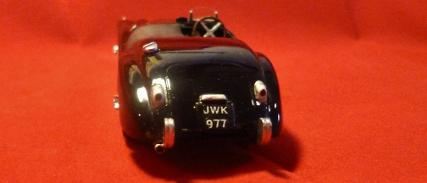 The "Grand Prix Model" car kits range was varied and of varying quality and difficulty. They do come up on the second hand markets and computer sites but are not common anymore. This particular kit is very straightforward and has few parts.
Ian built this model straight from the box during September 2017.
The white metal castings needed a lot of cleaning up and fillers to to get it close to a decent level surface. Ian
used AlcladdII primers and PlamoUK gloss black paint applied by air brush. Molotow liquid chrome pens were used for the bright work.