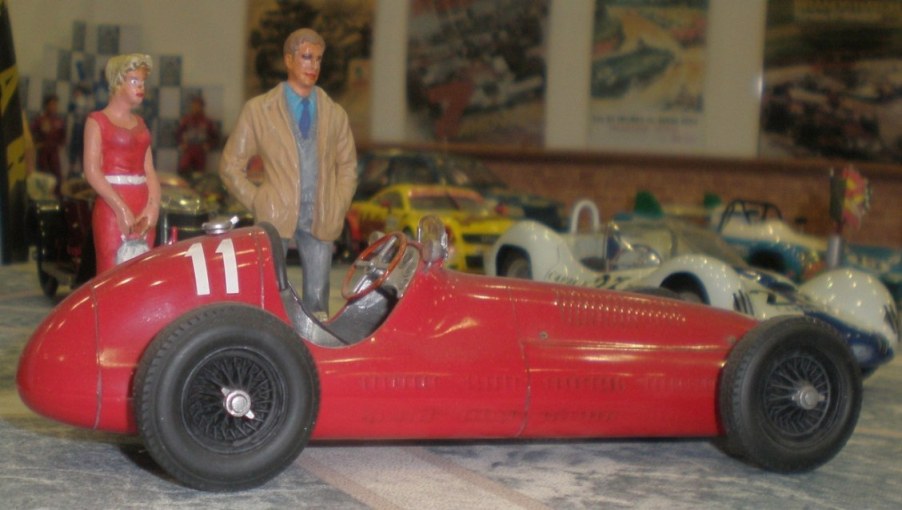 As is the case with nearly all the older marques, Maserati was a family name. In fact there were seven Maserati brothers, six of whom were fascinated by the newly born automobile (the other turned to painting) and who found work with Isotta Fraschini, Fiat and Bianchi. Alfieri Maserati eventually opened a workshop in his own name to build Isotta Fraschini engines and was soon joined by two brothers. However it was twelve years later that the first true Maserati car came out of the workshops.
The 4CLT was a development of the 4CL which had been strong opposition for the Alfa Romeo 158 and the ERA in the pre-war voiturette classes. The CL was upgraded with tubular chassis and two stage supercharging becoming the CLT by 1948. The development continued at a steady pace each year and into the new formula one era.
It was a good car for privateers and Maserati supported customers quite well. Many of the great names drove Maserati 4CLTs at some point in their careers, names like Alberto Ascari, Reg' Parnell, Luigi Villoresi, Louis Chiron, Baron de Graffenried and Juan Manuel Fangio
Maserati 4CLT 1948 British GP winner.
With Brooklands no longer fit for racing (Vickers having built many dummy buildings and several real ones on the circuit so cars simply couldn't get all the way around), a new venue for motor racing on an international level was needed. Airfields were now becoming disused and several had been tried for club meetings where the mix of high speed runways and winding perimeter tracks gave racers an interesting challenge.
This race meeting marked the opening of the Silverstone as a race circuit. It had been a bomber station during World War II so at this time was on a one year lease to the RAC. The 1948 Silverstone lay out is most unfamiliar to our eyes, and did not exist beyond this grand prix. Even at the first race the idea of cars hurtling towards each other along the main runways, separated by little more the straw bales and few yards of space, was thought to be unsafe!
The entry list for the race was a right mixed bag of pre-war cars and post war works entries. Works teams from Maserati, Talbot-Lago and Ferrari were backed up by privateer entries including a variety of ERA models, local specials and even the pre-war Alfa Romeo Bimotori to be driven by ex-Colditz P.O.W. Maj. Tony Rolt.
The Favourites were the new Maserati 4CLT/48s to be driven by works driver Luigi Villoresi and British guest driver Reg Parnell, a second works driver Alberto Ascari was added later followed by a fourth car that was a reserve entry again to be driven by a British guest driver, Leslie Brooke. A whole raft of pre-war race drivers were on show as well as local privateers and interest in the race was very high. Notable by their absence were the Alfa Romeo works team, and the dominant 158 Alfettas.
The 65-lap Grand Prix was won by Italian Luigi Villoresi, driving a Maserati 4CLT/48 that had arrived too late to qualify and had to start from 24th place on the grid. In the race the two late arrivals quickly started carving their way through the pack while Reg Parnells car split it's fuel tank on the first lap! Villoresi, setting the fastest lap of 2:52.0, and Ascari had the race to them selves finishing a clear first and second. The best of the rest was Bob Gerrard in his ERA R14B.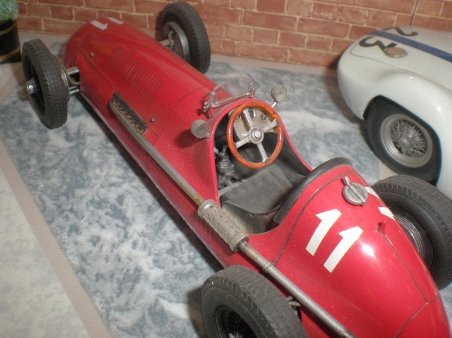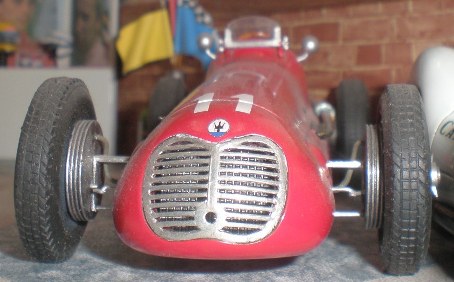 1/24th scale kit.
Built by Ian.


Sometimes you have to think twice about building a kit and this was one of those occasions. Merit kits have become expensive collectors items and by making the model the value drops a lot. That said the kits were made to be built and enjoyed, not shut away to appreciate (and I have another one still mint!). By today's standards the Merit range is rather basic but they do seem to have captured the lines of the era very well. With a little research plenty of pictures become available and the models can be improved no end with some simply details, things that were not available back in the 1950s when the plastic model kit industry was in it's infancy.
The wheels came from a later model found in a bits box and were moulded and cast in resin, painted matt black and dry brushed to pick out the spokes. Not perfect but much better than the clear disc and decal the kit provided. The tyres, I think, came from South Eastern Finecast. Photo-etched parts were used for the bonnet catches sourced from various generic sets.
Bare metal foil was used in a variety of locations as it always gives a much more realistic look than paint. This included on the grill which had been thinned out from behind using a mini motor tool and dental bur before the final cut through was made with a knife. Having opened out the grill I found a radiator from the spares box and emended it to fit behind the grill. The body is spray painted with Halfords car paints and the panel lines picked out with Citadel inks. Simple brake lines were added and aero screen updated with wing nuts and bare metal foil.
RETURN TO -