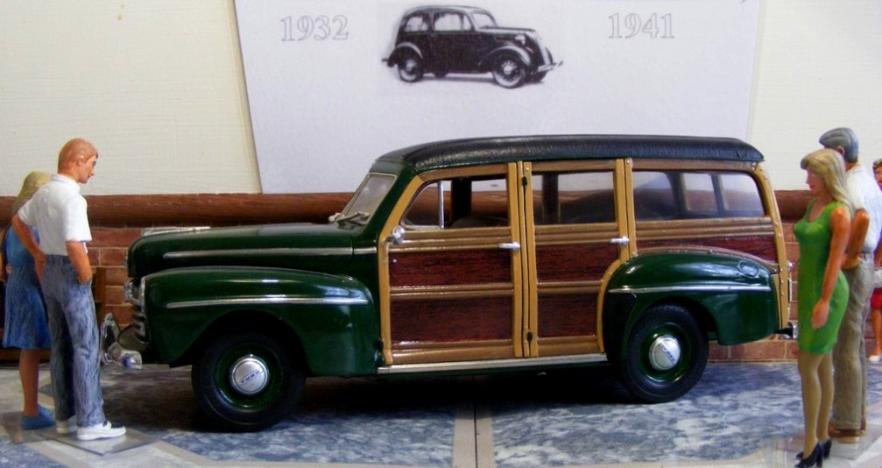 An Estate car, or Shooting Brake, or Ranch Wagon, call it what you will but this body style is known to the Americans as a 'WOODY'!
In many ways this car marked the end of an era, as the all-new, totally re-designed 1949 Ford would signify a radical shift in car design! The distinctive 'fat' fenders of the 1948 Ford disappeared into the slab sided 'shoe box' shape of the 1949 car, never to be seen again. The solid I-beam front axle and transverse leaf spring, just like the old model T, would also disappear, replaced by independent front suspension. And it was the last year for Fords traditional 4-door woody wagon body, to be replaced by a 2-door partially wood bodied style for 1949.
Next to the 'Sportsman' wood-bodied convertibles, the 'Woody' is the rarest '48 body style, with only 8912 produced. Except for the 'Sportsman' it was also the most expensive - it sold for $1972, and was also available in Super Delux trim.
A matching 1948 Ford Convertible also appears in the Museum. The engine from the 1948 series Fords is included in the engine display.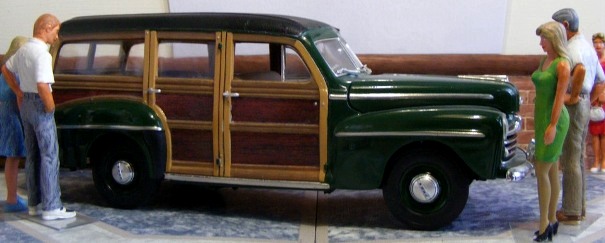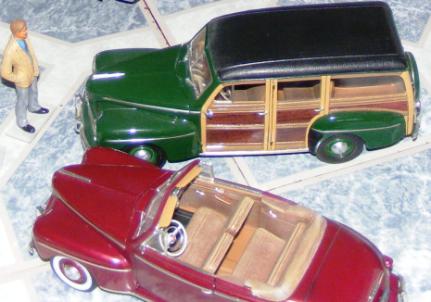 1/24th scale kit.
Built by Rod.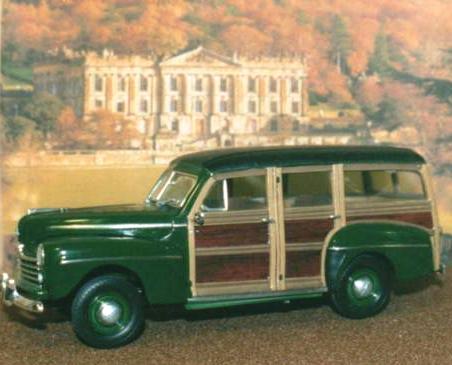 Built straight from the box this is one of Rods favorite models. The Woody panels are Fantasy Printshop Wood-grain transfers. In reference photos the up-right and horizontal frame members are a different colour or texture and are probably different woods which would be used to counter the vertical and lateral stresses imposed on the frame. Rod brush painted these members in different shades of brown to differentiate them, Whether right, or wrong, it looks much more effective than all in one colour.
The Cleon cut edge to the chrome trim was achieved by applying Bare Metal Foil before spraying the Halfords Laurel Green body colour, then before it was really hard dry rubbing back with T-cut.
The roof is covered with 'The Model Car Garage' Vinyl Top Kit MCG-713.
RETURN TO -