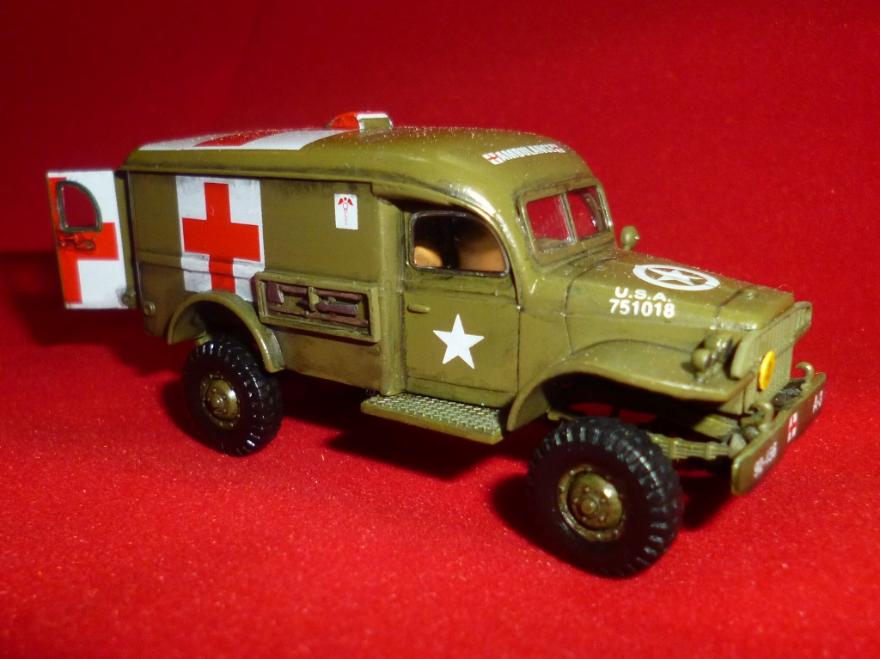 Dodge WC series ambulance.
Some 22,857 of the Dodge WC 54 3/4-ton ambulances were built and deployed in all theatres of war, with many of the Allied powers (thought notably not Russia). The Dodge model code WC is derived from W for 1941 (first year of production) and C for half-ton rating. The C code was subsequently retained for the ¾ ton and 1½ ton 6×6 Trucks on the same basic chassis design. The series included a range of 38 body styles for the various tasks required by the U.S. Army; weapon carriers, telephone installation trucks, radio trucks, ambulances, reconnaissance vehicles, mobile workshops and command cars. Power came from a 6 cyl, in-line, L-head engine which passed through a 4 forward/1 reverse manual gearbox and transfer case to the single speed 4×4 drive. The standard wheelbase was 116in' but for the ambulances and radio trucks was increased to 123in'. Track width was 59.375 in' running on 7.50x16 tyres. The brakes were hydraulic all round.
The rear of the ambulance truck is made from steel panels, made by Wayne Body works, with a Carlisle Ambulance insert section lined with hardboard masonite. Heating and ventilation were included to aid comfort for the wounded. That said, the 'go anywhere' nature of these vehicles did not make for the most comfortable ride with speed and ability to traverse rough country and push through thicket and hedgerows meaning the four stretcher cases, or seven walking wounded, would have to tough it out even before receiving treatment at an aid station.
The crew consisted of two men a driver and a medic/spare driver but the main priority was not treatment but transfer to an aid station. Once stabilised, as much as possible at the scene by the unit medics the ambulance crews' job was speedy delivery to better equipped aid stations.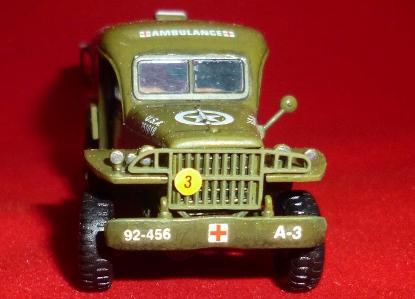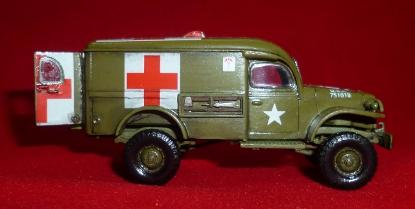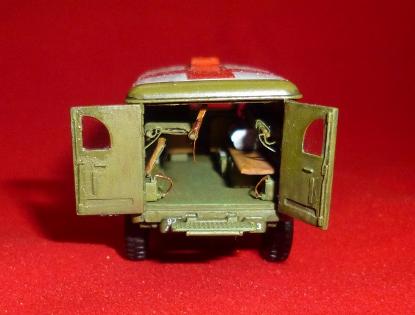 1/72nd scale kit.
Built by Ian.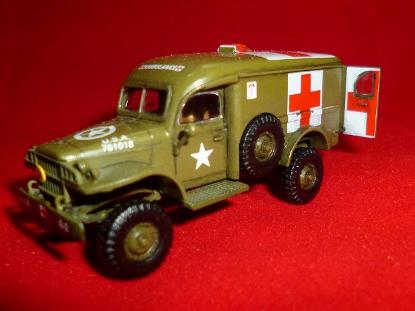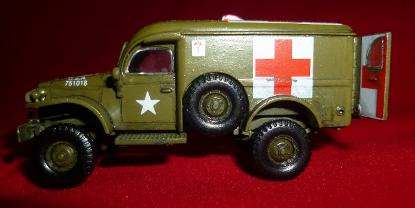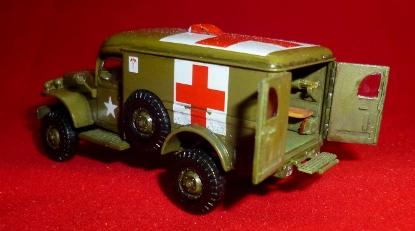 Academy's 1/72nd scale kit (#13403) of this ambulance is nice and with the addition of the brass etch set from Eduard (no. 22111) can be fantastic. Ian didn't intend to go to those lengths but added detail where it visibly enhances the model. All the detailing was done with scratch built parts made from Evergreen strip, masking tape, fuse wire, lithograph plate and plastic card. It is all brush painted with Humbrol enamels and Citadel acrylics.
Academy Plastic Model Co., Ltd. is a based in Korea although it has other headquarters in Germany and the Philippines. Initially established on the 1st of September 1969 as a chemical company it soon got into the production of plastic model kits and toys.
The company tag line "ACADEMY - A Passion for Precision" has at times been proved less than precise but increasingly Academy kits are high quality mouldings with almost no flash. Their general detail level is good even if accuracy has lapsed on some kits. The box art is striking with full colour paintings on the box tops as well as photo's of the model built to a high standard. Historically the instructions from Academy kits have been vague and poorly translated from the original Korean however the more recent releases are much improved in this area.
Academy is known for its mould production and injection technology, product design and production capacity as well as a strong ethos of encouraging education; it is important that the builder has a sense of accomplishment on completing the kit. In the past Academy might not have been the first name you thought of in the plastic model industry (or even the 10th), but it has grown to develop over 500 products supplied to more than 60 countries worldwide. It has repeatedly won "Modell des Jahres" awards for its products.
Academy manufacturers plastic static display model kits in its Craft Series. Primarily these have been 1:35 scale "Military Miniatures" of WWII vintage but they have recently diversified into 1/72nd scale military vehicles and introduced other wars and scales. Figures to accompany the vehicles and aircraft are produced and ships also feature. They have also sold radio controlled cars and boats as well as sailing ships but their most novel range was spawned by their desire to educate people. The "DaVinci Machines Series" includes model kits of several important Da Vinci ideas, including his clockwork cart. This theme is developed in the "Alternative Energy Series" of kits which use Solar energy or Wind power to move the models
Most of their cars have been from other peoples moulds most notably Minicraft. The only F1 car produced by Academy was a 1/20th scale Benetton in 1997.
RETURN TO :-