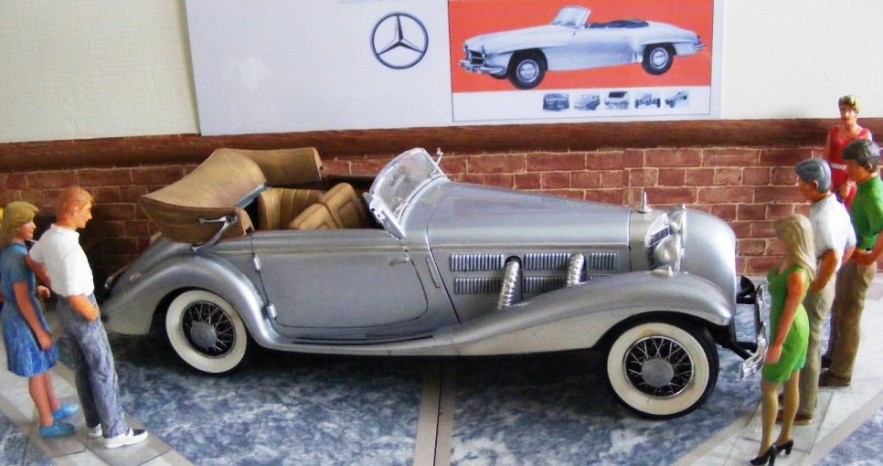 The last in the series of great Supercharged sports cars, the 540K - (540 for 5.4 lt. Capacity, K for Kompressor) was in production from 1934-39. Hans Nibel had succeeded Porsche as Chief Engineer at Mercedes in 1928 and under him the sporting machines became more refined and elegant.
Most attractive of all the bodies was the works own 2-seater roadster introduced at the 1936 Paris Motor show. This Friedrich Geiger designed car was a development of the 500K, itself a development of the SSK. Available as 2-seater cabrio', 4-seater coupe or 7-seat limo' with armoured sides and glass, it was one of the largest cars of the time.
The straight-8 engine of the 500K was increased to 5.401 litres, aspirated through twin pressurized updraft carburettors and developing 115hp. There was a roots type supercharger that could be engaged manually for short periods, or automatically with the accelerator pushed fully to the floor. Powere was then increased to 180hp and a top speed of 110mph.
Transmission was through a 4-speed, or optional 5-speed, gearbox with synchromesh on the top three gears. Vacuum-assisted hydraulic brakes where fitted to a chassis basically the same as the 500K but lightened by replacing the girder frame with oval-section tubes, influence of the successful "Silver Arrows" designs no doubt. Three chassis variants were available as for the 500K.
BLUE GOOSE.
In 1936 a 540K 'special' was launched, the 5440Ks. On the short chassis and with a crafted body it bore a price tag of 28,000RM. 6,000RM above the standard model. One Hermann Goering had one in his favourite blue colouring. It wore hs family crest on both it's armour plated sides and of course bore the bullet proof glass. Goering was often photographed with the car nicknamed 'Blue Goose'.
On May 4th 1945 the U.S. Army entered Berchtesgaden and finding the car took possession of it. Maj.General Maxwell Taylor used it as his command vehicle untill it was requisitioned by the U.S.Treasury and taken to the 'States to do fund raising work. In 1956 Blue Goose was auctioned off to Jacques Tunick with a winning bid of $2167. In 1958he sold it to Dr. George Bitgood Jr, who repainted it black! After Dr. Bitgoods death the car was sold to Carnlough international limited on the agreement that she be restored to her "as found at Berchtesgaden" condition.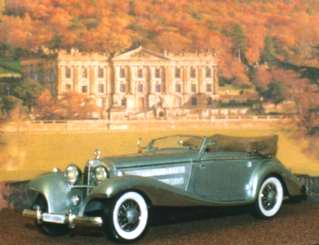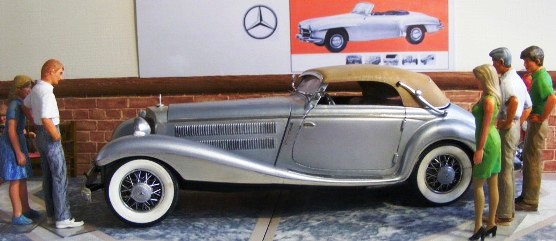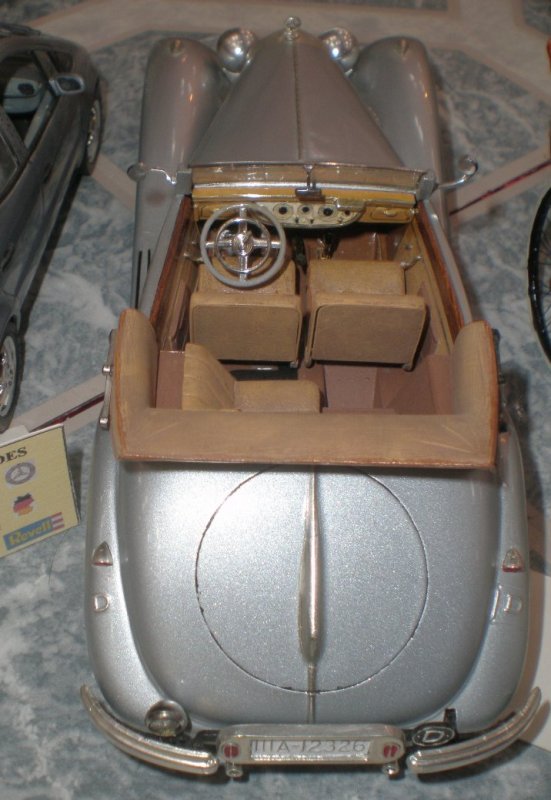 1/25th scale kit.
Built by Rod.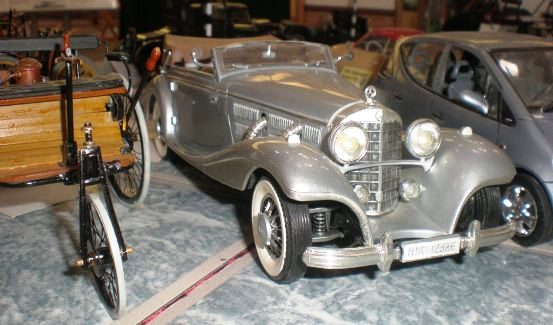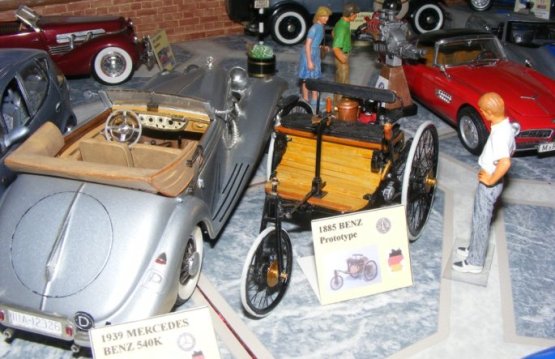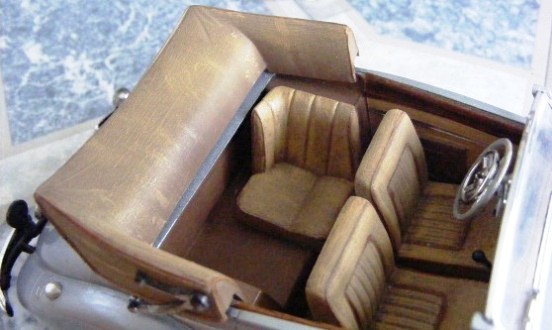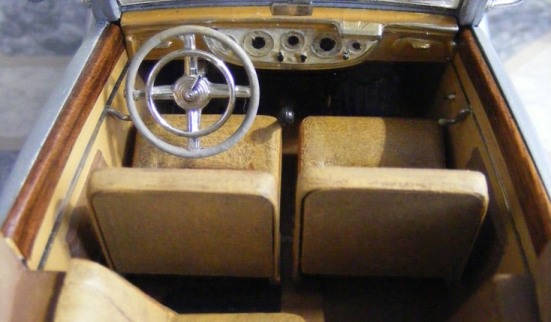 Originally built in the 1960s Rod restored this model in 2002 (it had an accident at a show!). It is built straight from the box and is now painted with Halfords acrylic cars paints and humbrol enamels. Note how thinned matt black paint has been used on the radiator grill and the suspension springs to help give depth and reality to the model, simply wash on the paint and when it starts to dry gently rub it off with a soft cloth.
Some gentle washes and dry brushing have been used to give the interior and hood some life. Bare metal foil was applied to the window frame and bonnet hinge to help them look more realistic.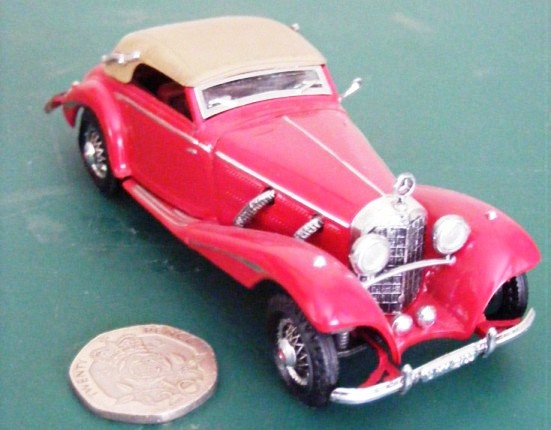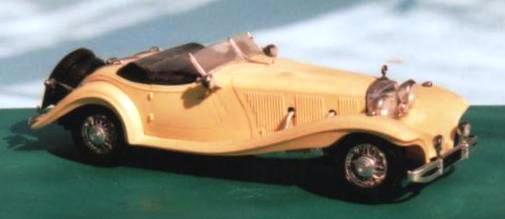 Two other versions of the Mercedes 540K within the museum collection are this red 1/43rd scale Revell kit and another version in 1/25th by Monogram. The sand coloured model was kindly donated by Mr. D. Bonas of Plympton and is awaiting restoration.
RETURN TO -