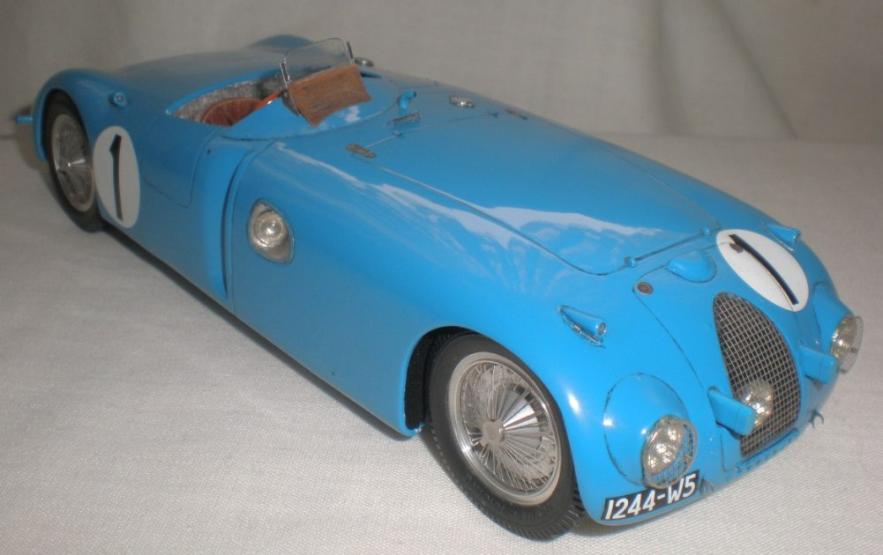 The Type 57C based "Tank" won the 1936 French Grand Prix, and the 1937 24 Hours of Le Mans. Having conquered the greatest endurance race Ettori Bugatti said there was no need to continue in sports car racing, they had proved they are the best, and shut the program down.
However Bugatti's son, Jean, (aided by Jean-Pierre Wimille) persuaded his father to have another go at le Mans for 1939. Bugatti laid down the rules though and said "only one car can win, so you can only build one car".
The 1939 running was the 16th Grand Prix of Endurance at le mans. It would be the last for 10 years as the race planned for June 1940 was called of due to the invasion of France. Le Mans 24hr endurance racing didn't return till 1949.
Entered by Team Jean-Pierre Wimille and carrying race number 1 the car was driven by Wimille and Pierre Veyron, later to be immortalised by the Bugatti Veyron of 2005.
Veyron had been offered a job by Jean Bugatti in 1932– an ideal position allowing him to combine his passions for racing and engineering. He continued to race as a works driver and won many races including the 1933 and 1934 Berlin Avus races with the Bugatti Type 51a. It was his engineering skills, in developing the Type 57 car, which built a strong financial basis for Bugatti.
The type 57 Chassis is based on the "surbaissé" Type 57S and had live axels front and rear with semi-elliptical springing at the front and quarter-elliptical at the rear. Cable drum brakes all around. It had a long wheelbase of 3.30 m. Powered by an straight 8cyl engine, each having 2 valves per cylinder operated by 2 overhead camshafts. A Stromberg Carburettor fed the supercharger. Cubic capacity was 3.257cc through a bore and stroke of 72mm x 100mm. Power was rated at 220 hp.The body, always drawn by Jean Bugatti, is more streamlined than the "tank" of 1937. its elegance enhanced by the beautiful wheels.
The car had very little testing and on one test broke its engine requiring 8 new pistons to be brought up from the Alsace. Once the race was underway other competitors had their own problems and The T57c Tank came through to win. Covering 248 laps and improving Bugattis 1937 record by 66.822 Km.
A few weeks later, Jean Bugatti took the winning car for a test run up the Molsheim-Strasbourg road. A drunken bicyclist required avoiding action and as he swerved the young Bugatti lost control and crashed the car. He died, aged just 30.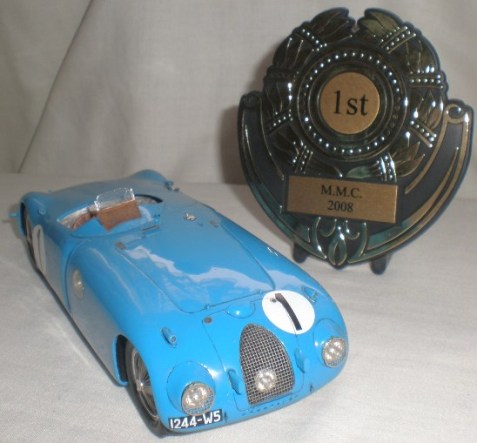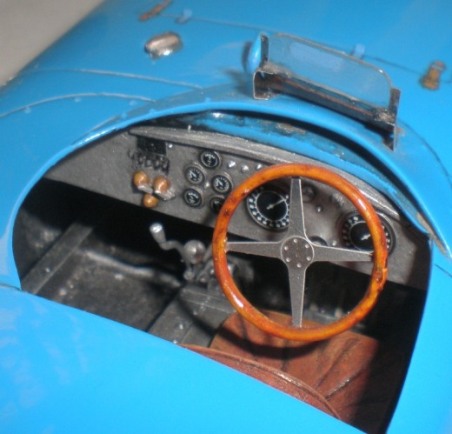 1/24th scale kit.
Built by Ian.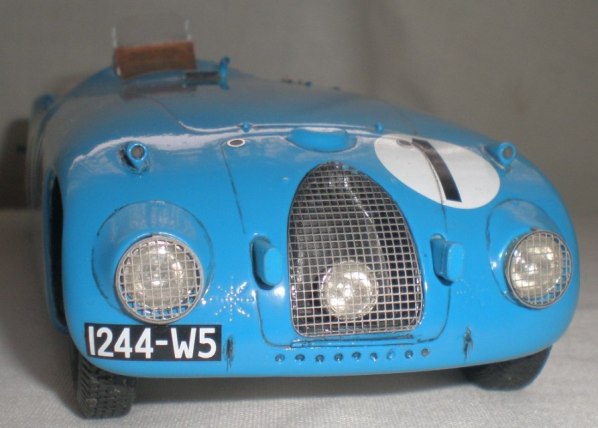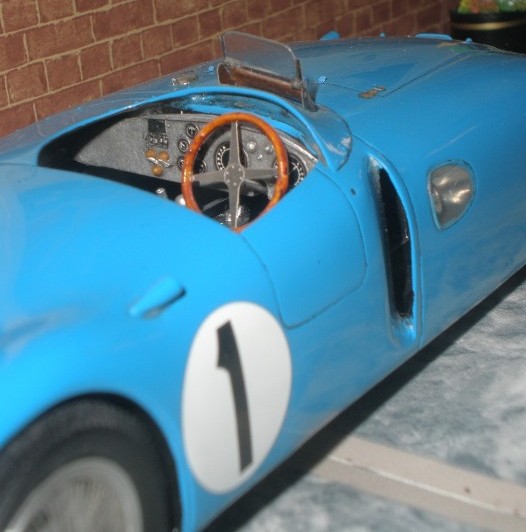 Profil 24 have produced a very interesting range of cars, many le Mans winners, and their kits are generally straight forward to build. Being resin kits they need different preparation but other wise the same steps as for any plastic model kit.
This car was built in early 2008 straight from the box. Halfords car paints and citadel acrylics were used. Washes and dry brushing helping to give life to the model.
RETURN TO -