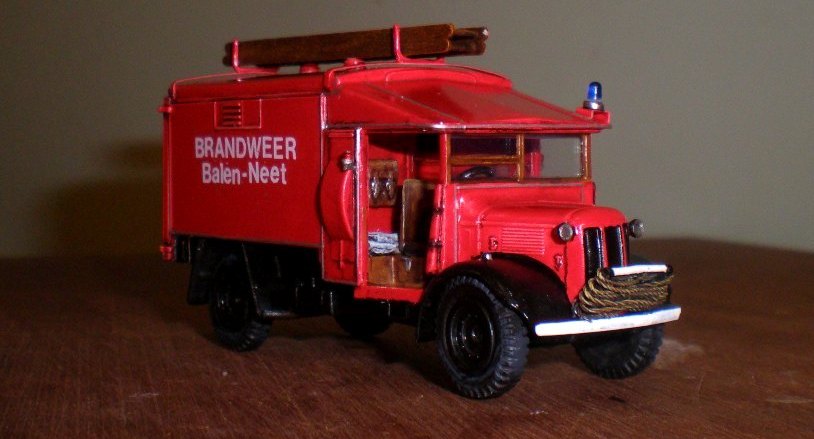 Austin received a state order forcing them to return to the production trucks in January 1939, the British government probably foreseeing the war to come. Austin's new range, later called "series one", comprised of two versions initially, the 2 tonne capacity K2 and the 3 tonne K3.
For WWII Britain needed a go anywhere Ambulance that could serve the Army in all theatres, the RAF and Navy on, and around, bases as well as augment the severely stretched civilian Ambulance Services during the German Bombing campaigns on the cities and towns of Britain.
Austin's new two tonne K2 chassis seemed ideal. It had a six-cylinder overhead valve petrol engine giving 60-63 hp which translated to a top speed was around 50 mph, though some have claimed to have gone as fast as 70 mph. The Austin 4-speed transmission was described as "needing to be understood", once mastered though it provided good service. The chassis featured hydraulic brakes all round and leaf spring suspension.
It was adapted for the Ambulance role by the addition of a wood frame and fabric rear body built by Mann Egerton. The Austin K2/Y ambulance was born. It could carry ten seated casualties, or four stretcher cases, but has been reported as carrying 27 wounded personnel on one occasion during the North African Campaign.
Mann Egerton bodies were also fitted to Morris Commercial and Bedford chassis but the Austin K2/Y was the most popular, 13 102 being made in Austin's Longbridge plant.
The same chassis was adapted for the National Fire service during the war. Austin K2 chassis with van style bodies carried personnel and equipment and often towed trailer pumps too. Many of these vehicles continued in service as fire tenders and ambulances post war, those that did not went onto war reserve or were sold off as surplus. Some managed to find new homes but many were ultimately scrapped. They could be seen as delivery vans, canteens and even engineering service vehicles into the 1960s.
Austin continued the production of these chassis up to 1949 (Post war versions of the Austin models had an updated radiator grille design), when the 'Loadstar' or 'series II' came online. The new K2 and K4 trucks had more streamlined 'American' looks, essentially very similar to the K6 truck cab but with high wings and flatter front grill and bonnet. They were also endowed with up-rated 4-liter engine giving 85-90 hp.
A K2Y ambulance, similar to ours, was the "star" of the 1958 film Ice-Cold in Alex, a Movie that stands out from the other WWII 'Sunday telly' films and is fondly remembered largely for director J. Lee Thompson's unambiguous storytelling. Thompson played on the simplicity of the Morrison/Landon script and the all star cast built up the tensions within each character s as well as between them. This is a great film about how to overcome obstacles and remain human beings within the cauldron of war.
Our 2nd K2 is of a converted ambulance which saw service post war with the Belgian fire Brigade, or Brandweer.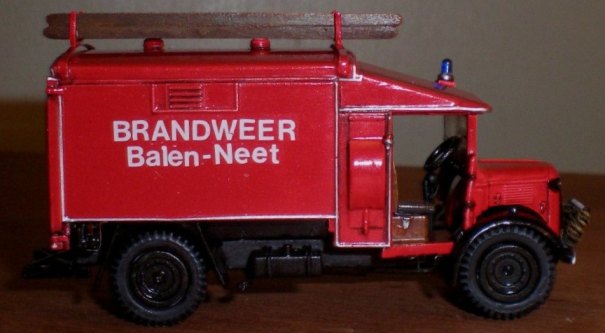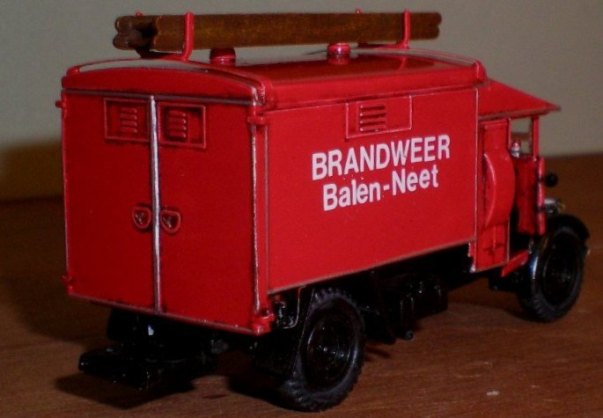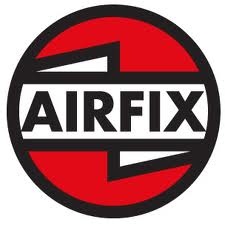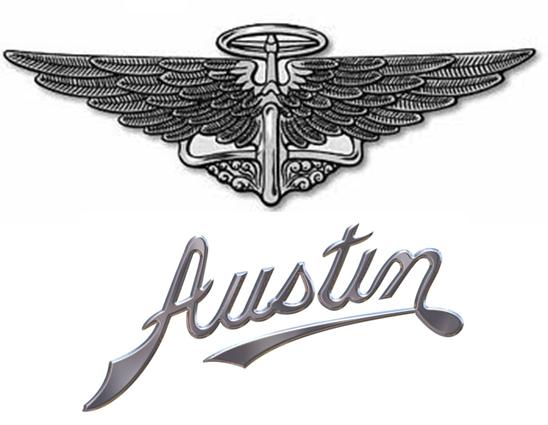 1/72nd scale kit.
Built by Ian.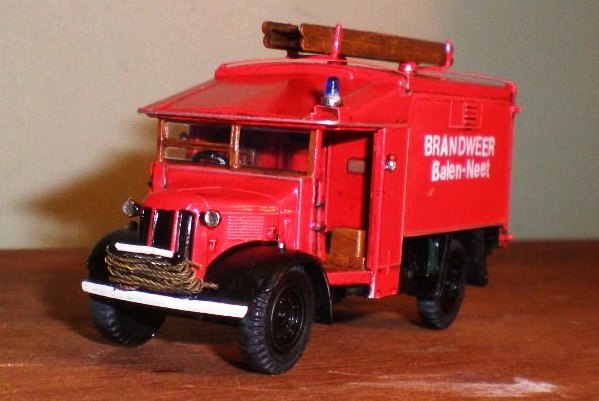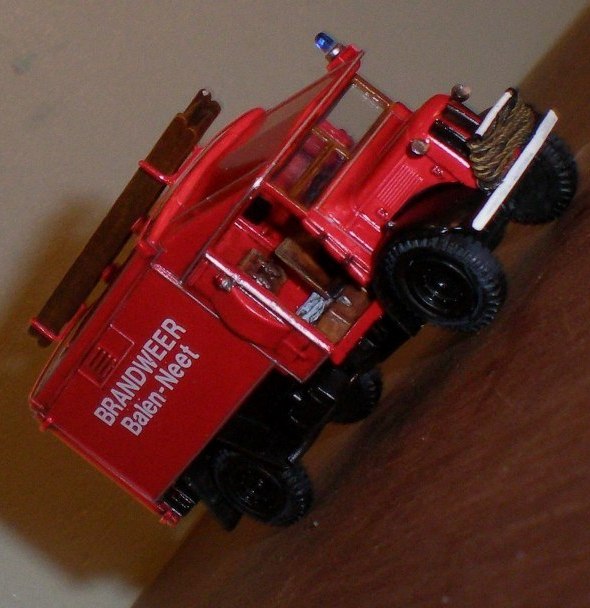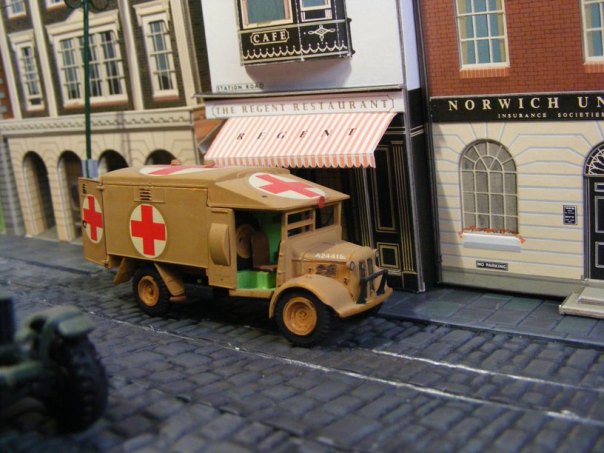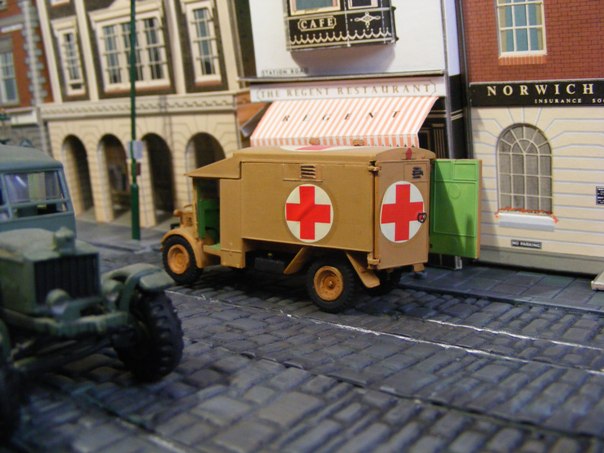 Ian built the Ambulace straight from the box in the 1980s, many years after making his first one as a child. Aifix' kit is really a little gem given its age. The detail is good and it seems well proportioned, there are a few flaws and omissions but for it's age, and the scale, it is still worth todays asking price in the shops.
One point on scale though. Originaly boxed as an HO kit, then 1/76th and today as 1/72nd. All the kits are the same but which scale is correct? In our case it doesn't matter as the truck stands alone and for photos on the internet scale becomes irrelevant. What ever the correct scale the model has lots of conversion possibilities and in years to come other K2 trucks are sure to be added to our collection.
The Fire tender conversion is mostly paint work but I added several stowage points for fuel and water cans, a carrier frame and scratchbuilt ladders as well as a rear step. Glazing was put in by recessing the windscreen pillars and frames to accept a piece of clear acetate. It is possible to go to great lengths adding details to these lovely little trucks as many photo' references can be found on the internet. It is interesting that this kit has been overlooked for a p.e. upgrade set, Ian used printing lithograph plates to make the steps and small parts.
RETURN TO -