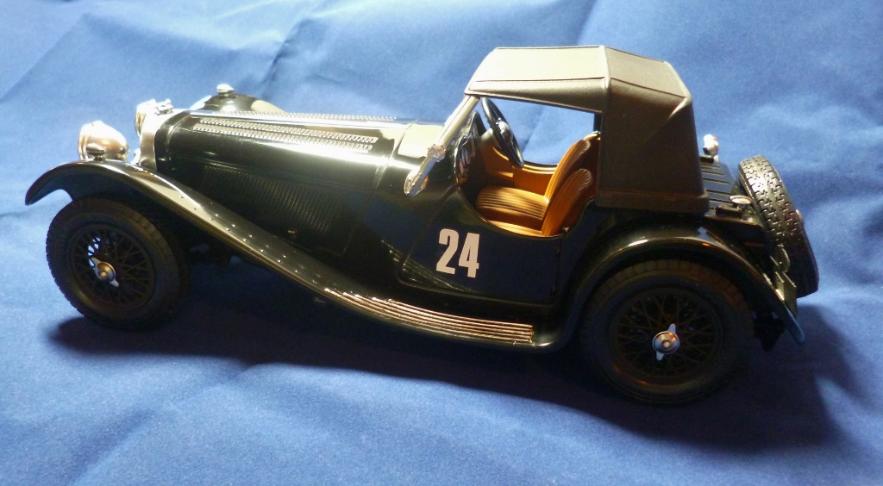 SS100 BWK77 "old number 8"
Perhaps the most venerated Jaguar SS 100 in competition was one owned and modified by the factory itself. Known to Jaguar enthusiasts as "Old No. 8;' from its chassis number 18008, it began as the 2.7-liter street car that won the top prize in the 1936 International Alpine Trial, a grueling long-distance Continental road rally.
The 8th and last- International Alpine Trial in 1936, run by the Swiss club, was but a shadow of it's forerunners. Under sanctions Italy abstained, whilst the automobile clubs of Austria, France, Germany and Great Britain remained it's nominal co-organizers. The 1455 mile event was run on Swiss territory and at ridiculously low average speeds. 72 cars started in Lucerne, 64 finished, 23 of them with a clean sheet. There were three speed hill climbs (Klausenpass, Bernina and Weissenstein near Solothurn), plus a "Kilometer Lance" speed test near St. Moritz. In the speed test, fastest time of the day went to Gaston Descollas (Bugatti 3.3Ltr, 26.1 sec), while the new 2.5 Ltr Jaguar SS 100, in the hands of Tommy and Elsie Wisdom was not much slower (26.8sec) and fastest 3.Ltr. Alfred Gutknecht, BMW, (28.7sec) scored best amongst the 2Ltr cars, and Dr Siebert, DKW, (34.8sec) was fastest 1100.
As the cars crossed the finish line at Interlaken, and the history books closed on the once glorious International Alpine Trials all eyes fell upon the results. Amongst the many prizes for teams and classes several British cars did rather well. H.E. Symons, driving a Wolseley and W.G. Lockhart in a Bentley both took 2nd class awards in the unlimited category and Donald Healey won his fourth glacier cup in the two litre class with his Triumph. But it was the Wisdom couple in their ss100 that caused the biggest stir back home as they took a "Coupes des Glaciers" in the 3Ltr class beating Swiss driver Oskar Bally (Talbot) G. Winner driving an Adler.
Over the next few years BWK 77 was hopped up and stripped down for track work. It lost its wings for better aerodynamics, but gained a 3.5L engine. For better weight distribution, its engine was moved back in the chassis and both its axles were moved forward. In 1937 it won a race at the old Brooklands banked speedway at 118 mph. Two years later it lapped the same track at 125. Running on a 14.0:1 compression ratio, with a supercharger and exotic fuels, it showed 169 horsepower at 4250 rpm on the test bed.
Jaguar cars went on to score hundreds of wins and placings over the years, and in many different forms of motorsports, but it was from this small acorn of SS100 success that the Jaguar Oak tree of legend would grow.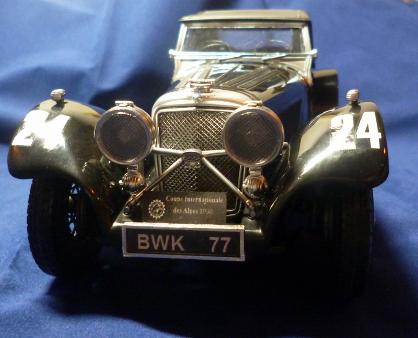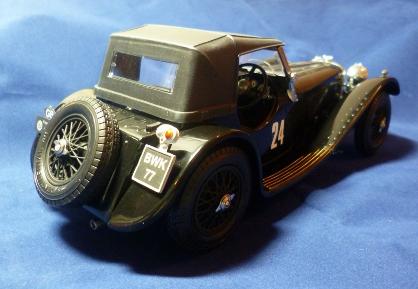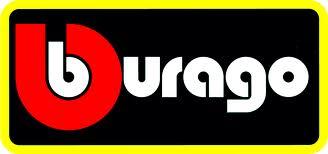 1/18th scale kit.
Built by Ian.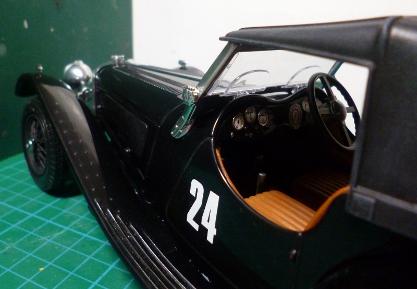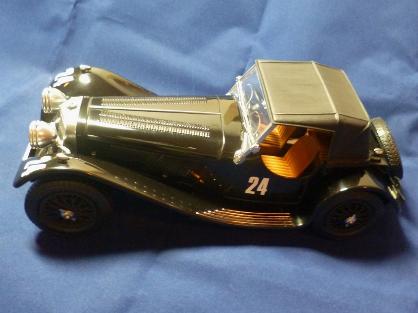 This Kit was donated to the Museum by an old family friend and neighbour, Mr Craig Humphries, in 2010. Initially Rod was going to build it but having already got two SS100 models he passed it on to Ian. Bburago have a variable reputation for their models and it is understandable.
Mario, Ugo, and Martino Besana, founded their first toy company, Mebetoys, together in the family home town of Burago di Molgora, Italy. This company they sold off to Mattel around 1973 before setting up again as Martoys from 1974 to 1976 focusing on larger scale models. From 1976 the company name changed to Bburago, with two 'b's. This was to recognise the Family name as well as their home town name. All scales of factory built models were sold and through the 1980's some of the products were released as kits. Interestingly Bburago kits were often of cars different to the Factory offerings in that they would be racing or rally versions of the cars.
The kits weren't too well received initially as the plastic parts were difficult to work with and likely to break. The decals also proved difficult to apply in as much as the adhesive seemed to wash away and the decals fell off. As the flaws were ironed out the kits became more user friendly and popular. Today they are rare and very collectible, as are many of the original factory built models.
Bburago was taken over by Maisto in 2005 and production transferred away from Europe marking the end of affordable diecast model production and sales in Europe.

Ian built the model in 2014 converting it to the Alpine Rally car. this meant removing the red paint from the pre-painted body and priming the plastic wings to take paint, which was not as easy as it sounds as the plastic is of a soft and flexible nature that is hard to key paint to. As the body colour was the most important thing for this car Ian used a new type of paint from Plamo UK (see our links page) for the model. Lacquer based paints are becoming popular in custom cars and the range is equally good for all automotive models. Although Ian built the model mostly from the box the dashboard has bezels and details from the old S&S specialties range applied. A new metal hinge for the bonnet and custom made decals. The race plates took a considerable amount of research and computer artwork to get as close as possible to the original race boards.
RETURN TO :-