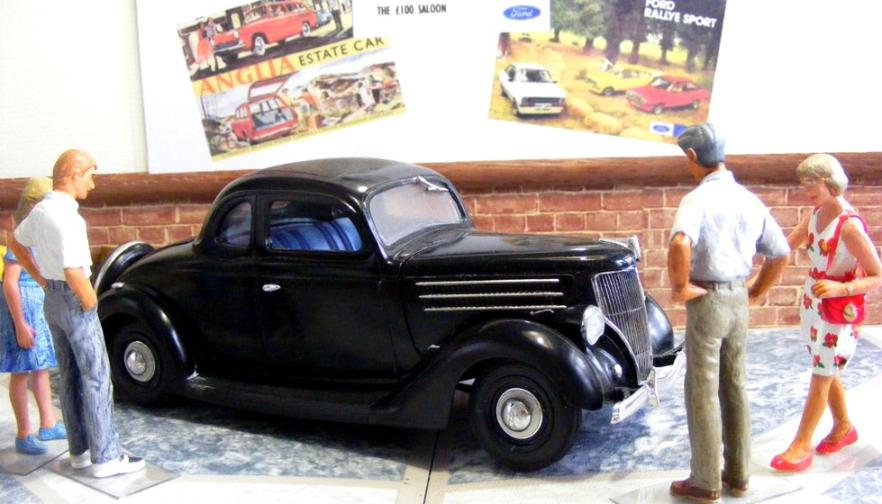 Ford's second great car was the flat head V-8 range of the the 1930s. Although in Ford terms it had a strictly conventional chassis, it's engine set new standards. Now we look back at the simple 'flat head', side valve V-8 and wonder what all teh fuss was about, but this was precisely what caused such a sensation in the early '30s. Although Detroit already had V-8s in Cadillacs and Straight-8s in Buicks, this was the first V-8 offered in a lower priced car.
The original V-8 Ford was a re-engined Model A with a huge choice of body styles, not only fast, but tremendous bargains at just $460. The firstcars were neither reliable or modern looking, so it's generally agreed the definitive V-8s arrived in 1933-34. For 1934 the old side valve 4 was dropped completely, and now all Fords were V-8s.
There was another new styling scheme for 1935 and a smaller 2.2Ltr version was introduced for '36, and all steel bodies launched for 1937 onwards. Yet another new look for 1938! - a more streamlined shape, then, before the outbreak of war the slightly more expensive Mercury range was introduced.
Dick Tracy was a long-running comic strip featuringa popular and familiar character in American pop culture who drove a Ford V-8. Dick Tracy, a hard hitting, fast shooting and intelligent police detective was created by Chester Gould. The strip made it's debut in October 1931, in the Detroit Mirror. Gould wrote and drew the strip untill 1977. The British equivalent would have been Dick Barton.....


1/24th scale kit.
Built by Rod.
Built straight from the box in November 2010, Rod has used Halfords car paints for the main body colour and Humbrol paints for all the detail works. A bit of Bare Metal Foil here and there and this model shows a new direction in Ford body styling.