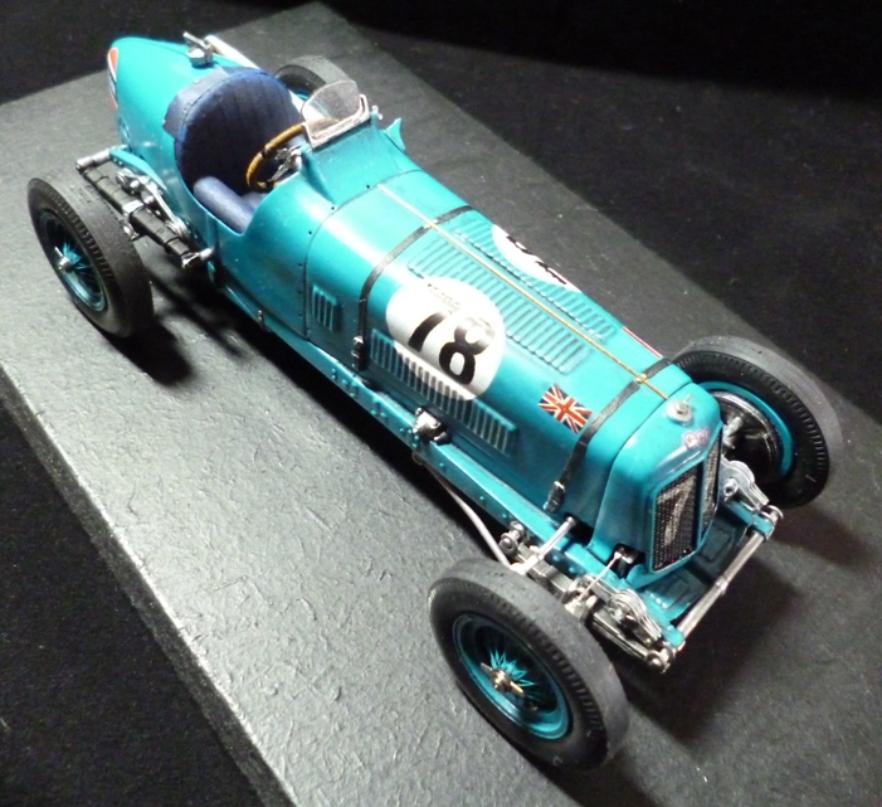 By 1933 wealthy amateur racer Raymond Mays had scored many successes with Invictas and a Riley special, but Britain overall was loosing ground to it's European opponents. Feeling that some new impetus in British racing was needed he funded a new company. English Racing Automobiles came into being with Reid Railton as designer. Realising that competing against the Italians, French and Germans in GP racing was going to be incredibly difficult Mays and Railton decided to attack the Voiturette class.
Railton came up with a ladder-frame chassis, which was pretty common for the time, and added semi-elliptical leaf springing and Hartford friction dampers to control the front and rear axels. Using Riley's straight six engine was available in two forms, 1.1 litre and 1.5 litre both enhanced with large Roots-Type Supercharger, the 1500cc unit was good for around 166 bhp. Power was transmitted through a Wilson pre-selector gearbox, a system very popular at the time. Large rod actuated drum brakes provided excellent stopping power to compliment the cars rather fierce acceleration. A-Type ERA chassis, built and raced solely by the works team in 1934-5, suffered a variety of reliability issues and problems. The 13 second series cars were much more reliable and very successful.
The best known privateers of the ERA were White mouse racing who ran three B-Types and took over 20 British and International victories. Add to this the name of Richard Seaman who raced R1B, and won himself a place on the Mercedes GP team with it, and you can see why ERA became one of the best loved of British Pre-war Marques.
This Coupe de Rainier race was a preliminary event held on the Saturday, 11th April, of the 1936 GP weekend but raced over the same course. 50 laps of the 3.14km circuit meant a total race distance of 157.00km The White mouse racing team of Prince Chula entered Prince "B.Bira" for this race driving ERA R2B. The car was to carry race number 78. Bira's qualifying time of 2m07s was only good enough for 6th on the grid. Earl Howe's ERA took pole position with a lap of 2m4s. The weather was cold and dull when the 18 starters took to the grid, 6 ERA's included.
When the flag dropped Howe took off in the lead followed by Raymond Mays, both in ERA's. Third position was held by Tenni (Maserati) when on lap three Bianco's Maserati span in front of the rest of the field causing great confusion. Tenni, the ex motorcycle racer, took over the lead when both Howe and Mays had to pit their ERAs with misfires. He held a lead of over a minute on Bira before crashing at the hairpin on lap 35. Bira was threatened by Zehender driving the new Maserati 6CM until that car blew it's engine and spread oil over St. Devote. Multiple accidents ensued and both Fairfield and Mays ERAs were disqualified having had to receive push starts.
At the flag Bira won from Lehoux's works ERA and newcomer Embiricos took third. In fact only six finishers were classified at the end of this dramatic race. The winning time of B. Bira's ERA R2B was 1:51'51.3"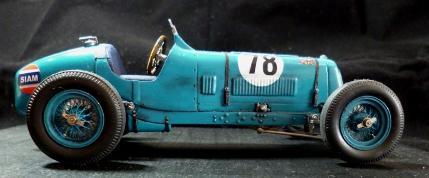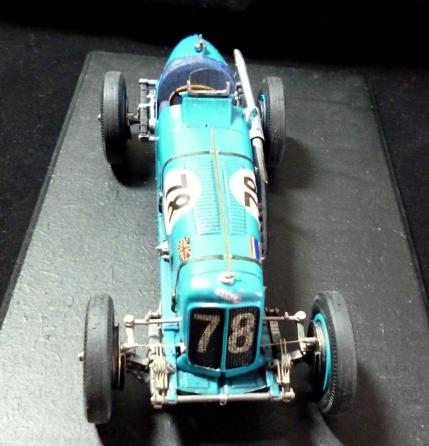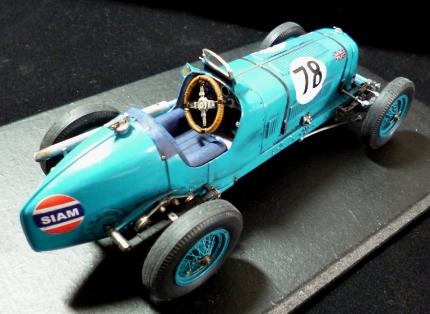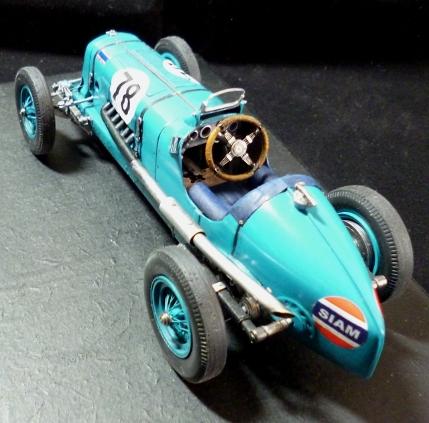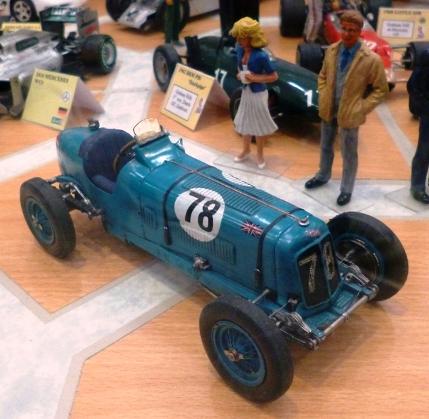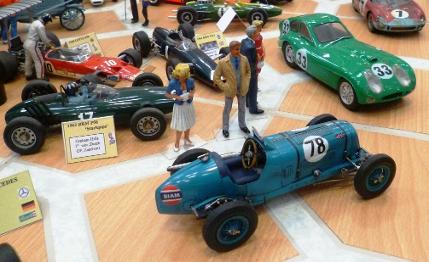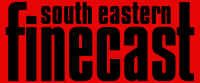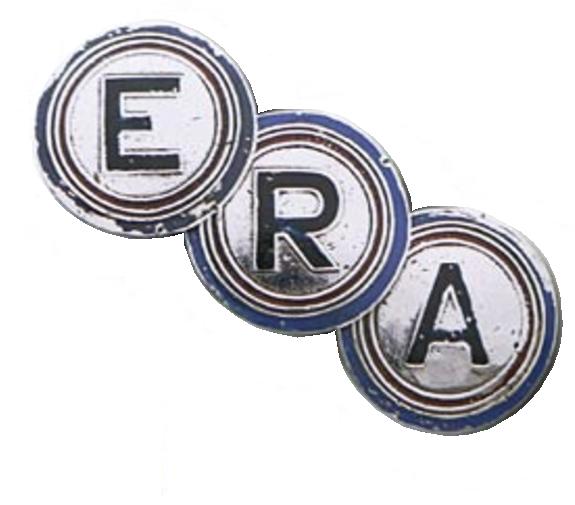 1/24th scale kit.
Built/detailed by Ian.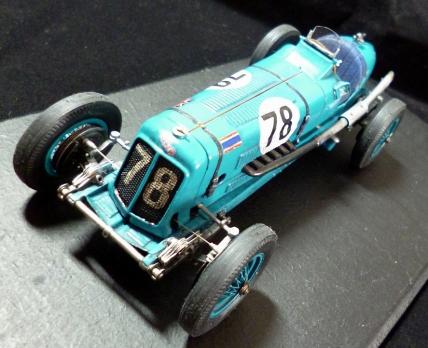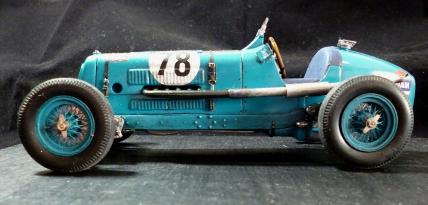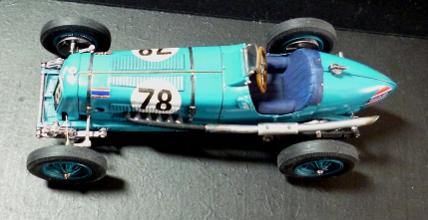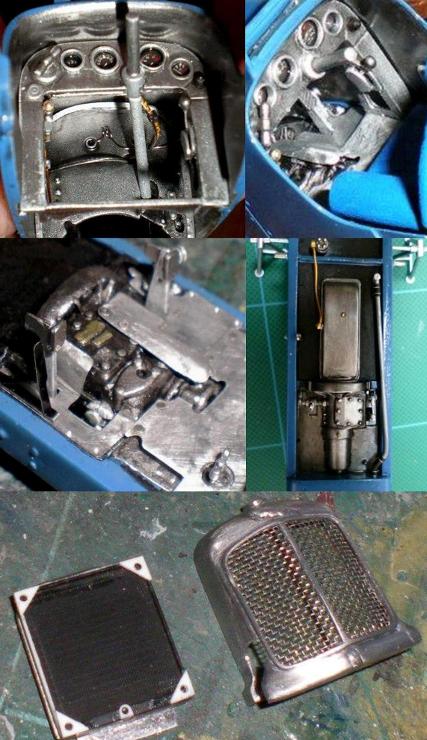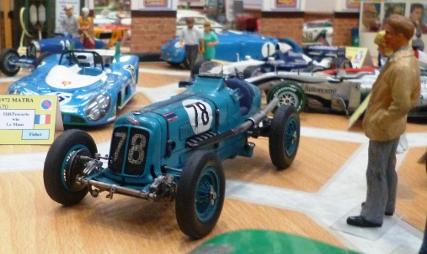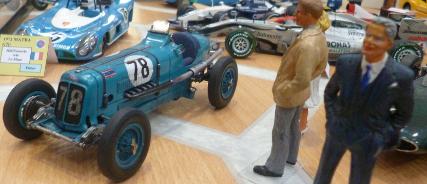 The 1/24th scale Auto kits range from South Eastern Finecast can be traced back to Bob Wills model shop in Coulsden. From 1955 Bob created and sold Locomotive kits and added some historically important cars to the range too. These original boxings of the 'Autokits' range are much sort after by collectors which makes them a little pricey on the second hand market. But there is no need to worry about that price outlay.
In 1987 Wills sold his company to South Eastern Finecast which has allowed us continuing access to the kits; well the last 50 or so as of 2014. Finecast also added two other ranges to compliment Bob Wills work. SEF's own range of kits are more modern and high spec with photo etched parts and nice ideas like right and left hand dashboards included. SEF's final range of cars is in 1/43rd scale aimed at the "O" gauge railway modelling scene but offering some very interesting subjects for car modellers. These kits are also very nicely detailed.
Being a product of the 1950s the Autokits range is not as finely detailed as a modern plastic kit but do offer a great oppertunity to try out scratch building skills. The poorest part of the kit is the exploded drawing, which can be misleading, but the building hints and tips section is useful to the less experienced modeller.
Ian spent two years slowly working his way through this kit replacing and reworking many of the kit parts and scratch building a huge amount of new details. Some of these can be seen in the ensemble photo, such as the cockpit details, underside, opened out radiator front and new mesh grill, but for a better look at the build process from start to finish the album is on our facebook page.
The model is painted with a custom mix of acrylics, to get close to the special Bira blue colour, applied by airbrush. This is covered with home made decals and Johnson's Klear to get the right level of shine. The model is washed with Citadel acrylics and weathering powders. Some of the decals are especially distressed hand painted to get a sign writers look as Ian is attempting to replicate a period post race look, he plans to add figures to the base to recreate a famous photo of the White mouse team after winning the Rainier cup.
RETURN TO :-