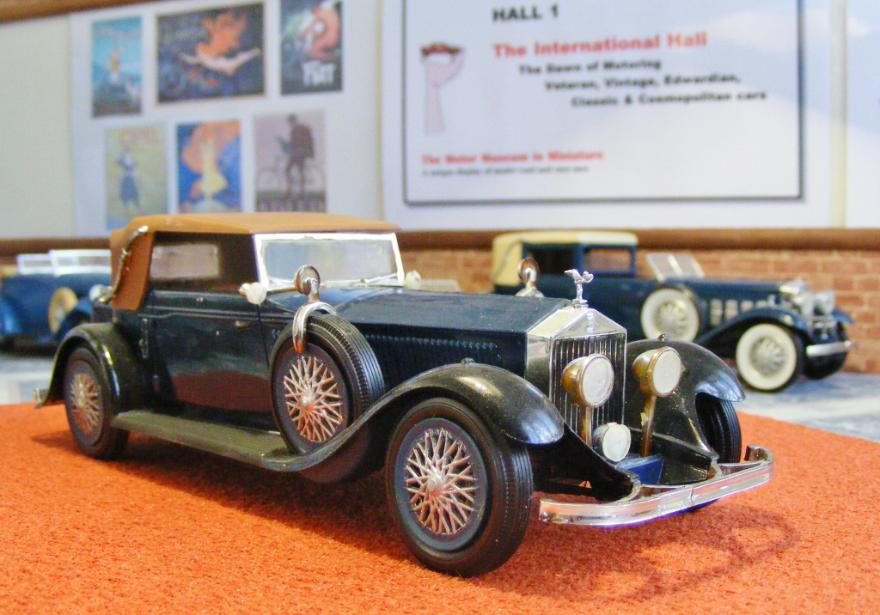 1933 Rolls-Royce Sedanca drophead coupe.
Rolls-Royce of America was launched on October 18th, 1919, in Springfield, Massachusetts, USA. Between 1921 and 1931 the factory produced 2,944 Silver Ghost and Phantom cars. Rolls-Royce America is inextricably intertwined with the Brewster & Co. Coachworks of Long Island, New York. Willie Brewster was the pre-eminent American coach builder at the turn of the 20th Century becoming a Rolls-Royce agent importing chassis from England and building bodies for his well-established and discerning clientele. Brewster's fitted some of the most attractively proportioned bodies on any Rolls-Royce chassis anywhere, being elegant and sporting these cars are now highly collectable.
Rolls-Royce actually bought Brewster's in 1925 eventually resulting in over 400 Springfield-built Rolls-Royces having Brewster designed and built bodies during the last five years of Rolls-Royce America's existence. However, the Great Depression was biting and by 1930 it was obvious the Springfield manufacturing operation was in trouble. Still producing the Phantom I after the Phantom II had been introduced in England in 1929 their Phantom I was a highly evolved car some considered to actually be better than the new Phantom II. But by 1931 the Springfield plant had only a sparse inventory of Phantom I's and a few imported Phantom II's. Sales had been declining rapidly and production at the factory in Springfield ceased. Brewster's, under the direction of John Inskip, resumed the role of importer-distributor for Rolls-Royce in the United States.
In 1931 Brewster-Springfield factory agreed to buy 200 left-drive Phantom IIs if the British factory would make improvements necessary for the US market. Most of the modification work for the American market was done in Derby but some final detailing was still done in the U.S. before the cars went on sale. Obviously the cars had to be converted to left-hand drive but they also had an American style central gear shift lever, wider brake shoes in heavier rear brake drums, front and rear bumper supports, and higher gear ratios for high-speed touring on the wide open American highways. The American export cars also had thermostatically controlled radiator shutters and manual control of extra cylinder lubrication was fitted for cold starts. Interestingly the cars shipped to Rolls-Royce of America were devoid of tyres, horn, chassis lubrication fittings, spring gaiters, spark plugs, hood locks and tool kit; by doing so Rolls-Royce could reduce their transatlantic shipping costs. These parts were sourced locally and fitted once the cars arrived in the US.
The Phantom II has very little in common with its predecessor being an almost completely new design. Of course it has familial looks but the Phantom II is easily distinguishable from the Phantom I as it's bonnet measures half the length of the car! This new Rolls-Royce offered a more refined, updated 150" wheelbase chassis and an improved straight 6 cyl', 7668cc, OHV, 120 bhp engine. The engine had an improved aluminium cross-flow cylinder head and was now mounted in unit with the four-speed manual transmission. Hydraulic shock absorbers damped the semi-elliptic springs front and rear and resulted in a much reduced ride-height, giving more scope for sleeker and more modern body designs. Acceleration from 0-60 was in 19.6 seconds and stopping power was aided by servo-assisted brakes on all four wheels.
First deliveries of the left-hand drive Phantom II chassis began to arrive in the U.S. in the spring of 1931 and Brewster coachworks was ready with designs for the new Phantom II chassis. While some were simply revamped Phantom I body styles others were all new and very fashionable. One of which is the Henley roadster, specifically aimed at owner-drivers. The Henley Roadster has an attractive belt line that dips jauntily at the centre of the doors, a sporty split wind shield and long tail with a built in rumble seat which even had it's own side entrance door. All in all it was sporty, well-proportioned, and pricey.
In a similar vein to the Henley roadster is the Sedanca drophead coupe. The short chassis Phantom II "Continental" chassis having lighter 4-passenger coachwork with the rear-seated passengers sitting well ahead of the rear axle line. Rolls-Royce produced 281 Phantom II Continentals. Of the original 200 Derby-Springfield contracted cars, 116 were sold in North America and six more in Europe.
Our Model depicts a US spec' Phantom II drop head Sedanca drophead coupe. It has the Larger bumpers, dual side mounted spare wheels and additional lighting. Today these "Americanized" chassis' are highly sought after and most desirable to collectors.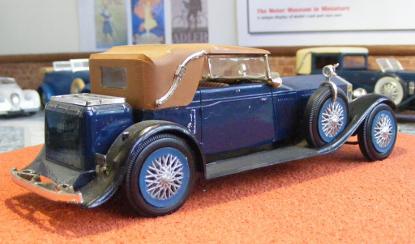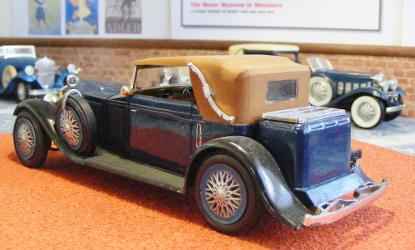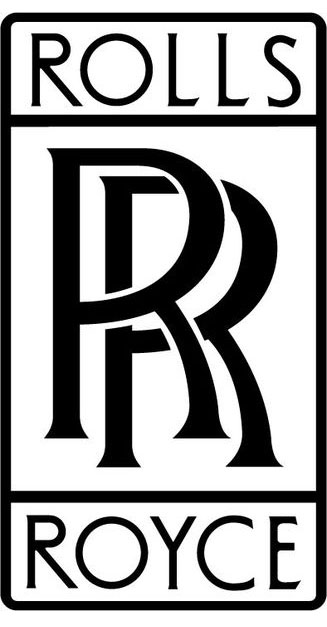 1/32nd scale kit.
Built by Rod.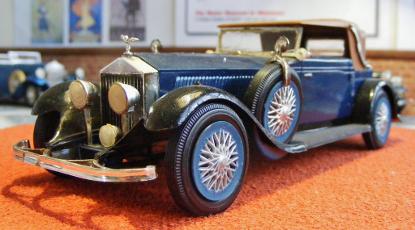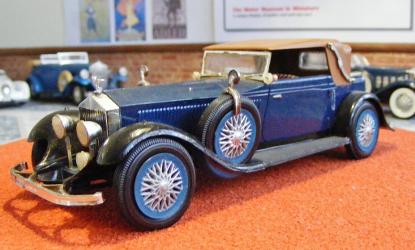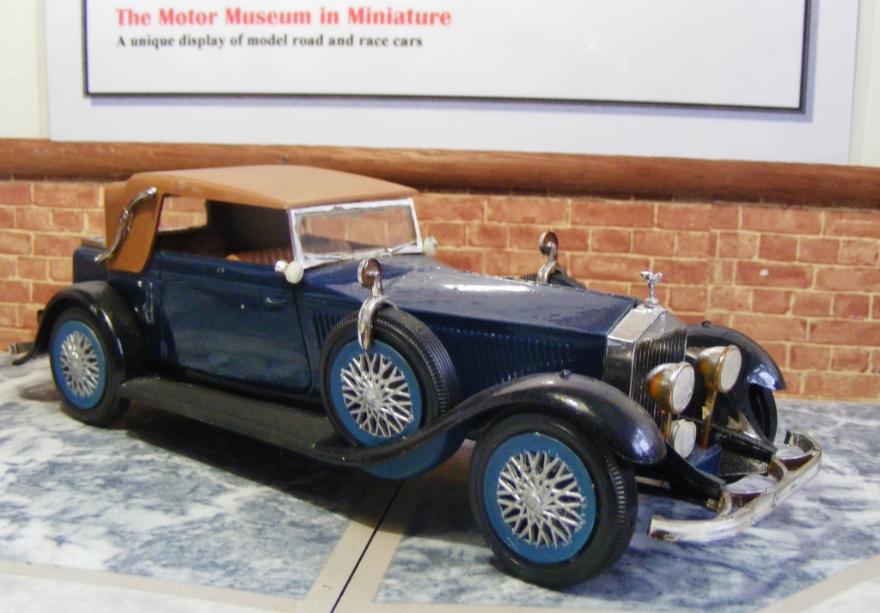 This Pyro kit is from their "Table Top Classics" series listed as kit # C347 (also listed as #9) which was initially release in 1967. Apparently there have been no re-releases of this kit and kits in good condition now sell for as much as £50 in 2016. The kit is actually quite nice having rubber tyres and chrome plated parts for the bright work. It builds nicely and makes a very nice replica of the real car.
Rod built this model in the early 1970s and it is constructed with the equipment of the day, tube cement and brush applied Humbrol enamel paints. It is built straight from the box with no additional detailing.
RETURN TO :-