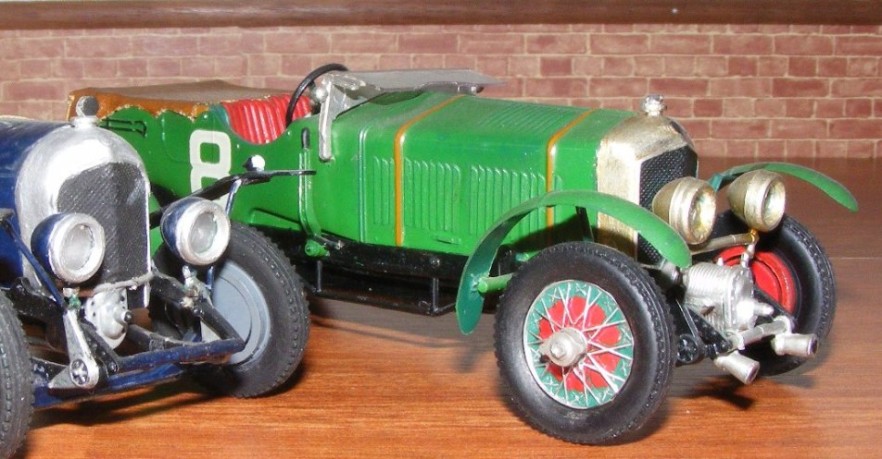 Walter Owen Bentley started as a Railway apprentice and progressed to m/cycle racing then distributing French DFP cars. His modifications, which included replacing iron pistons with aluminium, the first time this had been done in England, led to him designing his own car in 1919. Production started in 1921 with 3 Litre.
Most famous of all the Bentleys was the 4½ Litre, in particular the supercharged 125 mph 'Blower Bentley'. The 'Blower' was the result of a venture run by Sir Henry 'Tim' Birkin and backed by the Hon. Dorothy Paget, an 'enthusiastic horsewoman also interested in motor sport, Miss Paget was reputed to have spent over £20,000 on racing cars.' Since that, in modern terms, would equate to around £750,000, you can see that Dorothy Paget was a very useful backer, particularly in the depression era. A production run of 54 'Blowers' was built.
Bentley was very unkind about the 'Blower' 4 ½, 'which was against all his engineering principles….to supercharge a Bentley engine was to pervert its design and corrupt its performance….When we want higher performance, we increase the engine size…'
But the fact remains that a most competent engineer designed the supercharger installation, a young man named Amherst Villiers, and was approved by Woolf Barnato in his role as chairman of Bentley Motors approved it. The engine was an in-line 4 cyl. 4398 cc, O.H.C, 16 valves, 4 per cyl. 175bhp @ 3500 rpm. Price in 1930 £1720.
W.O.Bentley's Railway engineering apprenticeship and the idea of designing on the grand scale never left him. The sheer scale of the design of the 'Blower Bentley' inspired one of rival designer's Ettore Bugatti's most famous remarks; he called Bentleys 'the fastest trucks in the world'. However, no other manufacturer (certainly not Bugatti himself) would retire from Le Mans competition with the record Bentley had earned between 1924 and 1930 - five wins.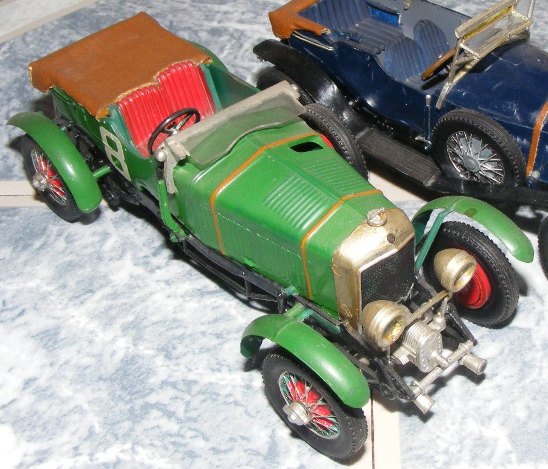 1/32nd scale kit.
Built by Rod.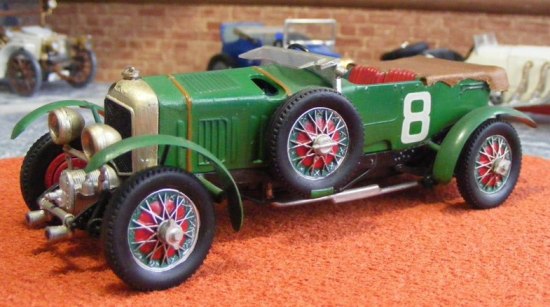 Rod built this model in the early 1960s and is a product of the modelling equipment of the time. Fixed together with tube glue and painted with Humbrol enamels. Rod's major influence on the kit is seen in the use of vinyl leatherette to replace the kits bulky plastic tonneau cover.
RETURN TO :-