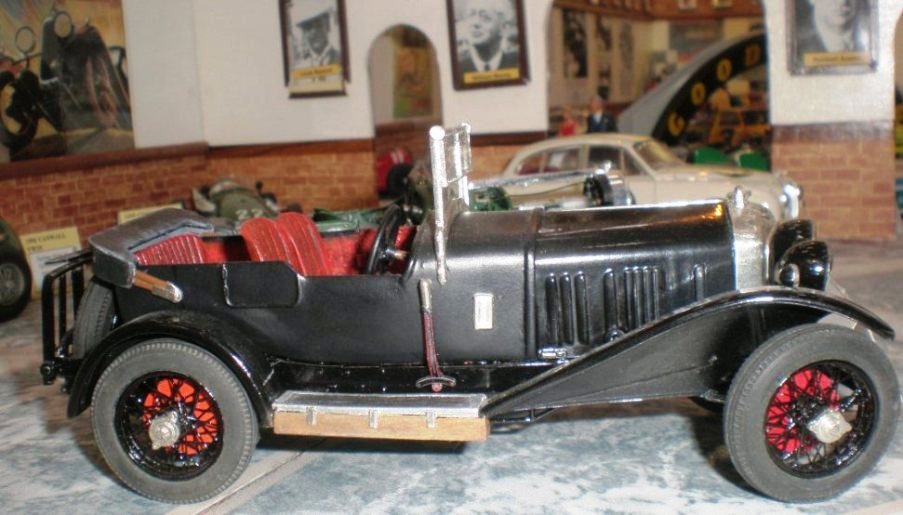 Walter Owen Bentley started as a Railway apprentice and progressed to m/cycle racing then distributing French DFP cars. His modifications, which included replacing iron pistons with aluminium, the first time this had been done in England, led to him designing his own car in 1919. Production started in 1921 with 3 Litre.
The 3Ltr was followed by the 4.5Ltr from 1927, later being supercharged from 1929. The 4.5Ltr model was available as a tourer, drophead coupé and 4 seat sportscar, in total 720 vehicles were produced. Although not that outstanding in overall performance a 4.5Ltr did win at "le Mans" (in 1928) and in 1932 a 4.5Ltr blower 'special', in the hands of "Tim" Birkin, set a speed of 137.96mph (222.03 kph) on the Brooklands banking making it the fastest car to take part in a Brooklands race that year.
The 4.5Ltr was a large and heavy car. It was 172 in (4,38m) long, had a spacious interior and weighed in at 3,580 lb (1,625 kg ). An unsynchronised manual gearbox ,providing four speeds, was set into a very robust chassis made of steel reinforced, railway style, with ties. Suspension of the rigid axels was by semi-elliptical leaf springs and friction dampers, braking being provided by 17 inch drums. The car was well balanced, handling and cornering well so although not startling in performance was fast and very reliable.
Cast in Iron the engine itself, an inline four, was heavy. The touring model was tuned to give 110hp, breathing through two double carbs with dual sparking and Bosch magnetos. It had four valves, inclined to 30 degrees, per cylinder actuated by a single overhead cam. All this making it very modern for the time.
The Weyman body is made from canvas stretched over a light wooden frame, this results in a texture and finish difference between the metal covers of the engine and the fabric body of the saloon area. This is a very light, but still wind and weather resistant, form of body work chosen by several British coachbuilders of the era.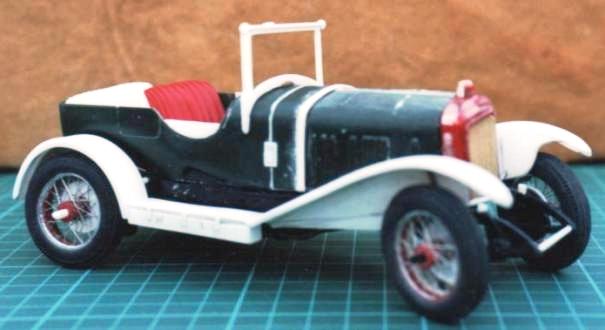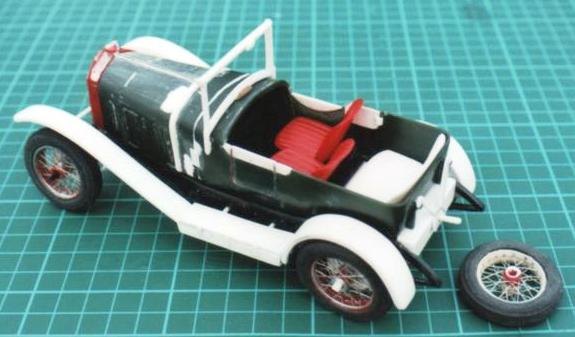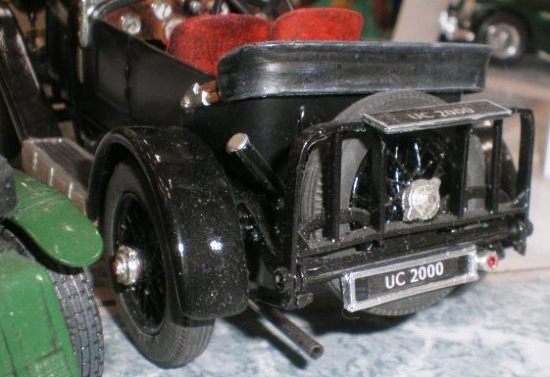 1/24th scale kit/conv'.
Built by Rod.
Model donated by Mr D.Donas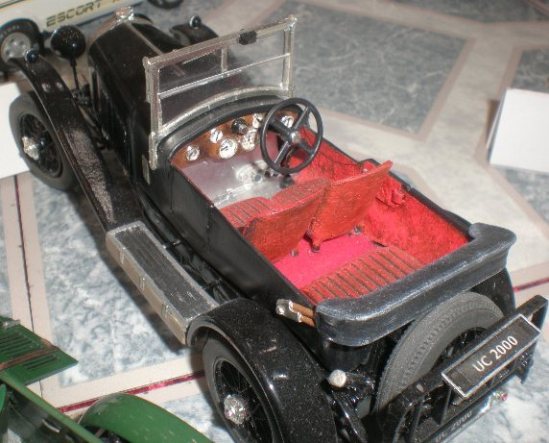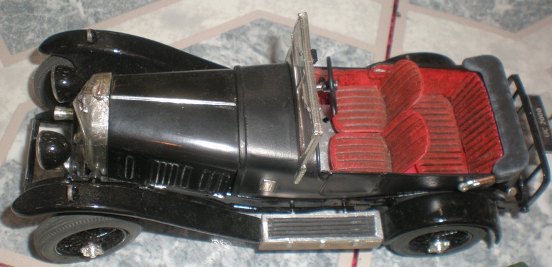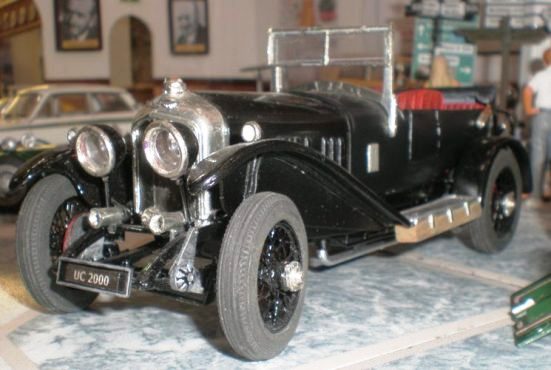 Rod restored and converted this Union "Blower" kit into Weyman touring form in 2005. The original model was donated by Mr. D. Bonas.
As can be seen from the photos quite a bit of scratch building was required after the model had been stripped down. Amongst the modifications Rod did to was to re-spoke the wheels using thin wire for the spokes, the improvement over the plastic and chrome ones from the kit. Being restored in 2005 allowed Rod to use contemporary techniques in the building of the model. Bare metal foil was used on the brightwork while Halfords acrylic car paints took care of the finish. The detail painting was done with Humbrol enamels and acrylics and Citadel ink washes help to give the seats some depth and reality.
RETURN TO :-