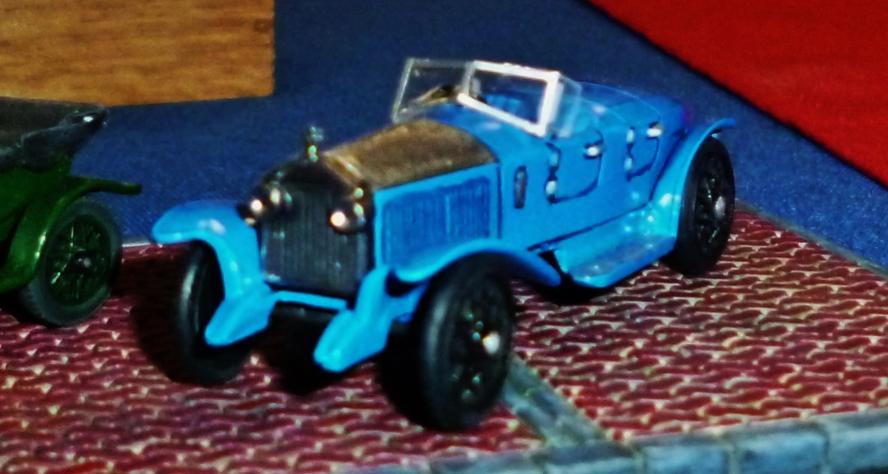 1928 Rolls-Royce Phantom 1 '17EX'
Charles Rolls and Henry Royce refined the motor car to the fullest extent possible. At a time when only the rich had a car and they were all luxury items Rolls-Royce still managed to elevate their products to highest level of perfection possible to man.
However, a new British Marque was making its name on perfection too, and their cars were going much more quickly than the Rolls-Royce 40/50hp Silver Ghost range could. That meant this upstart Bentley firm were getting more press attention and turning the heads of prospective Rolls-Royce clients. Continental competition, in the form of Hispano Suiza and Isotta Fraschini was also growing and the tiny Bugatti concern was on the rise too.
The New Phantom
The New Phantom or 40/50hp Phantom was largely an updated 'Silver Ghost' chassis and running gear. An entirely new engine was longitudinal mounted in the nose. Being bigger, in capacity and size it required the raising of the bonnet line two inches, inadvertently accentuating the radiator cowl which was fitted with adjustable radiator shutters for cooling optimisation.
The inline straight six-cylinder motor had six cylinders cast in two groups of three, originally from iron but in aluminium from 1928; the same year the detachable cylinder head changed to aluminium too. The real advance was the move to push-rod operated overhead valves, two per cylinder, rather than the Silver Ghost's side valve system. With the valve system now enclosed the latter's periodic valve gear lubrication of the wasn't needed.
Aspiration was normal atmospheric with fuel fed through a Rolls Royce Carburettor, dual ignition via Coil & Magneto was very effective and reputedly giving a 25% increase in engine power. The maximum power was actually rated as 108bhp (80.5 kw) @ 2,300rpm; a power rating Rolls-Royce advertised as "sufficient".
A separate 4-speed gearbox mated to the engine, through a rubber coupling to reduce vibration, then via a disc-type clutch and torque tube to the rear wheels. This was a more sporting Rolls-Royce but would it be competitive in the sales market.
The 'EX' series
Henry Royce was not really interested in developing a sports car, or in going racing, but he was slightly disappointed in the 1925 New Phantom's performance. It was a step up from the '40/50' Silver Ghost but the competition seized upon this weakness and Royce was concerned. The size and weight of some of the bodies being fitted to the chassis certainly didn't help.
Royce felt it necessary to commission Ivan F. Evernden to design a unique experimental Rolls-Royce development car. Modern, lightweight and highly streamlined Sir Henry Royce was happy, and extended the project resulting in a series of 'EX'perimental cars. The ultimate aim being to break the 100mph barrier and thus give Rolls-Royce a much sportier image.
The four 'EX' cars of this program had similar lightweight "Open Sports Tourer" bodywork on the New Phantom chassis and covered hundreds of miles up and down the long straight French roads and around the banked Brooklands circuit. The famous Rolls-Royce standards of build quality and reliability were now being enhanced with innovation.
Between 1925 and 1929 four cars, with almost identical bodies in order to give accurate test comparisons, were built for the different areas of testing. However, the chassis were bodied in a style created by Ivan Everndern but by different companies; 10EX (by Barker), 15EX (by Hooper), 16EX (by Barker) and 17EX (by Jarvis & Sons).
10EX as the original test model received the standard New Phantom ladder frame chassis, a specially tuned version of the 7668cc overhead valve engine and an open tourer body by coachbuilder Barker. However, 10EX was hardly any quicker, this was because the bodywork was simply too heavy. But it did provide the foundation for the following series of cars and, in conjunction with the other cars, helped provided crucial new insights into overcoming air resistance.
Fitted with a lowered windscreen, lowered steering wheel, new rear section, new wings and was lowered overall. The re-worked car was now noticeably quicker. Subsequent testing a at the Brooklands presented average speed result of 91.2mph over the original 78.3mph.
15EX was completed in late 1927, registered in England as CH7189. Chassis 29CL (15EX) fitted with engine 21EX went to Hooper's where it was fitted with the Rolls-Royce designed speeder body. In January 1928 15EX, prepared for extensive testing was sent to France for testing over 10,000 miles of long straight French roads. The test team recorded speeds in excess of 90mph in favourable conditions. After pounding over 9,000 miles of French roads the body was standing up to the stresses and fuel and oil consumption were both excellent.
All was going well until the car suffered a catastrophic accident on a slight curve and wet road. At around 50mph 15EX skidded from the road and hit a tree. Of the three occupants the driver was unhurt, of the passengers one was only slightly hurt but the third man was to die of a fractured skull in Amiens. Harry Grylls, in his role as development engineer tried hard to find a cause for the accident but never found one. He was convinced the 15EX had better road holding and steering on wet roads than any of the previous cars he had worked on.
After being returned to the factory 15EX to be rebuilt with a longer chassis, newly designed dash, bonnet and a new type of radiator. As an almost completely new car it, although still having the original engine #21EX, was re-christened as chassis number 29 CL. Barker fitted the chassis with a beautiful continental Torpedo tourer body so that Rolls-Royce could use it as a company demonstrator; until at least until the Phantom II model was released. After that it was sold in England, the purchaser having Hooper fit the car with a new limousine body.
16EX spent its early life in the UK passing through a series of British owners. After finding it's way to America and went on display in the Blackhawk Collection. It is now in the hands of a private collector.
17EX
This brings us to the subject of our model, a car with a fabulous history and possibly the most famous Rolls-Royce ever; '17EX'.
Finished in 1928 chassis 17EX was fitted with engine 25EX. This engine had aluminium cylinder heads and a modified cam-shaft which when bench tested in the Rolls-Royce works in Derby put out 92.6bhp at the dyno'. When the cut-out was opened that figure rose to 99.5bhp. when fitted to the chassis the engine was positioned slightly forward of that in the earlier cars.
The chassis was used to test many experimental parts before the body was fitted in 1929. 4,500miles of road testing later, half of which was done without any body work, the lightweight Torpedo open tourer bodied car also proved itself capable of speeds in excess of 90mph.
Chassis EX17 was bodied by renowned coachbuilders Jarvis & Sons of Wimbledon, where the art and science of coachbuilding lived, to have a unique and elegantly designed body of optimised weight fitted. The bespoke bodywork had a shortened steering column and very comprehensive instrumentation on the dashboard. Seating is for two in the cockpit and in the rear a cleverly designed set of openings, panels and glazing that can provide protected traveling for two passengers on the bench seat. The interior is trimmed in matching blue Connolly leather.
The body line slowly tapers to an opening tail which houses the spare wheel, the hood and the its frames. Sir Henry Royce insisted on the highest standards of finish for the blue paintwork. Why should an experimental Rolls-Royce have anything less. The blue paint fits into colour psychology as a colour associated with dependability, trust and calmness. An added bonus is blue is very visible at speed; ask Malcolm Campbell's support team.
In simple terms 17EX was one of the fastest road cars of the era, and one of a small number that can call themselves "Phantom Sports". A unique car that convinced a sceptical Sir Henry Royce of the value of motor sport and turned the "Spirit of Ecstasy" into the spirit of excitement.
Fantastic ownership heritage
After it had served its purpose at Rolls-Royce 17EX went off to travel the world, giving it a very rich ownership history.
The Maharaja.
It was first sold to Hari Singh Bahadur the Maharaja of the kingdom of Jammu and Kashmir. He was young, only 33 years old at the time, but the Maharaja could make a good deal and purchased 17EX for a reduced price of 42,000 Rupees just Christmas of 1928. His family had been very good customers of Rolls-Royce having already amassed a collection 26 of them.
17EX led a suitably regal life in the Royal Mews and was used to roam the various roads and passes that surround Srinagar. 17EX's life in the Royal stables of Kashmir ended when Maharaja Hari Singh Bahadur sold the car in 1932, to one Ram Narain of Kanpur.
Ram Narain.
Ram Narain lived in Kanpur, an industrial town east of Delhi who sold the car on.
P.K. Mitter of Calcutta,
The Mitters family lived in Calcutta and were well-known for their superb collection of exceptional cars. P.K. Mitter had five cars almost as special as the 17EX Rolls-Royce. An Isotta Fraschini, a pair of Mercedes-Benz SS' and two Duesenbergs gave competition to the Rolls-Royce.
P.K. Mitter's son, Jayanta Mitter remembers the car well, particularly its performance which he rated as fitting between the Duesenberg J roadster and his 1938 Mercedes-Benz 250. The Duesenberg was the fastest of the bunch although the Mercedes was better in other areas. EX17 though, was in Jayanta's words "undoubtedly the most striking of the lot". P.K. Mitter sold 17EX when he bought a Packard which was supposedly capable of "a genuine 100mph."
Greta Devi of Allahabad
Greta Devi purchased 17EX in 1944, Allahabad being another prominent city to the east of Delhi.
For a while ownership becomes a little vague but a registration document dated 1956, from the West Bengal area, provides evidence of an ownership change between one Sukosh Banerjee and Bimal Kanti Ghose, both of Calcutta,
Raja Saheb of Bhadri
The Raja Saheb of Bhadri was the next owner who kept the 19EX for any length of time. He could best be described as landed gentry rather than royal Raja, but he knew his cars. Bhadri is a town and remote princely state north central province of Madhya Pradesh, India. The car sat for a long time, forgotten and thought to have been scrapped, until the well-known car enthusiast Protap Roy heard about it.
Protap Roy
Protap Roy of Bombay has ancestry in the line of the princely family of Santosh (now within Bangladesh). In the 1960s Protap Roy visited the car where his extensive knowledge of historic and extraordinary vehicles in India convinced him of the provenance of the car. It took several years but Protap Roy was able to persuade the Raja Saheb to sell the car to him in 1967.
17EX couldn't have the care it needed in the cash strapped hands of Protap Roy, who had to sell something from his collection in order to buy the next car he wanted. But 17EX remained in India until discovered in Calcutta in 1976; in a particularly dilapidated condition.
Christopher Renwick
Christopher Renwick became the next owner and had the car returned to Europe and quickly sold it on to Veniero Molari and Giulio Vignale in Italy during 1976.
Dr. Veniero Molari
Italian enthusiast Dr. Veniero Molari and Giulio Vignale, Alfredo Vignale the famous coachbuilder's Nephew, sent the car to Gianni Pena of Turin asking him to set about restoring 17EX in the 1990s. It was at Pena's Turin works that Alexander Schaufler fell in love with the car; but he wasn't the next owner.
Victor Muller
In 1998 the successful Dutch businessman and car enthusiast Victor Muller purchased 17EX and had a full restoration of the car to Concours standard. While also doing deals to acquire the rights to and relaunch the historic Dutch marque Spyker Muller oversaw the restoration work It was finished just in time for Rolls-Royce's 100th anniversary and the 2004 Pebble Beach concours d'Elegance,
While the car looked fantastic the engine wasn't really on song yet. It lost water and kept stalling while trying to hide itself in palls of steam and smoke. Undaunted, the Spyker CEO Victor Muller returned the car for more work and by 2006 17EX was show ready again.
In Italy at the 2006 Concorso d'Eleganza Villa d'Este, 17EX won the Trofeo Rolls-Royce, the prize for the most elegant Rolls-Royce at the show.
Victor Muller then fell foul of a bad business venture when he was trying to bring the struggling SAAB brand under the Spyker Banner. Saab had to declare bankruptcy costing Muller a huge amount of money. So, at a London auction event Victor Muller beloved experimental Rolls-Royce went under the hammer of RM Auctions on the 29th of October, 2009.
Alexander Schaufler.
Austrian Alexander Schaufler paid €482,625 for 17EX and thankfully he believes in running his cars not hiding them away in a them away as an investment. He has the passion of a true enthusiast who maintains his cars to the highest standards. Today 17EX is probably as good as when it left the Rolls-Royce factory; possibly better.
In all its fully restored glory EX17 was shown at the Pebble Beach Concours d'Elegance in 2012 in the Maharaja Cars class and won a prize. Alexander Schaufler has since run the car in dozens more road events like the 2011 edition of the Rallye des Alpes with 17EX. They pair have also attended Villa d'Este in 2013, the Salon Retromobile in Paris, Balatonfüred Concours d´Elegance for Les Voitures des Maharajahs, in February 2014 and the Chantilly Arts & Elegance in September 2016.
Few people risk cars that have been so expensive to buy and restore on the open roads, hats off to Mr. Schaufler,
Conclusion
All the famous Marques have produced cars that are absolute milestones in their history. Cars that have undertaken great feats of endurance and speed or include giant leaps forward in engineering, artistic or production design ideas. Things never seen before and unlikely to be repeated in their impact on the automotive world.
In the case of Rolls-Royce prior to WW2 it is hard to argue against the AX201 Silver Ghost and the 17EX experimental Phantom torpedo. Both are certainly magnificent one-of-a-kind motor cars that have contributed to establishing the reputation of the company.
17EX has not only helped develop a model that would conquer the world but gathered a unique provenance for itself too. It is rare for cars of such an age to have a fully known history and that adds greatly to the value of a car. Not speaking monetarily but in that the story of each car is unique too. The personalities who owned the car and hands that held the steering wheel, the roads that it ran on and the places it has been. All these things have a way of leaving a unique imprint upon an historic car and being able to relive them is a very rare thing indeed.
Known from the factory to its current owner, through decades in India to the restoration workshops of Europe the story of 17EX is told by Guatam Sen in his book "Rolls Royce 17EX: A Fabulous Destiny".
17EX hasn't always had a fabulous life but it has always made other peoples' lives feel fabulous. This car is probably the greatest Rolls-Royce of the era.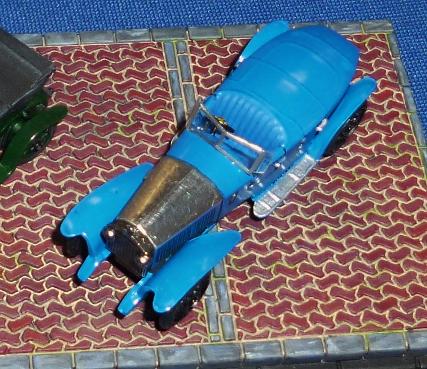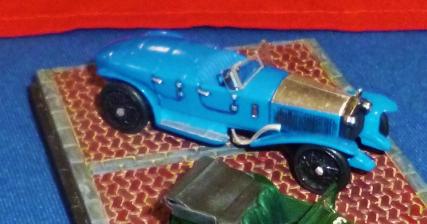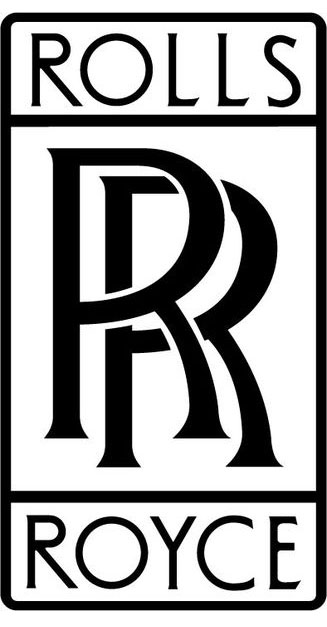 1/86th scale kit.
Built by Ian.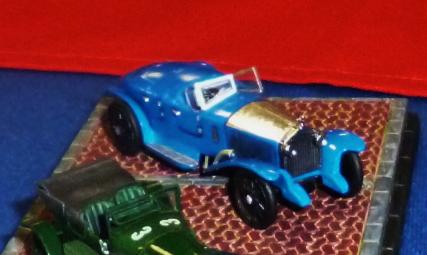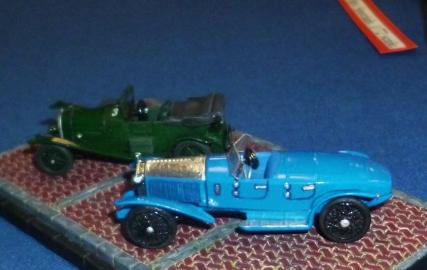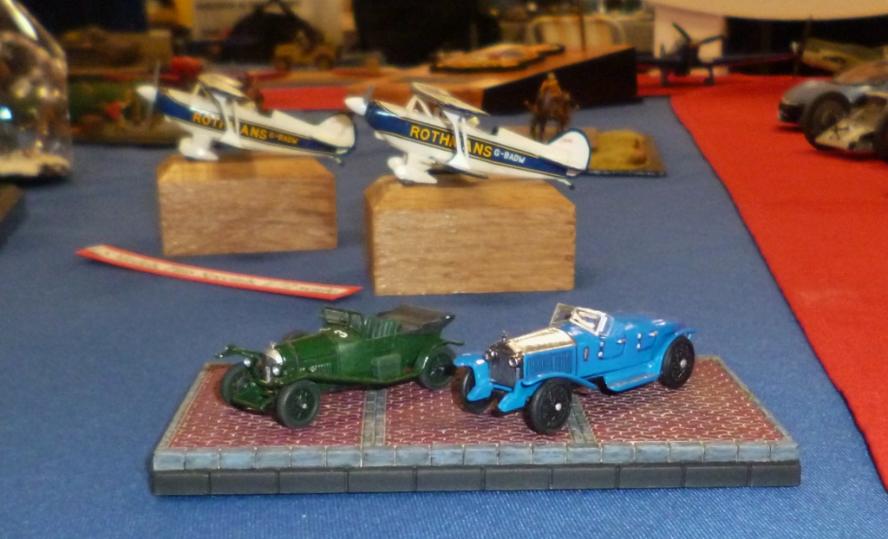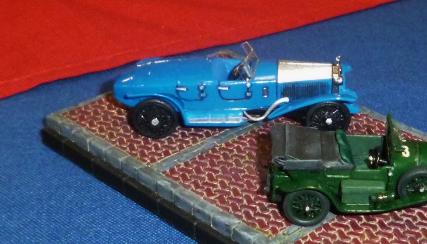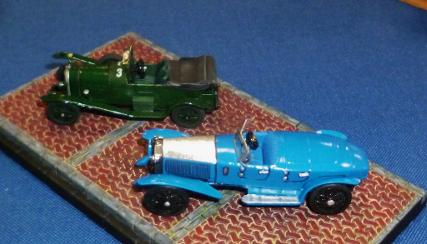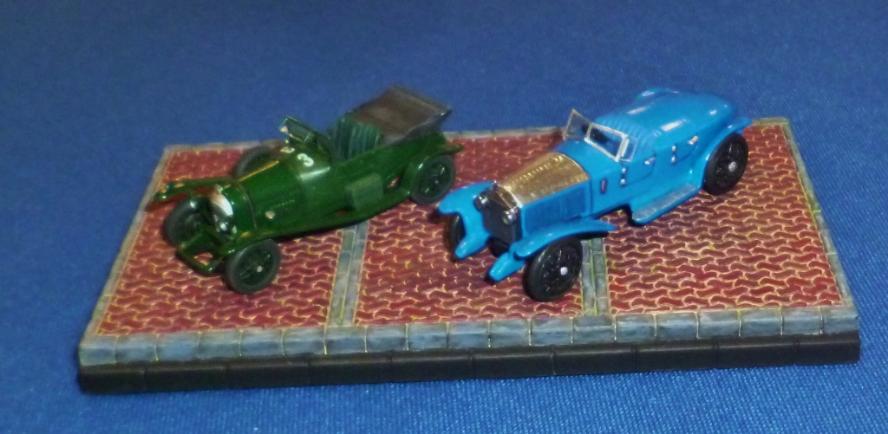 This kit was something Ian saw on ebay late one night in January 2023, and as we all know that is not a good time to be browsing an auction site! But when you see something so rare and so nicely detailed it has to be bought because you might never get the chance again; especially if the price is good. £10 for two beautifully detailed 1/86th scale models of rare Rolls-Royce cars from a range that is also very rare; bargain.
Alt-Berlin means Old Berlin in English and while the original moulds for these cars is indeed old, they don't come from Berlin. Our set, item # 111006, of two different coloured cars is very rare; usually they would be the same colour.
The Alt-Berlin range of vintage cars consisted of 12 kits :-
1905 Hispano Suiza 1916 Ford T 1925 Opel Laubfrosch 1936 Citroën 11B Ligero
1907 Le Zebre 1916 Studebaker Big-6 1928 Rolls Royce Phantom 1937 Bugatti T57 Stelvio
1907 Orix Taxi 1922 Citroën 5CV 1934 Fiat Balilla 1938 Lancia Aprilia
As we mentioned above the original models aren't German but Spanish, and the heritage is a little mixed. EKO is a brand name from the 1950s firm of Blasco Industries, Barcelona, Spain. In the 1970s there was a huge range of miniature vehicles, military and civilian, of all eras, in the EKO catalogues. Over 200 items in 1/87-86th scale consisting of cars, trucks, road & construction equipment vehicles. That's before you factor in the 1/43rd scale diecast vehicle models and the aircraft releases.
But, not all the moulds were EKO originals. EKO took over Anguplas in 1967 and reworked these moulds that they had acquired. Anguplas released their models as ready-made items but EKO saw the potential as quick kits for kids and after the moulds were re-engineered, with additional detail added and upgraded the wheels, which explains the semi-artisan nature of some EKO kits.
Released in 1979 in blister packaging with a small instruction sheet and catalogue. EKO's models were on the market for around two years. The moulds were passed around and these models have also been released 'Aneste' and 'On The Road kits' too.
EKO themselves went through tough times going bankrupt and the name revived several times. As of 2011 the name returned as ToyEko and started making castings from the older moulds they still had.
Ian was quite excited by these kits and finished the first one (the cream car), straight out the packet in late March 2023. The second one being highly detailed and shows what could be done with these simple small kits. That model was finished in June 2023. Both are airbrush painted with Zero Paints colours from Hiroboy over Alclad white primer. All the detail painting has been done by brush painting using acrylic paints from a variety of companies including Tamiya, Revell, Citadel and Deco-Art. Chrome bare metal foil and aluminium foil used extensively for the small chrome details and the bonnet top.
The details and amendments list is rather long and includes:
Soft plastic artillery spoked wheels replaced with wire wheels converted from old kit wheel centres.
Removal of the blank left hand drive dash and misplaced firewall.
New firewall made so a foot board and pedals could be added.
A new dash was made including the glove box and a lot of gauge and switch detail.
Scratch built handbrake and gear levers.
Brake balance hand screw knob and other cockpit floor details scratch built and added.
Paper detailing of the interior door details, pockets and stop straps.
A new steering wheel was also made from scratch too and includes the levers and guards for spark advance/retard etc also made from scratch.
All the big holes for the windscreen and hood plugged, filled and sanded back.
New windscreen and side screens made from scratch.
Scratch built fuel filler and cap added to the rear left.
Scratch built horn on the right-side exterior.
RETURN TO :-