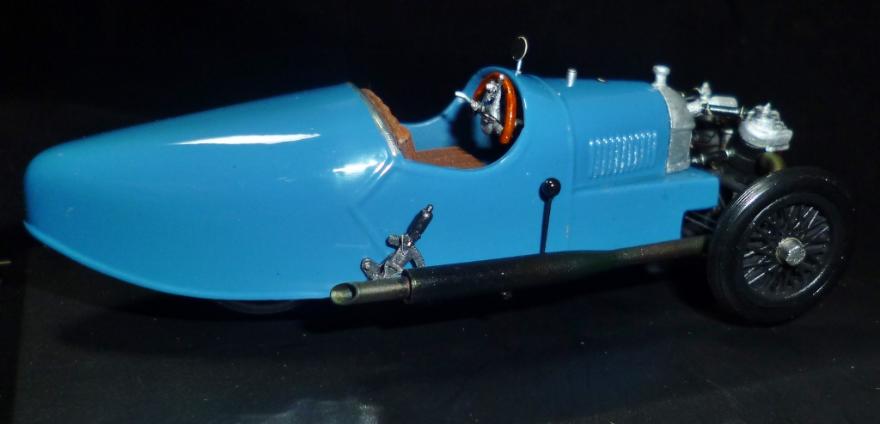 Darmont Sport 1927 DS
Between 1919 and 1939 French automobile manufacturer Darmont built small cars, largely Morgan based three wheelers, from their factory in the Paris conurbation of Courbevoie. This French-made version of the British Morgan had the same sports car characteristics of lightweight and good power making it competitive and great fun to drive with speeds of up to 160 kph being attainable.
Morgan had shot to fame in 1913 after McMinnies victory in a Morgan Runabout at that years Cyclecar Grand Prix held at Amiens, remarkable in that Henry Frederick Stanley Morgan's company only came into being in 1912. This event was the first ever Grand Prix exclusively for cyclecars and the win made Morgan's Three-Wheelers popular in France. Amongst the importers of Morgan cars to France were Franquebalme, Guyot, Badelogue; and of course the Darmont brothers Roger and André.
As it worked out Roger did the building calling himself "Constructeur du Morgan" while his brother André raced the machines to help promote the business. Sadly France (along with everyone else) was plunged into the midst of war in 1914 and while Darmont had sold 150 cars that year, and had orders for 500 more in 1915, the war seriously interrupted the business.
With peace once again reigning from 1919 Darmont returned to selling Morgans and this venture was once again boosted by a race victory. This time a Morgan was victorious, in the hands of Paul Houel, at the Circuit de L'Eure on August 16th, 1919. At this time the cars were exactly the same as the British Morgan vehicles with most of the parts brought over from England and assembled at the Darmont factory at 27, Rue Jules-Ferry, Courbevois, Paris. As time past parts started being made at the plant too. Darmont were producing 14 cars a week in 1920 and negotiations began to fully manufacture the cars under licence. In 1921 the Darmont-Morgan went on sale.
There was a second reason for the popularity of cyclecars in France. On the 30th of July 1920 the French Government past a law setting a universal 100 francs tax for all vehicles capable of carrying up to two people but weighing less than 350 kg and powered by an engine of less than 1100 cm3. This was a deliberate effort by Government to promote motoring amongst the less affluent members of society (unlike Colin Chapman selling cars in kit form to avoid purchase tax some 30 years later), and was a great success.
The Darmont-Morgan was virtually indistinguishable from the Morgan, it was faithfully reproduced by French craftsmen, in France, but still very much a Morgan. It had the same air-cooled 1084cc, 2 cyl-V, 4-stroke engine, as the Morgan, as well as chain transmission with no reverse gear, and being capable of 70kph. Darmont went forward and produced a range of three-wheel vehicles which was displayed at the Paris Motor Show in October 1928. By this time water cooled versions of the 1084cc engine were also on sale. Roger Darmont had started refining the designs, influenced by Sandford three wheelers, to French taste and body styling. He also started to produce his own engines so that the Darmont Spécial was available with three engine choices, the Luxe series (as on our model) was a 6hp, 1089cc motor with twin Solex Magnetos. It could rev up to 1.800 rpm, reach speeds of up to 140 Km/h and travel as much as 100 km on 6 litres fuel. The Darmont-Morgan evolved into the Darmont Spécial, which was followed by the Étoile de France (Star of France).
Darmont continued to produce three wheeled cars through until 1936 when production was stopped in favour of the Darmont V-Junior, a four wheeled car with three forward speeds and reverse. Whether this change would have been a success in the long term we will never know as World War II broke out a few years later and Darmont was obliged to end production in September 1939 and declared itself bankrupt.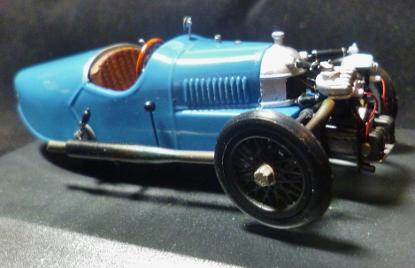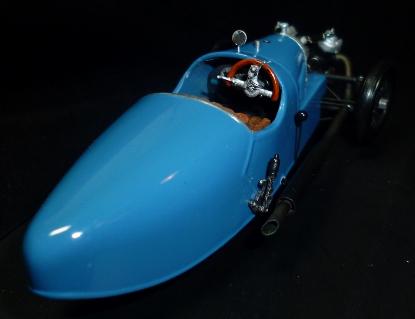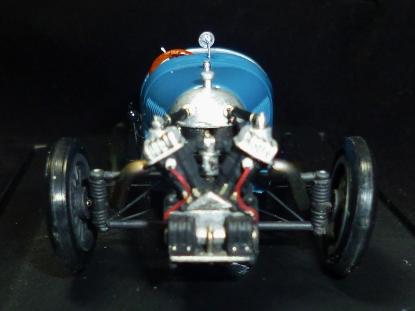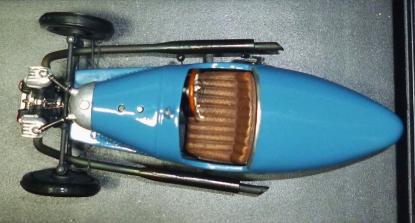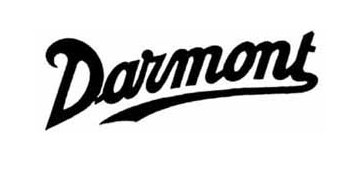 1/43rd scale model.
Conversion by Ian.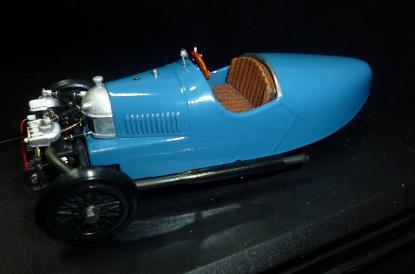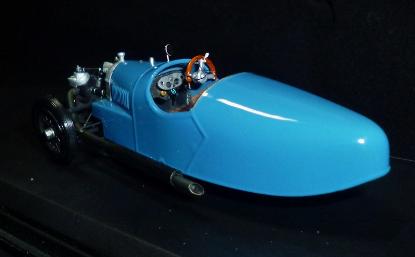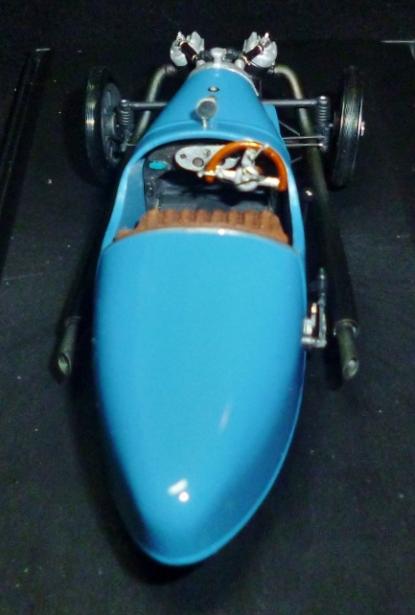 Brumm have been mass producing models for a long time and their models are often generic with the same tooling used to create models of different types in the way car manufacturers 'Badge engineer' cars. Mass production also tends to lead to parts being simplified for ease and speed of build up rather than for detail and accuracy. That said they provide an excellent basis for the scale modeller to create a unique and highly detailed miniature.
Built in August 2015 this model is the result of a total strip down and renovation/conversion to represent a Darmont of the era when they were starting to break away from Morgan designs. Most of the interior is totally scratch build. The firewall and dashboard are detailed with instruments, controls and wiring. The steering wheel has scratch built hand control levers complete with cables that flow through the steering wheel, along the column and under the dash; just as on the real car. The front end of the chassis has been completely built from scratch to allow a more accurate representation of the suspension to be built. It also allowed for the making of proper engine mounting plates and for the engine to be detailed. A clutch bell housing has been added and the magneto mounting plate modified and detailed. There is a new fuel filter with copper fuel pipe as well as a scratch built linkage for the throttle control. Both these items have their cable/pipe following back between the scratch built twin radiators. There are even plug leads running from the twin magnetos to the spark plugs. Even the twin radiators have top and bottom hoses just like the real car and scratch built exhaust pipes with subtle heat staining applied by airbrush. Finally there is a totally scratch built rear view mirror that you can see your face in.
The body was painted with Halfords acrylic car spray paint for the body, Humbrol enamels were used for the details backed up by Citadel acrylic colours and ink washes.
RETURN TO :-