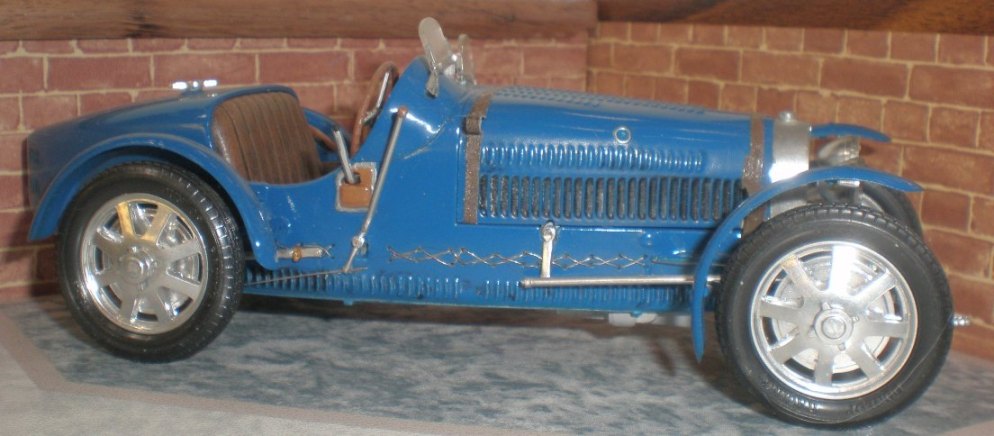 Ettore Bugatti showed a remarkable affinity with cars at a very young age. Born in Milan in 1881 he was successfully racing a twin-engined tricycle at the age of 18. Two years later he designed and built a four cyl. car.
He worked as a designer for several companies including Duetz at Cologne. While there he is reputed to have designed and built a small car with a 1208cc. 8-valve, 4-cyl, engine with shaft drive. This was to form the basis of cars he was to manufacture in 1910 after leaving Duetz.
The 35B came out in 1924 and became one of the most famous models of this Marque. It had the rare distinction of being capable of winning G.P's and also being available for sale to amateurs. Between the wars it was the most successful race car available, winning 12 major GP in 1926. It can claim over 2000 racing successes during its period of manufacture between 1924-31.
Driven in its hey day by such figures as Louis Chirron, Malcolm Campbell, Tazio Nuvolari.
Straight 8-cyl supercharged 2300cc engine giving 135hp at 5300 rpm. Cast Aluminium wheels with 8 flat spokes angled to direct cooling air flow for the integrally cast brake drums. Fuel tank capacity of 22 gall.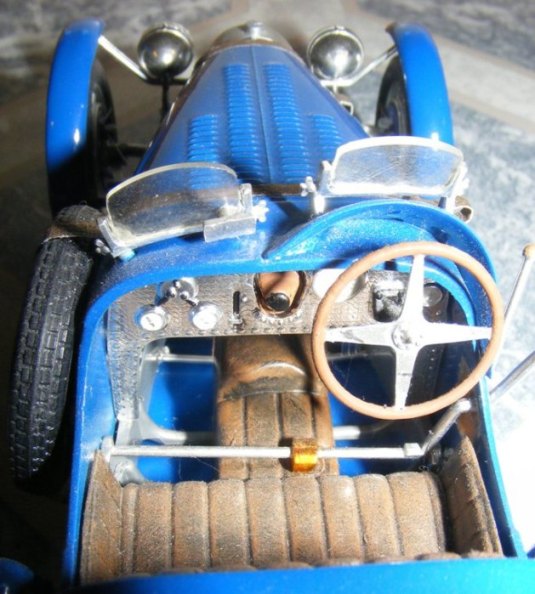 1/24th scale kit.
Built by Rod.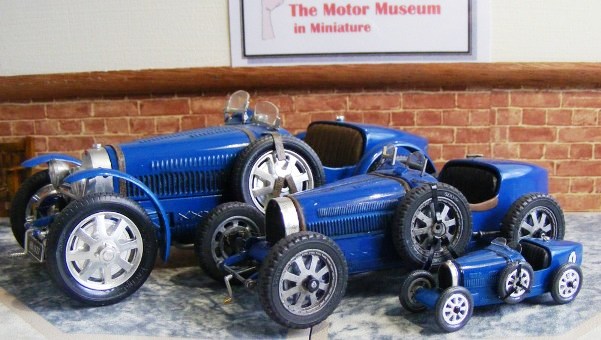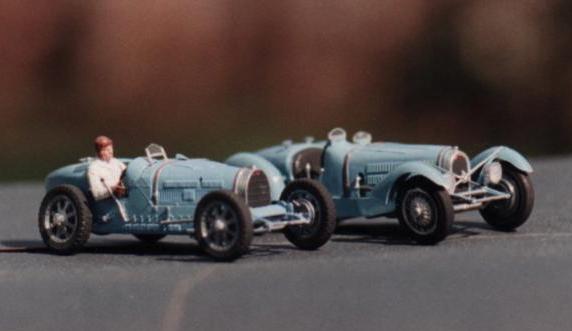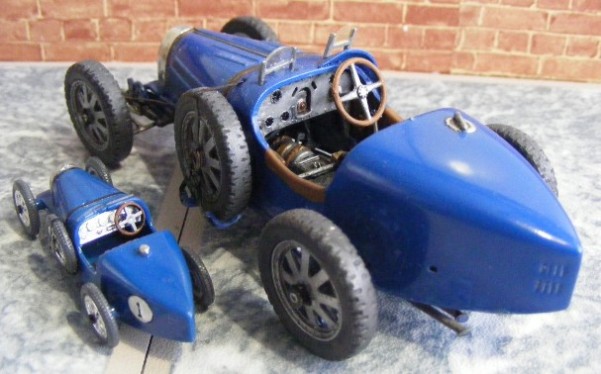 Rod's 1/24th scale model is accompanied by a 1/32nd scale Airfix model, shown above in it's original light blue enamel paint and it's later restored condition.
The tiny model is from the Jet promo' set of 10 cars given away at petrol stations back in the 1970s. It comes in at 1/69th scale in this case, although that scale does not extend across the whole range which seems to be a rather mixed bag of scales.
Restored in January 2007 by Rod this model had been built previously and donated to the museum. If you compare this model with the race version built by Ian you can see what was meant about the wheels being too bright. Rod has adopted a different method of improving the body securing system too. Otherwise the model is straight from the box, so to speak, with dry brushing and ink washes being used to help give life to the seats.
RETURN TO -