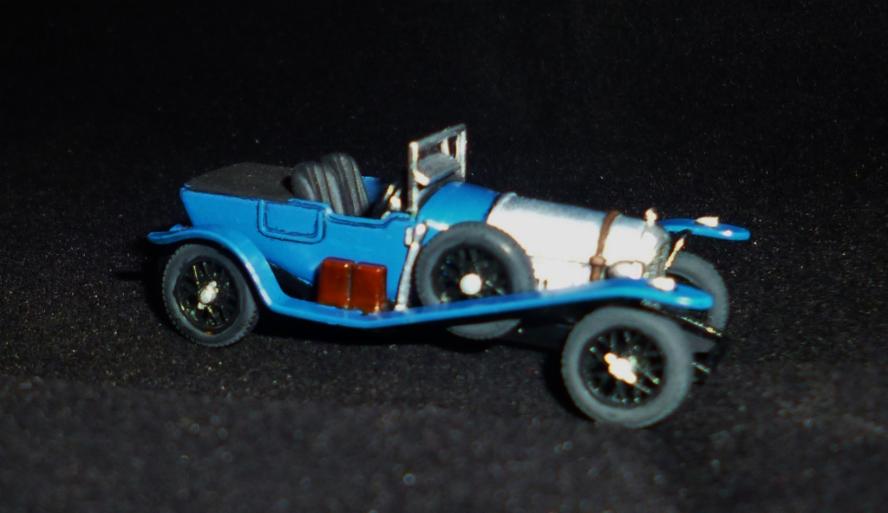 1927 3-Litre Bentley
Bentley's founder W.O. Bentley, is famous for his simple aim; "To build a fast car, a good car, the best in its class." But that wasn't where his working life began. Walter Owen Bentley started as a Railway apprentice.
His love of mechanical motion started with a second-hand bicycle he purchased when he was just nine years old. He stripped it down to find out how it worked and of course rebuilt it. Like many boys of his era, it was the big, fast, railway locomotives that really caught his imagination. He started an apprenticeship with the Great Northern Railway after leaving school and eventually achieved his dream of working on the footplate of the locomotives. But after a 5-year apprenticeship W.O.'s interest was waning as the latest thing in automation was motorcars, and motorcycles.
Always preferring to be called W.O., Bentley obtained a Quadrant motorcycle which, with a couple of his brothers, he enthusiastically prepared for racing. It was his interest and experimentation with motorcycles, and a paperweight, that led to his idea of making pistons out of lighter weight metals than the conventional iron or steel. This resulted in a final formula of 88% aluminium and 12% copper. Lighter in weight but still able to handle the high loads and temperatures of a racing engine, when fitted in his French DFP car, which he was the British importer for, he was able to achieve class wins in hillclimbs, and races at Brooklands and set a class record for the flying mile of 89.7mph.
Bentley's lightweight pistons would also find a home in aero engines, When the First World War started W.O. put his plans to start his own motorcar company on hold and joined the Royal Navy. He was able to use his pistons in the fighter aircraft and designed his first rotary engine, the BR.1, which was used in the Sopwith Camel. He further developed that unit into the BR.2 and he not only supervised the production in the factories but went to the active squadrons at their frontline Aerodromes. On one occasion even being strafed by the famous Red Baron, Manfred von Richtofen, and his 'flying circus'.
Once World War One had ceased fire, and the various meetings and conferences to make the armistice permanent began, all the different arms of the war machine scaled back and the men retuned home. Captain W.O. Bentley was discharged in 1919, having been nominated for an M.B.E in the 1919 New Year's Honours list and receiving an £8,000 from the Commission of Awards to Inventors, W.O. had what he needed to set up his own motor manufacturing firm.
On the 18th of January, 1919, W. O. Bentley and his brother Horace Millner Bentley, founded their firm which was became Bentley Motors Limited on the 10th, of July 1919. The North London, Cricklewood, premises from which the pair had sold the imported French DFP cars was the base for the new firm and all the research, design and experience he had gained through the war could be brought together.
Power with endurance had been imperative in the Aero engines of the war, a philosophy already in W.O.'s thinking, was equally important for the new Bentley cars. W.O. said "The policy was simple; we were going to make a fast car, a good car, the best in its class."
Another gentleman, fresh from the Royal Flying Corps, was the cars' engine designer, Clive Gallop. His innovative four-valves-per-cylinder engine suited the sturdy W.O. chassis and by the opening of the London Olympia Motor Show in October, 1919, Bentley had chassis EXP2 on display, albeit with a dummy engine due to some engine components being unavailable to fit in time. The first of this new design rolled out of New Street Mews, London, late in 1919 but development issues pushed the release date back from July 1920 to September 1921.
Experimental No.1, fitted with an open-touring body, was completed in December 1919 and started its various test runs. The new car had a number of advanced features, some of which still get the nod of approval in modern engines, like four valves per cylinder, overhead cams, twin spark plugs and extensive use of aluminium and magnesium for their light weight properties. One of the drivers to test chassis EXP1 was SCH 'Sammy' Davis who wrote for 'The Autocar' magazine. His discoveries were printed in the January 1920 edition of the said magazine. One phrase in particular speaks volumes of the Bentley design, and also of 'Sammy Davis' racing ambitions. He said the Bentley design was "For the man who wants a true sporting type of light-bodied car for use on a Continental tour – where speed limits are not meant to be observed – the 3 Litre Bentley is undoubtedly the car par excellence." He went on to say the design was "intended to appeal to those enthusiastic motorists who desire a car which, practically speaking, is a true racing car with touring accessories". It seems the firm's idea was to build a car with an eye to racing then detune it for the road, rather than the usual manner in which a road car is improved and developed into a racing car. Testing indeed included some competition work, running at Brooklands race track as well as doing sprints and hill climbs. This development proved the design so it was ready for production.
W.O. later wrote, "I hate noise for the sake of noise. 70mph in silence is far more creditable than a noisy 80mph." As such he actively pursued improvement and refinement during the development of chassis EXP2. Little more than an experimental 'mule', EXP2 had a plain two-seater body originally, but coachbuilders, JH Easter, of Chagford Street, rebodied the car with a sportier body in the March of 1921. Now in a deep read colour and featuring an aluminium bonnet and chromed radiator shell the car looked very hansom indeed. EXP2 had its first race on Saturday the 7th of May, 1921, when Bentley works driver Frank Clement took the start in an event at Brooklands. Although it didn't fair well on that day EXP2 would soon take Bentley's first win. On Monday the 16th of May, again at Brooklands, in the Whitsun Junior Sprint Handicap. EXP2 continued its development and racing career throughout 1921 and 1922 until it was sold on the 7th of September, to E.R. Foden; the famous lorry manufacturer.
The first of the new production 3 Litre Bentleys (production chassis No.1 and engine No.3), was delivered to one Noel van Raalte on the 15th of September 1921, looking pretty much as we expect to see them today; although the price of the Bentley 3 Litre rolling chassis had risen from the 1919 price of £750 to £1100 by late 1921, This car, like EXP2, is still dunning today!
Like many manufactures of the day Bentley produced only the rolling chassis, on a wheel base of 9ft 9&1/2 inches (2m,984cm), with a straight four-cylinder engine of 3 litre capacity, with an overhead camshaft. The body work was then added by the coachwork firm of the customer's choice. It was a large, sturdy chassis and engine combination but the body work could make these cars very sporty looking, or incredibly elegant should that be your preference.
The Bentley engine workers built the engines upstairs and the chassis down stairs. Once the engine was bench tested it then had to be partially disassembled in order to get it back downstairs to the waiting chassis.
The heart of the new car was the engine designed by Clive Gallop recently released from the Royal Flying Corps. Innovative, and what we today would describe as "future proofed" too, this durable inline four-cylinder motor had the sort of features that still turn heads in the performance arenas today. 4 valves per cylinder, dual spark plugs, overhead camshaft, twin-carburettors, etc. The one-piece cast iron block and cylinder head unit had pent-roof combustion chambers too had a capacity of 2996cc from an under-square bore (80mm / 3.1in) and stroke (149mm / 5.9in). This provided good low-end torque, useful for a car with just a four-speed "A" type gearbox and cone clutch.
Initially the oil was cooled in a finned sump using just the air-flow under the car, however, the air-ducts became full of mud and road debris rendering them useless. Oil was scavenged from the dry sump to separate oil-tank and run via internal piping through the water-jackets for cooling.
Power output was somewhere in the region of 65-70hp at 2,500rpm. As the three classes of three litre emerged the standard 3L could reach 80mph (128.72kph), the speed model 90mph (145kph) and the Super Sports racing cars could top 100mph (161kph).
Slowing the cars down from such impressive road speeds was a clever compensator system, for the foot and hand brakes, to allow for any chassis distortion and brake wear. Until 1924 brakes were only fitted on the rear wheels. Bentley did experiment with an hydraulic system but decided to stay with a mechanical rod-operated layout.
The design evolved over the next few years with the radiator being by an inch and the header tank enlarged. Compression ratio were raised and a variety of carburettors were tried along with vacuum feed being superseded with a pressurised system.
Produced between 1921 and 1929 over 1600 of the 3-litre model were produced, in three basic classes. Bentley cars had different colours in the oval behind the "B" on the radiator, this led to the classes being 'unofficially' called the Blue label, standard production model, the Red label "Speed" model with a 5-year warranty and the 100mph Green label Super Sports (of which only 18 were built), carrying just a 12-month warranty due to the unpredictable stresses of their highly tuned state.
Sadly for Bentley, the 1929 Wall Street Crash and subsequent Great Depression hit the firm hard as demand for expensive motor cars fell away. On the 10th of July, 1931, a receiver was appointed to over-see the liquidation of Bentley Motors. As it transpired it was Rolls-Royce Limited that became the new owners of Bentley, their independence lost Bentley's became 'badge engineered' Rolls-Royce designs.
Today, many people still think of the 3-litre Bentley as quintessential British. A real 'Sports' car at a time long before racing cars took to the road rather than the other way around. Despite only being in production for six years it put the Bentley Motor Company firmly on the map. Thanks largely to W.O.s insistence on an attitude of "relentless pursuit of both luxury and performance", assisted greatly by patronage from the Prince of Wales, later King Edward VIII, and the then Duke of York, later King George VI, actresses Gertrude Lawrence and Beatrice Lillie (Lady Peel), as well as the invaluable early support of John Francis Duff, adventurer, soldier, stunt man, record breaker and Le Mans winning 'Bentley Boy'.
In some ways the huge potential of Bentley was lost due to the Depression and being taken over by Rolls-Royce. But five victories at Le Mans in the 1920s cannot be argued against, Bentley was something special; and it was the 3-liter car that launched the firm to this standing. Today Bentley is owned by Volkswagen AG but the cars, still built at Crewe, England, remain the highly desirable grand tourers they were back in the 1920s. And, they added a sixth le Mans victory to the firms records in 2003 too.
Apparently, around 80% of all Bentleys ever built are still in existence today. The oldest is EXP2, the first chassis to win a race for Bentley. It is now owned by Bentley Motors, is thoroughly restored and makes regular appearances at events and shows around Great Britain and indeed the world. Not bad for one of the Bentleys which Ettore Bugatti considered "the fastest lorry in the world."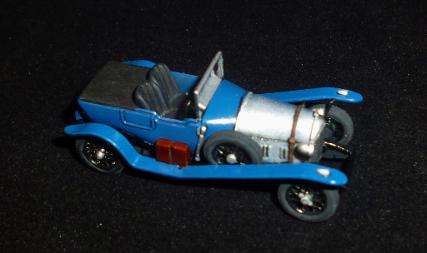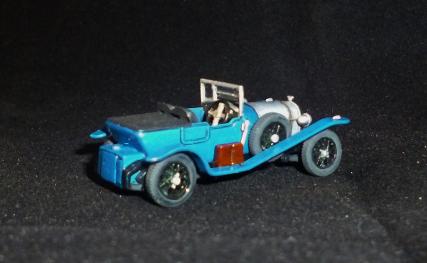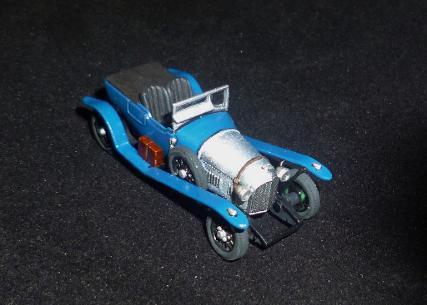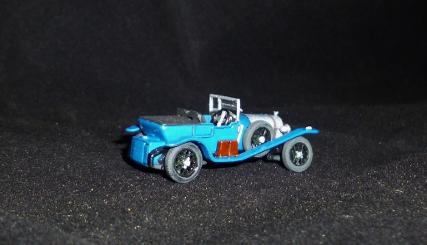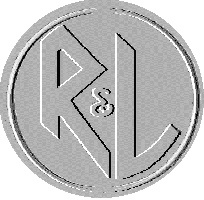 1/87th scale kit.
Built by Ian.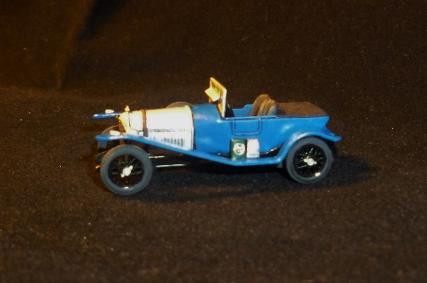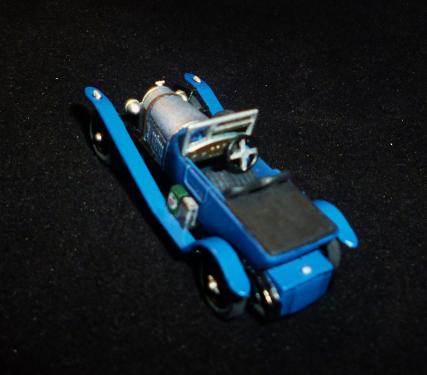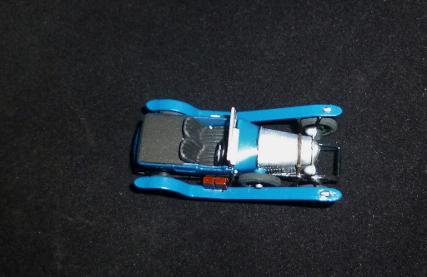 Our second 3-litre Bentley model has been completely overhauled to make it as close as possible to the 1927 'le Mans' winning Bentley entry. This required a large amount of scratch-building! The two together make an interesting pair.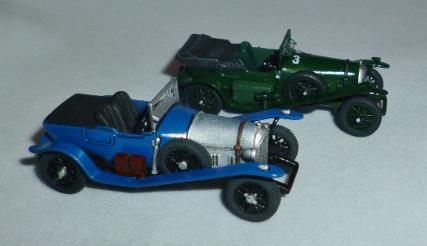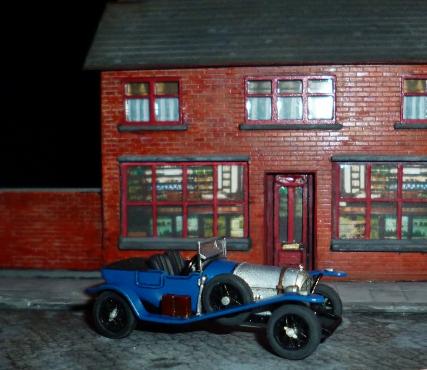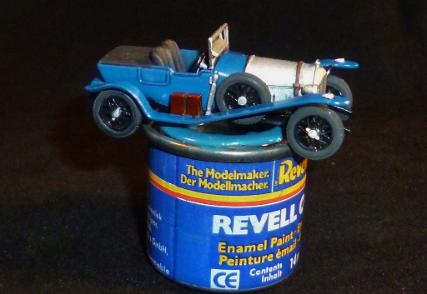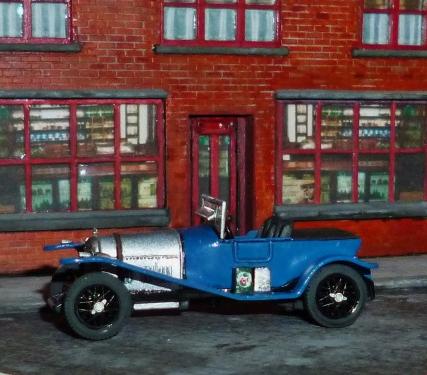 For size comparison, here is the 1/87th scale 3-litre Bentley model on the bonnet of our 1/24th scale 'Blower' Bentley model.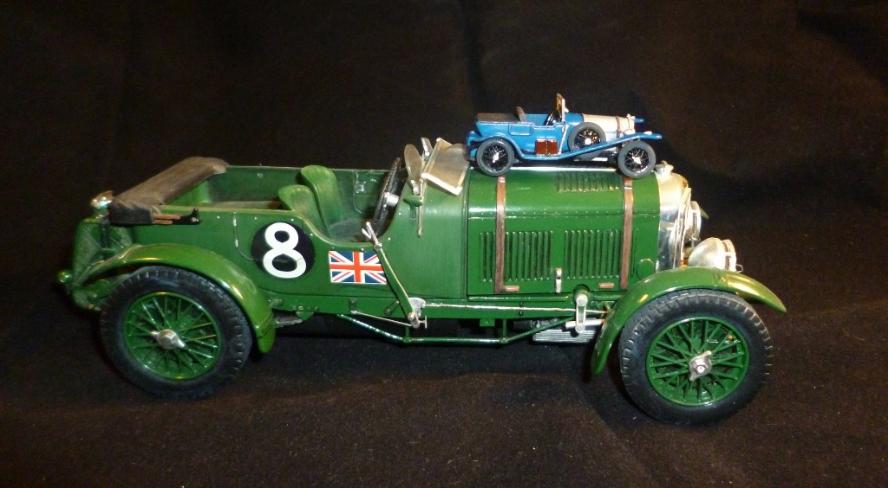 Jet promo model car kits
Designed by R&L, Rosenhain and Lipmann of Melbourne, Australia, these kits were not only used as part of a Jet petrol promotion campaign but also in cereal promotions too. These events led to many kits being around back in the 1970s and, like many such 'toy' items, most probably ended up in the bin. R&L made a lot of such soft plastic models across a wide range of subjects including trains, aircraft, space craft, sailing ships, tugs, figures, animals and much more. Largely aimed at children, being simple push together designs the models were quick and easy to build. They are surprisingly accurate and nicely detailed so they can be built into very nice little models, however, they are now much harder to come by and prices for them can be quite steep. The range consists of: -
#1 1927 Bentley le Mans
#2 1926 Bugatti type 35
#3 1915 Ford Model T tourer
#4 1913 Sunbeam tourer,
#5 1912 Packard Landaulet,
#6 1901 Oldsmobile curved dash
#7 1905 Vauxhall Hansom motorcab.
#8 1899 Renault
#9 1904 Mercedes
#10 1913 Morris Oxford
Interestingly the plastics different in their compositions. The Jet ones being a softer plastic, and each car having a different but suitable colour, while the cereal promo kits were moulded in a harder grey plastic. The latter being easier to work with from a scale modellers point of view but either type can still be built into a nice model.
The original set consisted of ten cars from the pioneers to around 1930, but in 1975 Aurora released a set of just 4 of the cars as Snap-a-roos 'OLD TIMERS' set # 9258. This set also included the 1927 Bentley, along with the 1912 Packard, 1913 Sunbeam and 1901 Oldsmobile.
Our kit was purchased from ebay seller in late November 2022 some 50 years after the initial Jet promo release. It cost £6.99 + £4.50 P&P; £11.49 in total. Given that this is the only one missing from our set of ten Ian decided to buy one while he had the chance as these rare little models have been seen advertised for considerably more in their mint Jet Promo packaging.
Built straight from the packet during Jan/Feb 2023 Ian used Alclad II black primer, chrome and clear and Zero paints Tyrrell blue, all applied by airbrush. Detail painting was done with a brush using acrylic colours from the Deco-Art and citadel ranges.
RETURN TO :-