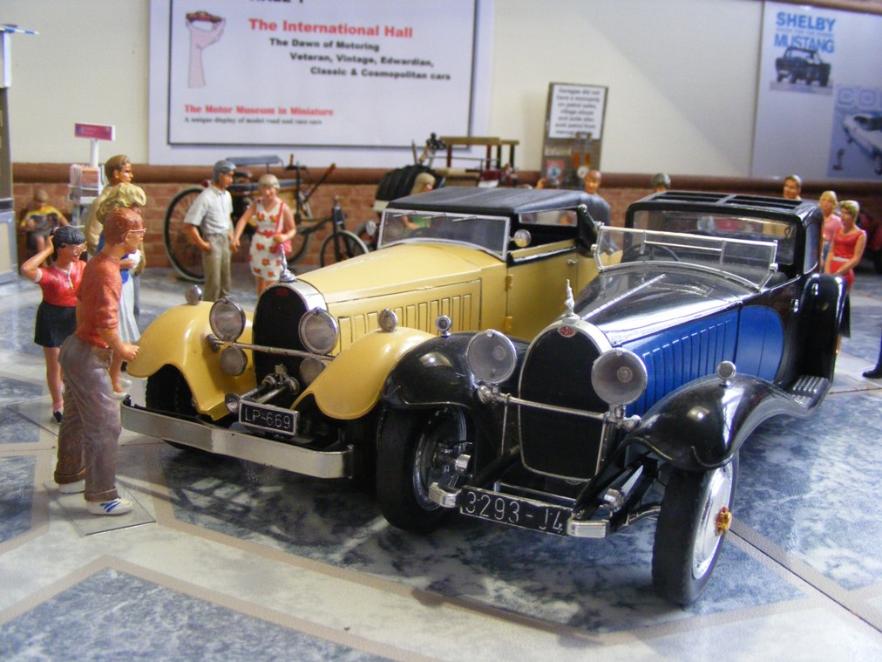 Bugatti had dreamed of making the ultimate car to beat the world as far back as 1913. His dream came true with the type 41 Royale in 1926. They called it a whim, but for a whim it was pretty substantial:
With a 15-litre engine and claimed 300bhp (twice as big as a Rolls-Royce), 10% heavier and with a 180 ins. wheelbase, (20% longer than a long chassis 'Phantom' and the same as a London bus), and a bonnet of such length that a mini could be parked on it. It was a sensational car in its day.
Ettore Bugatti planned to build twentyfive cars and sell them to Royalty. But even the European Royalty was not buying such things during the Great Depression, and Bugatti was only able to sell three of the six made. The remaining engines were fitted into rail cars and one set a world speed record of 122 mph.
One model replicates a car first sold in 1931 as a 2-seat roadster, the original owner had no intention of driving at night as it had no lights. Later it was bought by King Carol II of Rumania, and the body rebuilt by Binder as a Sedanca de Ville featuring bullet proof glass and bodywork. The first British Park Royal bodied Royale in 1933 cost £5,250.
Today the Bugatti Royale is both one of the largest, and rarest, cars in the world.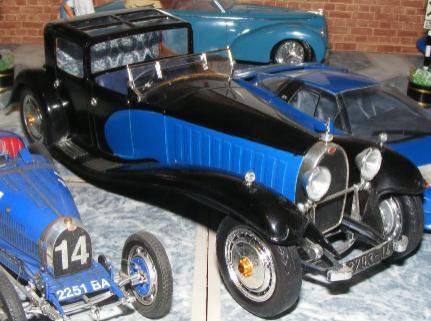 (Yellow Wienberger) 1/24th scale kit.
Built by Derek Bonas.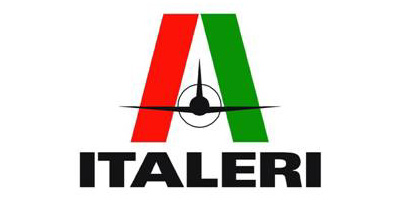 (blue Napoleon) 1/24th scale kit.
Built by Rod.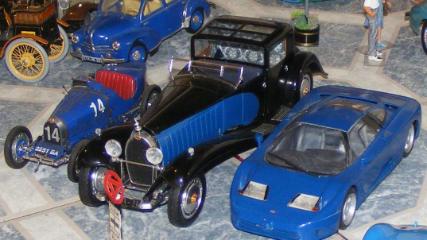 Restored in 2007 from a donated built model the Wienberger car has (like the Napoleon before it), been spray painted with Halfords car paints and detail painted with Humbrol enamels, the Wienberger car was then added to the blue Napoleon within the Museum collection.
The Napoleon T41 model shows the attention to detail with the covering applied to the rear seat. A sample of the cloth was lifted from a photo Rod took at a museum, he reproduced it on computer and printed it off to cover the back seat with. Carpet was applied from an after market product from Kit Form Services.
A further kit by Italeri of the 'Voyager' car is still awaiting construction.
RETURN TO -