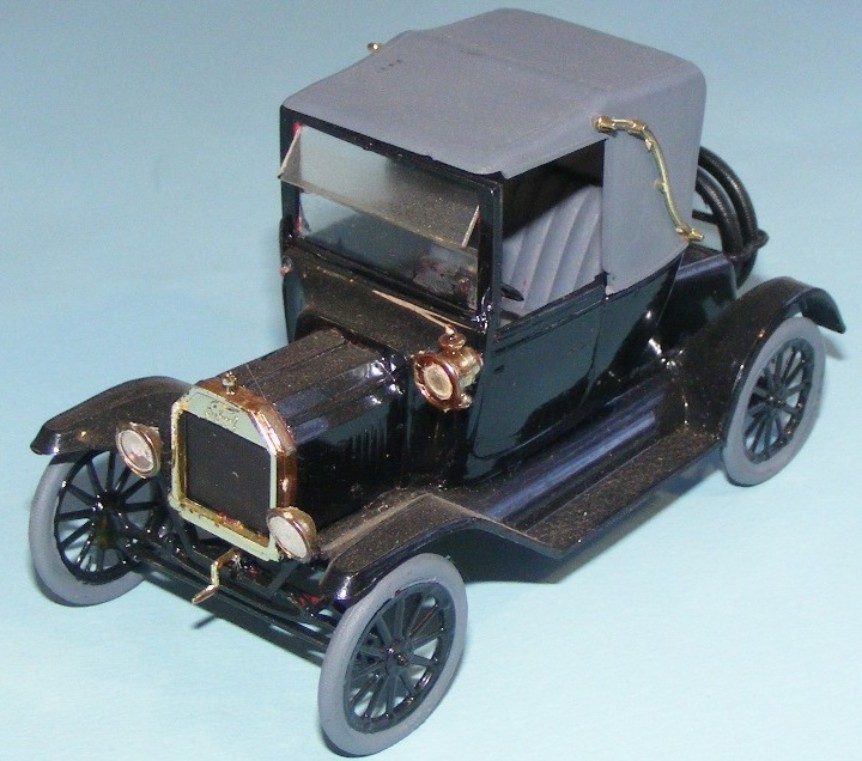 Amongst the many different body versions of the mass produced Model T produced were the Touring, the Roadster, the Center Door, the Coupe, the Mountain Wagon, and the Speedster. By the early '20s, Ford T's accounted for half the cars sold in America.
In 1915 2,417 Ford Model T 2-door, 2-seat coupelets were produced, priced at $750.00. The Coupelet had a folding top with doors that had windows and a large turtle deck. It was equipped with a water cooled four cylinder engine that developed 22.5 horsepower and a two speed transmission. In 1916 a further 3,532 units were produced (less than 1% of the Model T's made that year) making a total of about 5,949 cars.
The 1916 coupelet is identified by the "porthole" windows on each side of the top which the 1915 coupelets did not have. It is assumed that of these cars less than a dozen remain, only a handful in decent condition. There is no question that it is a very rare Model T and highly desirable cars today.
A later "Add on" applied by many owners were a set of Dayton wire wheels. These came out in early 1915 and considered "very special". When Edsel Ford took a "T" on a road trip to California in 1915 his car was fitted with Dayton wheels. The riggors of the journey across country proved too much for the wire spokes and Edsel converted to Wooden wheels partway through the trip. Edsel kept a diary, and took many pictures, creating a scrapbook record of the adventure, an original copy of which is held at the AACA library in Hershey.
1/32nd scale kit.
Donated by D. Bonas.
Restored by Rod.


Over the years we have met many hundreds of people and on several occasions models have been donated by members of the public, friends and by fellow modellers. This is one such model, in fact it is part of a large donation from a modeller who simply wanted his models "to go to a good home" rather than end up thrown away. This thought touches a chord with us as over the years we have heard many stories of collections that were lovingly built up over many years only to end up in a skip!
Mr. D. Bonas is thanked for his generosity, which will not be forgetten, and we hope he will be pleased to see his models are in safe hands. Derrick had built his models while serving in the Royal Navy and as such he was under restrictions that stopped him painting many of his models. When we picked them up from him he was at pains to say that we should make use of them in anyway we could, So many of the models will be stripped down and refurbished, converted and detailed, generally bringing them up to date. Some however will remains as built by Derrick recognising his passion for the hobby, his skills, and as a mark of respect.
When the site is in full swing you will be able to find information on the restoration techniques we use to breath new life into older models. Look out for our Projects and articles pages.
RETURN TO -