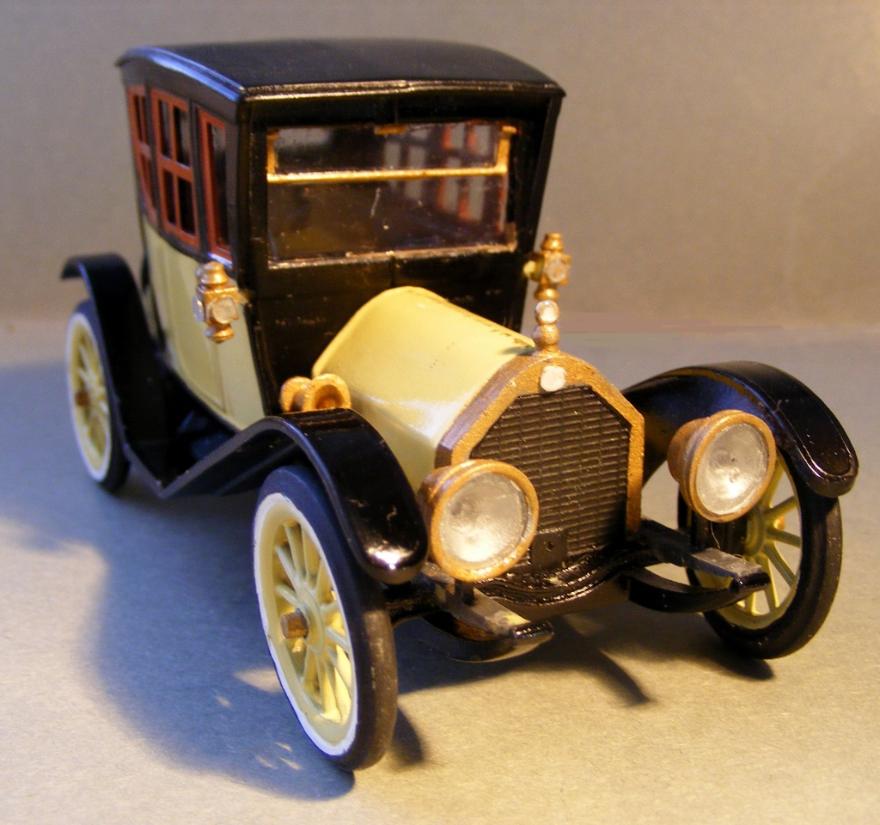 1914 Regal "Colonial" coupe
Regal Motor Car Company of Detroit, Michigan, built automobiles from 1907 to 1918. The company began as a partnership between brothers Charles, Bert and J.E. Lambert with Fred W. Haines. They started building cars of a conventional construction designed by Paul Arthur and aimed at medium priced market. Despite it's relatively short existence Regal established an excellent reputation and was considered a successful marque for the time.
This success was born out of two incidents which gained considerable publicity for the company. The first was that all 50 of the Regal 4cyl' 20hp cars sold in 1907 were recalled to the factory, on Piquette Avenue (a short distance from The Ford Motor Company factory), in 1908 and the owners were given a brand new 1908 model for free. Some sources say this was a marketing ploy others that the 1907 cars had mechanical issues. Certainly the spin put onto this occurrence, which led to the company motto, "Honest with itself, honest with its product, and honest in its dealings with its distributors and owners", suggests a little more than a marketing stunt.
If there were any concerns about the endurance of the designs or parts these were put to rest in 1908 when George Wilcox set a record transcontinental run of 4031 miles in 38 days, from New York to San Francisco in a Regal Touring car. This car went on to accumulate more than 22,000 miles while repeating the trip another five times.
Having passed endurance tests without any mechanical problems Regal's 'Plugger' received much positive publicity and in 1909 over 2000 cars were sold. Regal cars were still conventional touring cars with a 4cyl' engine of 20, 30 or 40 horse power. A five-passenger touring car cost $1,250 in 1909 and proving to be a very good buy.
The Type N "underslung"
Most early 20th century American roads were unpaved and as such became deeply rutted and little more than muddy tracks. Cars of the time were typically built high for good ground clearance, and not for high speed. These conventional cars had the springs mounted on top of the axles and below the chassis, much as horse drawn vehicles had for centuries. Of course such cars were tall, but then, they needed to be.
In late 1910 Regal introduced it's 'underslung' model N roadster (with the chassis running below the axles, not above them), and caused a sensation! It's sleek looks, exceptionally secure handling and stability came from being low, wide and having the driver sat well back in the chassis; it had a smooth look to the tapered cowl and the position of the headlights revealed the designer's sensitivity. It was all startlingly modern and handsome. More than that it had the performance to match, it's 20hp 199cubic-inch engine could drive the car at 60mph! These cars soon got recognition form the Police as they could catch anything else on the road.
Smaller than it's main competitor the 'American underslung', and less imposing than either the Stutz Bearcat or the Mercer Raceabout, this "jaunty" sports car made Regal's name. Certainly Regal were the main competitors to the American Motor Car Company's "American Underslung" (conceived by Fred Tone) although Norwalk and Voisin also built underslung cars.
Initially Regal produced the 'underslung' roadster alongside the larger conventionally framed 30 and 40hp touring cars, but in later years introduced a coupe and tourer on the underslung chassis.
The Colonial Coupe
The two seater coupe version was introduced in 1912 and in contrast to the very modern looking roadster had a most conservative body fitted. The enclosing bodywork resembled the classic horse-drawn coaches of the early American Colonial period, the small paned windows also resembled those of a dwelling of that time. The beautifully cut windows accentuated the carriage design and the interior even had curtains! The name "Colonial Coupe" stuck and in it's own way it was as striking a vehicle as the roadster had been two years earlier.
Set on the same underslung 108inch wheelbase chassis with the company's ever developing 4cyl' L-head inline engine, transmission was through a three-speed manual gearbox to live rear axle and mechanical brakes (on two wheels) stopped the car.
In 1913 power from the engine rose to 25hp which was handy for the heavier Model T underslung tourer with it's larger body. In all Regal produced 7,627 vehicles in 1913. Production of all models for 1914 was 8,136 although production of the underslung models was falling. 1915 saw a lighter 2.1ltr, 20hp, version of the 4cyl' engine and a more powerful 40hp V8 engine come online. These were designed by S.G. Jenks and supplied by the Port Huron Construction Company. Car production rose again to 8,227 in 1915 although the coupe production was now very limited, it being the most expensive model.
The end of Regal
World War 1 caused serious problems for Regal. Their chassis were used for armoured cars but proved too heavy and being restricted to paved roads were of little use. Shortage of materials hampered road car production which dwindled to 823 in 1918 and forced the company into receivership. The assets were purchased in the summer of 1918 by Maurice Rothschild and although the factory remained open providing a spare parts service and maintaining vehicles they never built cars again. Regal Motor Company's factory closed down in 1920.
An interesting footnote to the story is entwined with the export of cars to Britain badged as Seabrook-RMC (Regal Motor Company). Seabrook sold the cars from Great Eastern Street, London, and for the 1919 Olympia Show displayed a 3.8ltr 6cyl' car under the name of R.M.C.. The origin of this car is a mystery as Regal never made a six, or certainly never advertised or listed one.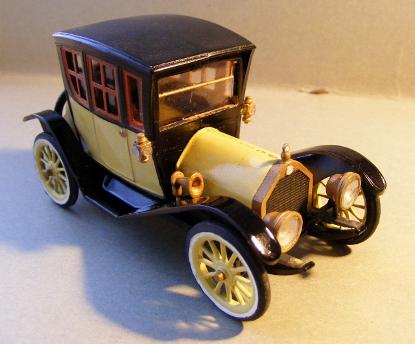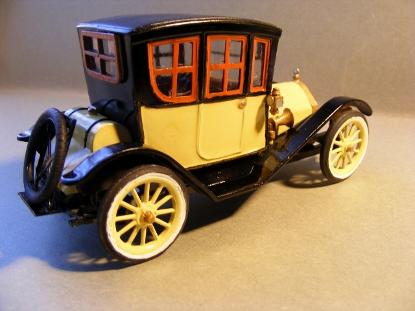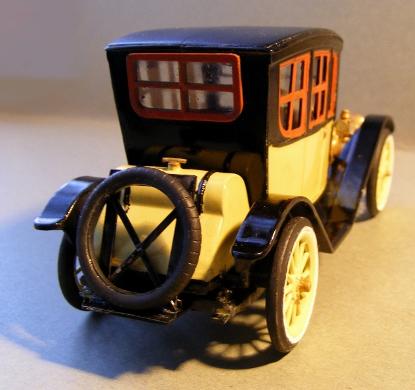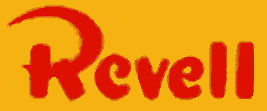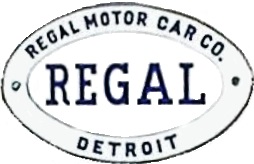 1/32nd scale kit.
Built by Rod.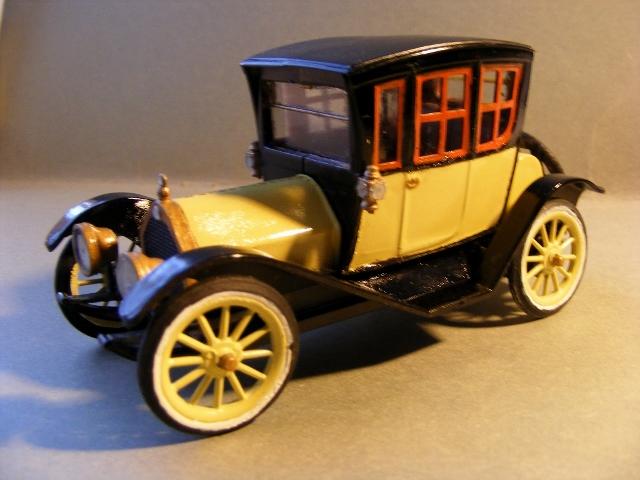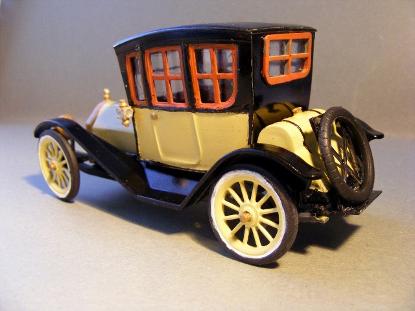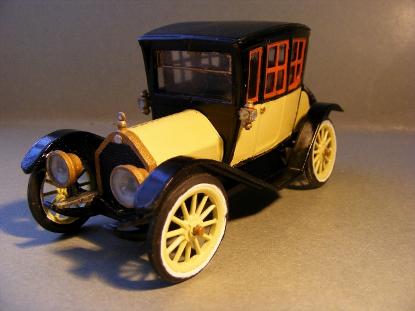 Rod built this kit in 2015, approaching 80 years of age! He drilled out the lights and the horn for more realism, added lenses and scratchbuilt the spare tyre carrier at the back. The model is painted with Halfords car spray paint for the body work and a mix of Humbrol enamel and acrylic paints for all the details.
The kit was originally produced as part of the 'Lil old timers' range by Hudson miniatures. Hudson Miniatures were a traditional wooden model kit manufacturer and were shocked by the success of Gowland and Revell in the plastic model market, in response they introduced a 1954 range of plastic kits of their own. As well as the Regal there was a Maxwell, a Mercer and Oldsmobile curved dash and sports car kits in the first series.
A planned second series was to include a Packard Landaulette, a Chevrolet, a White and a Hudson (we believe). Only the Packard got released as Hudson Miniatures sold this side of the business to Revell, most (but not all) of the kits were released under Revell branding as part of the 'authentic scale' range. The kits do appear from time to time at model shows and second hand dealers; and most notably under SMER branding in the 2000s. This particular boxing was a Revell one, reference H-103, labeled "Made by Revell (Great Britain) Ltd, Berner St., London".
RETURN TO :-