The 1914 G.P. De l'A.C.F. is considered by many to be the race of the century. It was one of the most competitive and exciting of all races to that point and proved to be the end of the "heroic age" of motor racing. The small companies pioneer spirit, that had seen car racing grow from an amateur amusement of the rich into a highly professional sport, was about to be lost in the fog of mass production. Archduke Franz Ferdinand had been assassinated less than a week before making this the last Grand Prix before World War One.
For the 1914 Grand Prix season cars were restricted to a maximum weight of 1,100 kg and an engine capacity of 4500cc. Altogether 37 cars from 13 manufacturers in 6 countries were entered including full works backed teams from Delage, Peugeot, Vauxhall, Sunbeam, Fiat, Opel and Mercedes.
A crowd estimated at over 300,000 watched the thirty-seven cars start in pairs with a thirty-second gap in between each pair. The Grand Prix turned out to be a rehearsal for that great war being contested primarily between the French Peugeots and the German Mercedes. Mercedes approached this race in a most highly organised fashion. They engineered each of their five team cars to meet the individual requirements of its two man crew and established a race plan that all the drivers understood before a wheel ever turned.
Max Sailer led by 18 seconds at the end of the first lap, and by almost three minutes at lap five. This was his part in the great plan, to go out fast and overstress the French cars who would be honour bound to try to keep up. When Sailer retired with a blown engine on lap six, after already setting the fastest race lap at an average of 69.780 mph (112.325 kmh), Georges Boillot took over the lead, for Peugeot, and retained it for the next twelve laps at one point leading by over four minutes.
Each Mercedes driver was required to make one stop for new Continental tyres during the race, regardless of the tyre wear. In contrast Peugeot suffered with very poor wear of their Dunlop tyres and Boillot's eight stops for tyres allowed Lautenschlager to close in on him. With three laps to go the Peugeot 112bhp cars lead was only 14 seconds and the ailing car was seriously slowing. Mercedes no.28 driven by Christian Lautenschlager over took him and by the end of lap 18 had opened up a lead of over 30 seconds. The Mercedes' of Louis Wagner and Otto Salzer followed Lautenschlager past the Peugeot to produce a stunning 1-2-3 finish, the first ever for Mercedes.
Boillot stopped on the last lap and Peugeot were barely able to hold onto fourth place with Jules Goux. Christian Lautenschlager won at an average speed of 65.665 mph (105.677 km/h).
These cars also raced in America in several races including the Indianapolis 500 and their racing lives extended well after racing resumed at the end of WWI.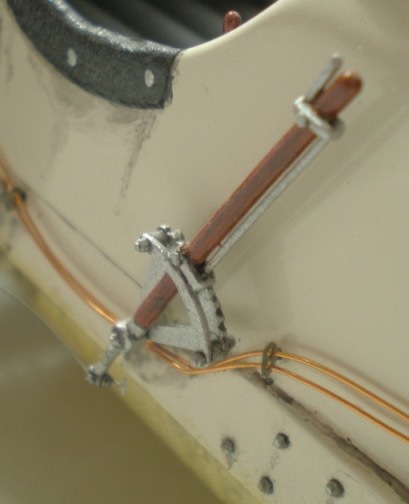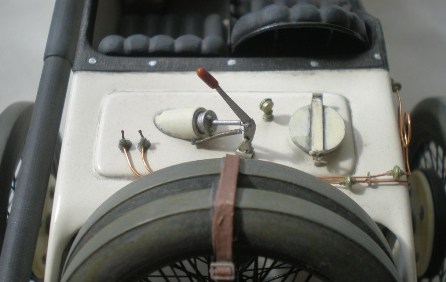 1/16th scale conv'.
Built by Ian.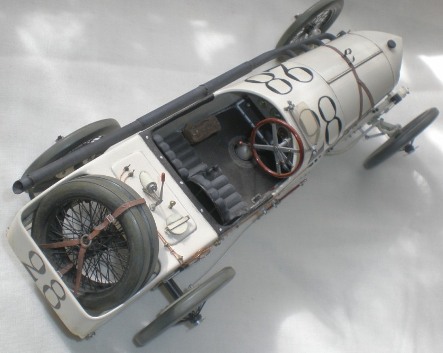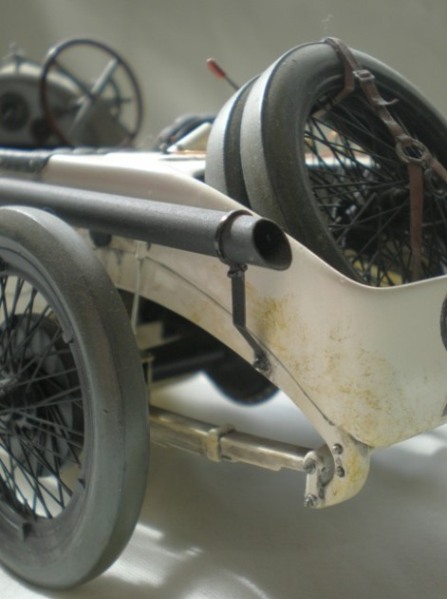 We have termed this model a conversion as it is now very different from the kit supplied in the box. To start with the fuel tank top consists of more parts than the original kit which resembled a basic 1950s 1/32nd scale kit in it's simplicity.
The wheels were originally artillery spoked and had to be changed to wire spoked wheels (the process can be found in our respoking wire wheels articles). The one piece bench seat had to be cut into two different seats and all the body work from the seats back was scratch built. Detail was added to the chassis members and spring shackles. Scratch built friction dampers added to the spring/axel mountings. All the moulded on bonnet straps were sanded off and replaced with masking tape straps and photo-etched and fittings. The braking system and handbrake quadrant were scratch built as was all the fuel system and fuel tank details. The list of replacement and detail parts goes on and on but you probably get the picture by now.
Halfords acrylic car paints were used to spray the body and many of the sub assemblies with detail painting and weathering done with Humbrol enamels and Citadel acrylics applied by brush.
RETURN TO -