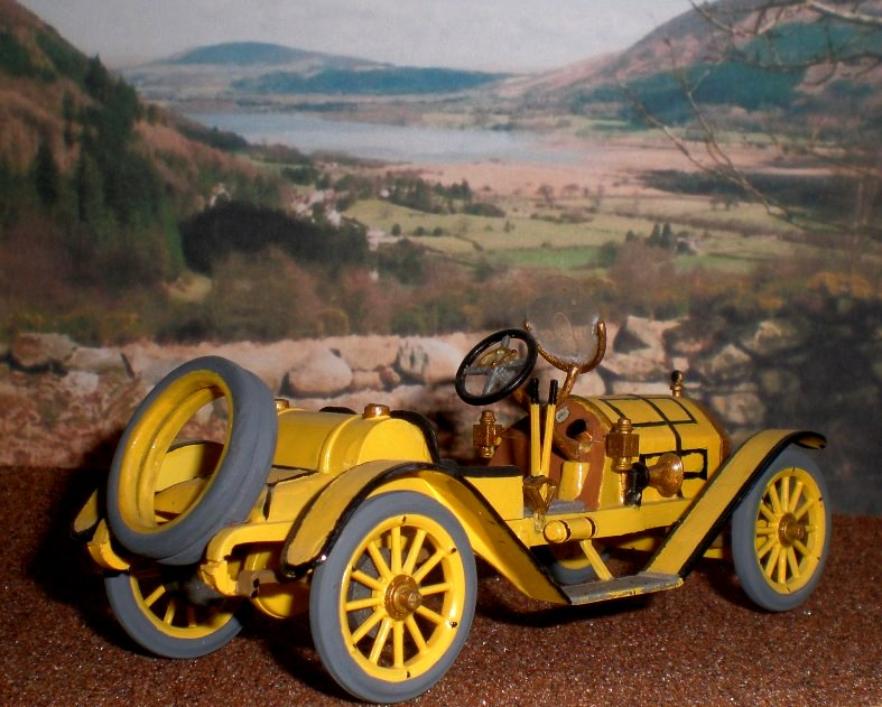 Mercer fans had their own little sayings about owners of the rival Stutz. While it was not necessarily true to say 'you have to be nuts to drive a Stutz', there can be little doubt that the Mercer had at least as many plus points over the Stutz as the Stutz had over the Mercer.
The Mercer always seemed to be proportioned just right, it always sits closer to the road and that certainly contributes to its cleaner looks.
The Mercer was built by the Mercer Co. of New Jersey started by the Roebling family, whose firm John A. Roebling Sons Co. built the Brooklyn Bridge. Designed by Findlay Robertson Porter, the Type 35 made its debut in 1911. The factory guarantee was a mile in 51 seconds, and it was the proud boast of the company that no customer ever brought one back complaining that it did not! The Raceabout came from the showroom ready to race, but enthusiasts found ways to make it cover a mile in much less than 51 seconds.
The Raceabout had very little in the way of body work as it came from the factory. There were no enclosures, no doors, no cockpit. Perched behind the engine, with the protection of only a monocle windscreen the driver (placed on the right hand side of the car) could easily see the left front wheel. While it made for accuracy in positioning, few peoples could stand the wind buffeting for more than a few minutes at a time.
Designed and built for racing it soon collected trophies, honours and a reputation. Among its drivers was Washington Roebling II, son of the firms founder, who was drowned in the Titanic Disaster of 1912.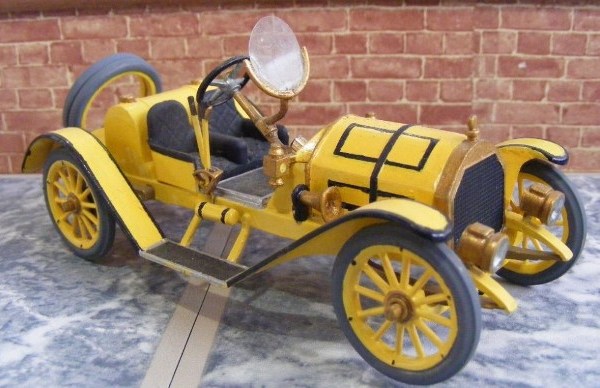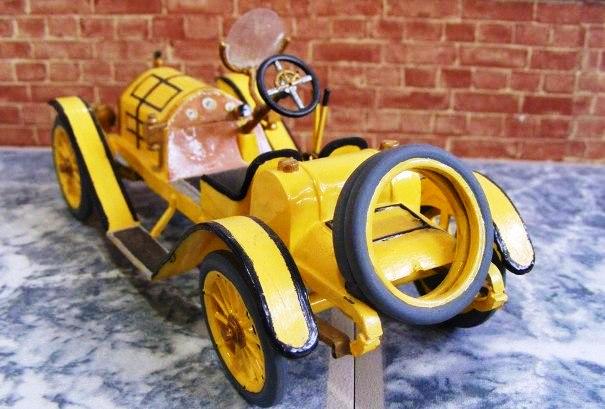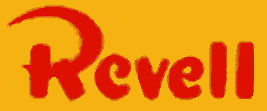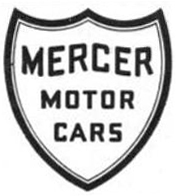 1/32nd scale kit.
Built by Rod.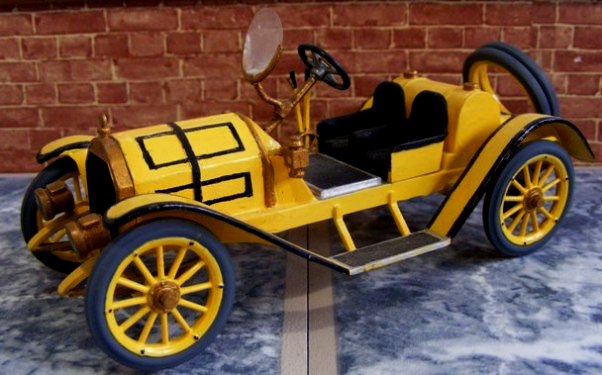 A very old kit and by today's standards very basic. But everything had to start somewhere and this kit is from early the early days of plastic modelling as well as a subject from the early days of motoring.
Built in the early 1960's and brush painted with Humbrol enamels the kit has had lenses added to the lamps and a clear acetate monocle windscreen added to the mount. What is also evident is that the kit was made with tube glue and the effect this can have on clear parts is visible in the photos. Today we would use clear acrylic varnish or thinned down PVA adhesive.
RETURN TO -