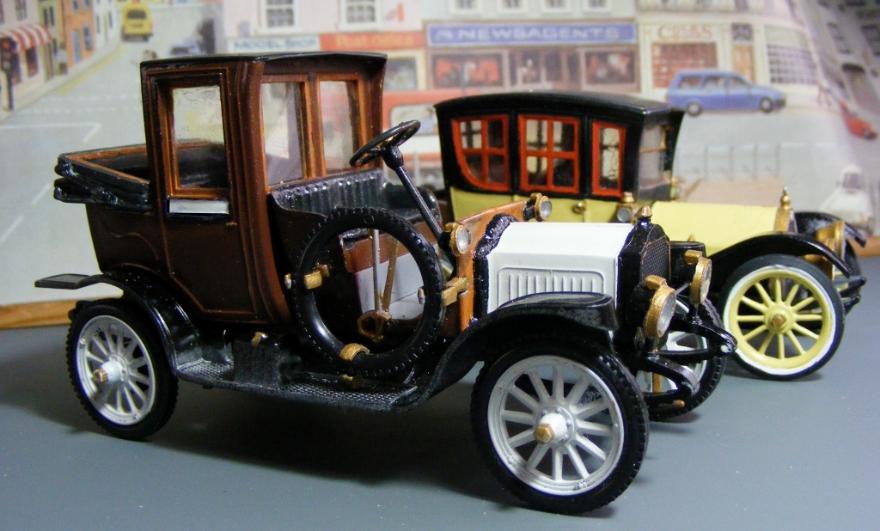 Packard was an American luxury car built by the Packard Motor Car Company of Detroit., and later by the Studebaker-Packard Corporation The first Packard automobiles were produced in 1899, and the last in 1958. Packard was founded by James Ward Packard, his brother William Doud Packard and their partner, George Lewis Weiss, in Warren, Ohio where 400 Packard automobiles were built from 1899 to 1903. Being a mechanical engineer, James Ward Packard believed they could build a better car than the Winton car owned by Weiss, an important Winton stockholder
In September, 1900, the Ohio Automobile Company was founded to produce "Packard" autos. These cars quickly gained an excellent reputation and the name was changed in 1902 to the Packard Motor Car Company. All Packards had a single-cylinder engine until 1903. From the very beginning, Packard featured innovations, including the modern steering wheel and, years later, the first production 12-cylinder engine and air-conditioning in a passenger car.
While the Black Motor Company's "Black" model went as low as $375, a Western Tool Works' Gale Model A roadster was $500, the high-volume Oldsmobile Runabout went for $650, and the Cole Runabout was US$ 1,500, Packard concentrated on cars with prices starting at $2,600. The marque developed a following among wealthy purchasers both in the US and abroad. Henry Bourne Joy, a member of one of Detroit's oldest and wealthiest families, bought a Packard. Impressed by its reliability, he visited the Packards and soon enlisted a group of investors—including Truman Handy Newbury and Russell A. Alger Jr. In 1902, this group refinanced and renamed the New York and Ohio Automobile Company as "Packard Motor Car Company", with James Packard as president. Packard moved its automobile operation to Detroit soon after, and Joy became general manager, later to be chairman of the board. An original Packard, reputedly the first manufactured, was donated by a grateful James Packard to his alma mater, Lehigh University, and is preserved there in the Packard Laboratory. Another is on display at the Packard Museum in Warren, Ohio.
From 1903 the new company introduced luxury cars with four-, six- and eight-cylinder cars. One of them in 1912 was the type 18 powered by a 26hp 5.7 ltr. four cylinder engine, having a bore of 114.3mm (4.5ins.) and stroke of 139.7 mm (5.5 ins.) A rigid frame with rigid axles were sprung by longitudinal semi-elliptic leaf springs. The landaulet body had a semi-drop head above the passengers' seats. The open driver's cabin could be covered by an emergency linen roof.
Before WW1, Packard built 400 Eighteens a year although the price of US$4,500 was not affordable at that time..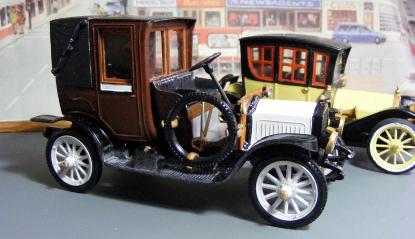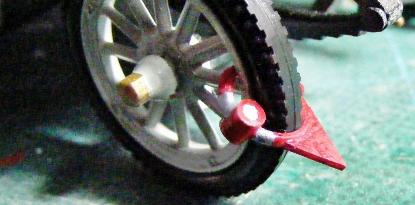 1/32nd scale kit.
Built by Rod.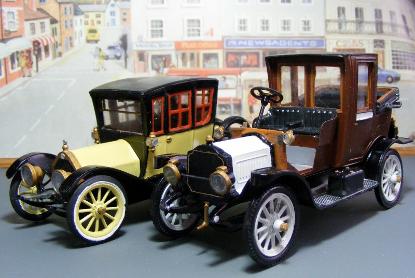 The kit was originally produced as part of the 'Lil old timers' range by Hudson miniatures. Hudson Miniatures were a traditional wooden model kit manufacturer and were shocked by the success of Gowland and Revell in the plastic model market; in response they introduced a 1954 range of plastic kits of their own. A Regal, a Maxwell, a Mercer and an Oldsmobile curved dash and sports car kit were in the first series.
A planned second series was to include a Packard Landaulette, a Chevrolet, a White and a Hudson (we believe) didn't get completed. Only the Packard got released as Hudson Miniatures sold this side of the business to Revell, most (but not all) of the kits were released under Revell branding as part of the 'authentic scale' range. The kits do appear from time to time at model shows and second hand dealers; and most notably under SMER branding in the 2000s.

Rod built this model in March 2015 using Halfords car spray paints for the main finish and Humbrol and Citadel Acrylics for the detail painting. It is improved by the addition of glazing and having the lights drilled out and lenses added.
Also of note is the early 'Anti-theft' device, scratch built by Rod and fitted to the front right wheel.
RETURN TO :-