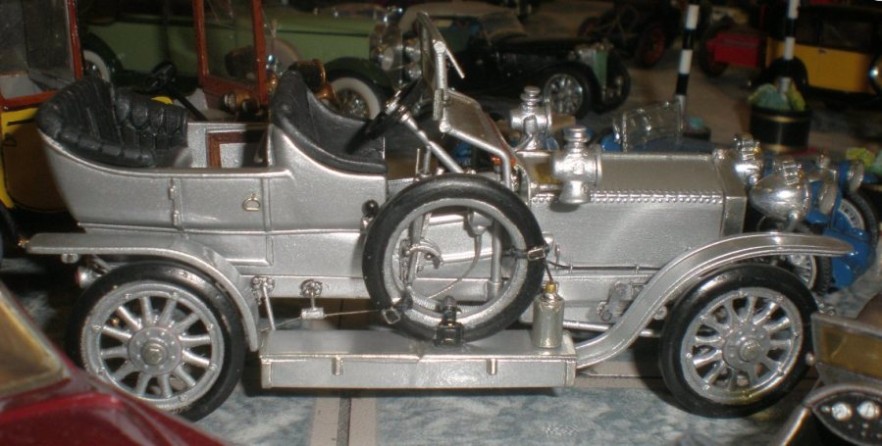 Henry Royce was an engineer making electric cranes in Manchester. In 1904 he purchased a French 2-cyl. Decauville car, although not the worst of cars of the day, Royce was not satisfied with its mechanical crudity, so set to work to build himself a 2-cyl car of modest power, but great refinement, which soon went into production. Charles Rolls was also a perfectionist. In the early days of motor racing he was a consistent competitor on Panhard and Mors cars. He also had a business for the sale of Panhard and other foreign cars. Rolls was delighted with the watch like precision of the little Royce car and the world famous partnership ensued. Rolls was killed in 1910 when his Wright aircraft crashed from only 6 feet off the ground. He had already lost interest in the Company that was saved only by the third partner, Claude Johnson, who gave it stability and direction.
In 1907 Claude Johnson, the organising genius of the firm proposed an extremely bold move. Henceforth production was to be standardised round one model only, the 40/50, soon to become known as the 'Silver Ghost', this model was to remain in production for 19 years. This was the first model to carry the famous Spirit of Ecstasy bonnet mascot from 1911 onwards.
The original "Silver Ghost" that was actually car No.13 in the 40/50 series, registration number AX 201. Its name came from its silver-grey paint finish and silver fittings. It was instantly recognisable and the name Silver Ghost was soon adopted for all 40/50s, it also led to a long line of ghosts and phantoms in the Rolls-Royce range.
Eleanor Thornton and the 'Spirit of Ecstasy'
For the first 7yrs R-R had no mascot. Then around 1910 a craze started for mascots. Two notable examples were a propeller and 'Gobbo the lucky Imp', the prospect of such a character appearing on one of their cars left R-R dismayed. So something else had to be done. The new mascot appeared first in 19l1 on the Silver Ghost, a most intriguing figure that seems to capture the whole essence of riding in a Rolls-Royce.
The figure was modelled by Charles Sykes, a notable artist of the time, at the suggestion of John Scott Montague, later to become Lord Montague of Beaulieu. The model is widely believed to be Eleanor Thornton, favourite model of Sykes. Apart from being a model for Sykes she worked for Claude Johnson, and then for John Montague, as his PA.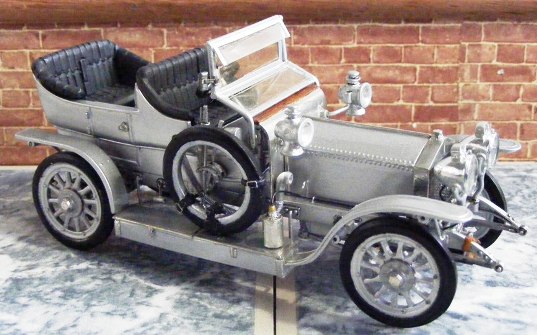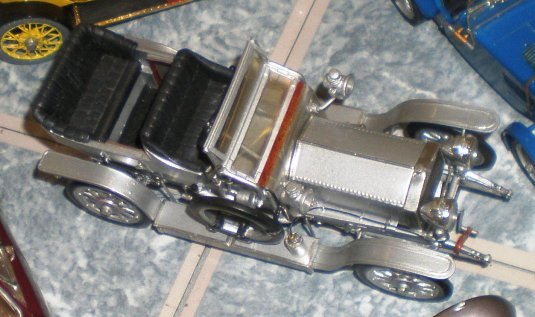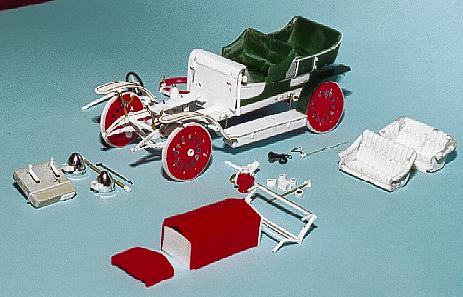 Conversion/ 1/32nd scale model.
Scratchbuild Built by Rod.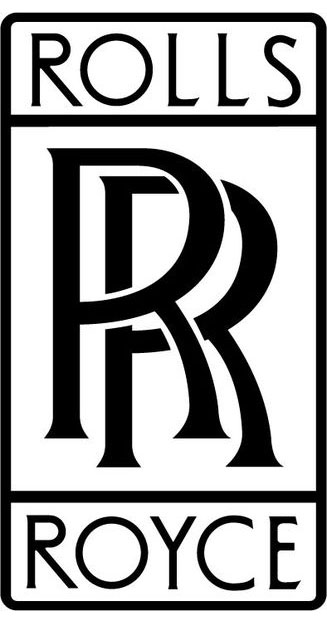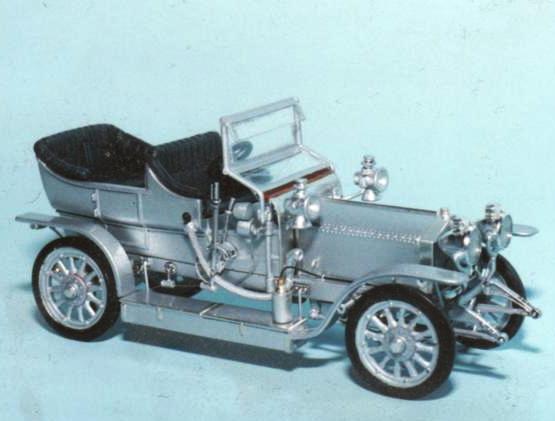 The model replicates the original Silver Ghost that was actually car No.13 in the 40/50 series. Its name came from its silver paint finish and silver fittings and was soon adopted for all 40/50s. The model is a conversion of two Airfix kits. The photographs show red parts that come from the 19ll Rolls-Royce kit and green parts from the 1905 Rolls-Royce kit. White parts are all scratch-built.
Notes and sketches for the model were started in mid August 1999 and the model was completed at the end of November 1999.
Scratch built parts-
On the chassis:
All mounting brackets have bolt heads.

Gear lever (in gate) and brake lever (24 parts).

Steering gear-drop arm and drag link.

Semi-Elliptical & Transverse springs, front & rear have

individual leaves.

Brake cables and actuators.
Steering wheel quadrant: Left lever is governor (slow-fast), right lever is ignition (spark advance-retard).
Dashboard instrumentation; from L. - R. Clock, fuel pressure gauge, trembler

coil box, magneto switch, coil switch.

On windscreen stanchion is an Elliott speed and distance recorder. All

instruments have dials.
Oil tank

is

on left hand side.
The quilted seats consists of individual pleats,

(75 parts in rear seat).

Mirror fitted with 'Mirror Glass'.

Bonnet catches added.

Door handles and hinges fitted.
Conversions and Additions
Saloon - carpeted and doors have wood finish.

Grab rail and foot rail fitted.

Head lamps converted to acetylene lamps and

are glazed.

Acetylene bottle piped to both head lamps.

Scuttle and radiator in 'Bare Metal' foil.

Starting handle with strap and (wire) buckle.
Mechanical Components
Bolt heads fitted to detachable wheel rims.

Engine block (fitted as

sump comes below the chassis line).
Note The 'Spirit of Ecstasy' radiator mascot was not fitted until late 1911, so the original 1907 Silver Ghost does not have one
RETURN TO -