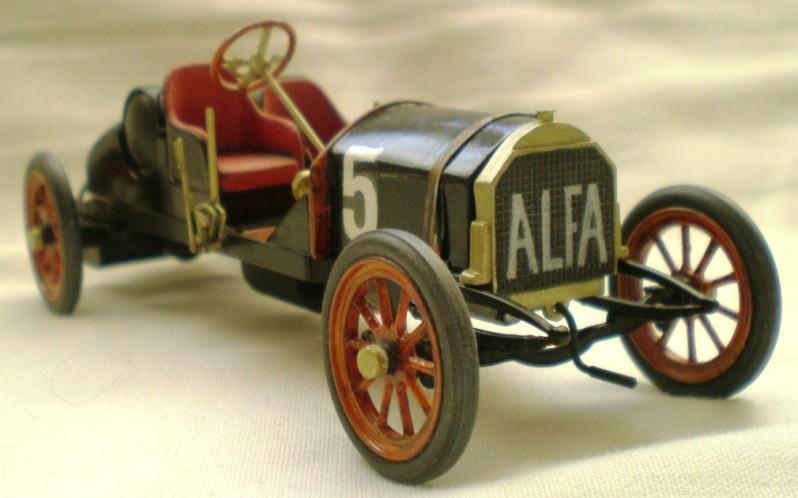 In 1906 the French firm of Alexandre Darracq, backed by some Italian investors, set up the Società Anonima Italiana Darracq (SAID) in Milan. The Italian Darracq cars were not strong sellers so, in late 1909, the Italian investors, lead by Cavaliere Ugo Stella, set up a new company named A.L.F.A.- Anonima Lombarda Fabbrica Automobili– or in English Lombard Automobile Factory, Public Company.
This new company was born at a time of great economic and social change. Guglielmo Marconi received the Nobel prize for physics, the first plastics were being engineered, and Alfa's competitors themselves– Fiat and Lancia – were, respectively, only eleven and three years old.
A.L.F.A. initially remained in partnership with Darracq but it wasn't long before they produced their first non-Darracq car, the Famous1910 24 hp. It was designed by Giuseppe Merosi, it had 4 cyl. 4 ltr engine capable of propelling it to a top speed of 100 Km/h. Giuseppe Merosi is considered one of Alfa's most important founding fathers, a brilliant technician and designer. He'd had brief periods with both Bianchi and Fiat before becoming the company's first technical director in 1910. By 1914 Merosi developed his first engine design. It had twin-camshaft valve gear and 16 valves, 8 each for aspiration and exhaust. He went on to design Alfa Romeo's first specialised racing cars the R.L., R.M. and the GPR or P1.
The A.L.F.A. company moved into motor racing soon after it was established. Their first major race being the 1911 Targa Florio. Drivers Franchini and Ronzoni competed with two 24hp models. Nino Franchini dropped out after an accident on the 3rd lap and Ugo Ronzoni retired his car, also on lap 3, because he was exhausted!
A.L.F.A. offered it's cars to the public built with exactly the same specifications as these race models.
The first real success came at the 1913 Parma Poggio-di-Berceto hill climb when Nino Franchini A.L.F.A. drove to 2nd place overall. Frachini covered the 53 km course in a time of 44m29.6s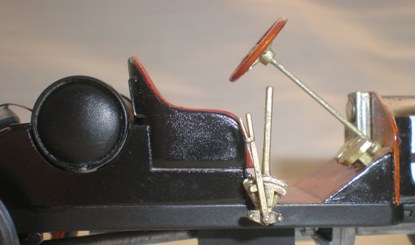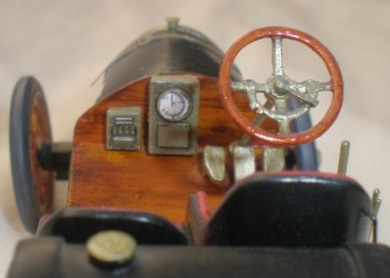 Scratch Built 1/32nd scale model.
Model Built by Ian.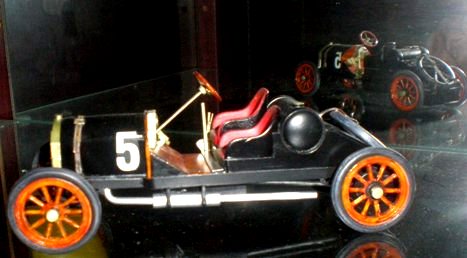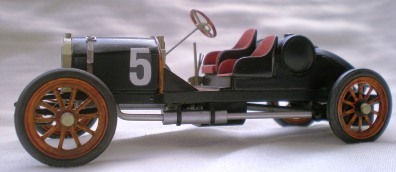 Some times you just come across a photo and think," that would be nice", as was the case with this car. The theme for I.P.M.S.Staffords Scale Model World display, some years ago, was Shakespear and "Romeo, Romeo, where fore art thou" seemed appropriate for this company that really needed Romeo to complete it. When I saw a photo of this car I knew it had to be made, albeit from a collection of spare parts, household items and not a little scratch building.
Some parts came from the Airfix 1904 Mercedes kit and still a few others came from Grandt Line model railway parts, most had to be made from Evergreen strip, rod and tube. The painting was started with an overall coat of Halfords satin black.then brush painting using Citadel acrylic paints and ink washes.
RETURN TO -