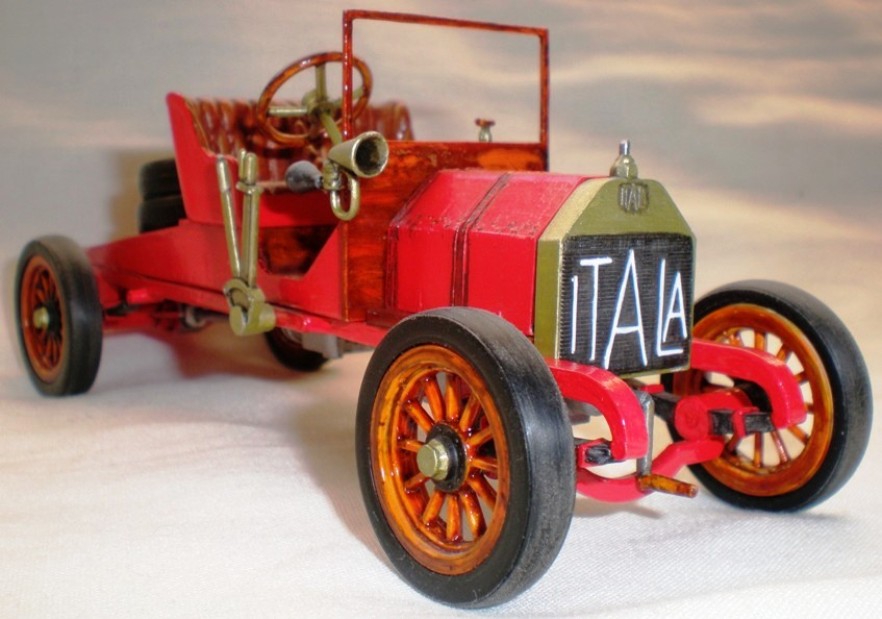 The Itala Company was formed in 1904, in Turin, by Matteo Ceirano and Guido Bigio. One of Italy's leading car brands before WW1, Itala are not as popular as Lancia, Ferrari or Alfa Romeo but their cars were usually reliable and although not as powerful as some, and sometimes heavier than others, they did have success.
Like many motor manufacturers Itala saw the benefits of competing in motor sports and started making very large engined racing cars In 1905. These vehicles had big engines a 14.8 Litre 5 cylinder model which won the 1905 Coppa Florio a year later winning the inaugural Targa Florio. 1907 saw Count Scipione Borghese driving a 7,433 cc, 35/45hp model, win the Peking to Paris motor race, by three weeks. This was backed up by a win in the Coppa della Velocita too.
Our model is from the inaugural 1906 Coppa Florrio. The race was created by wealthy automobile enthusiast, and pioneer race driver, Vincenzo Florio. The same man, who in 1900, had started the Coppa Florio races held in Brescia, Lombardy. Now he was bringing this exciting sport to Sicily. The Targa Florio course was approximately 92 miles, over roads not designed for automobiles. The route took the drivers around treacherous mountain roads with hairpin curves and sheer drops, at heights where severe changes in climate frequently occurred. As if that wasn't enough the drivers also had to contend with wolves and bandits. And the race would be three laps of the route. With a total race distance of 277 miles, it was one of the toughest competitions in Europe, not so much a race as it was an ordeal!
There were few rules to the race which left it open to standard cars, of which at least ten identical models had been built. 22 Cars were entered but, due to a dock strike in Genoa, the Darracq and Mors teams were held up. So only 10 cars took the start.
After 9 hours 32 minutes 22 seconds of driving on the tortuous circuit, Alexandre Cagno won the race, and a solid gold plate. His winning speed was 29.07 mph. He was followed to the finish by 5 other cars including three other Italas in second, fourth and fifth positions.
The race proved very popular with the local populace and continued until 1977 when it was discontinued on safety grounds.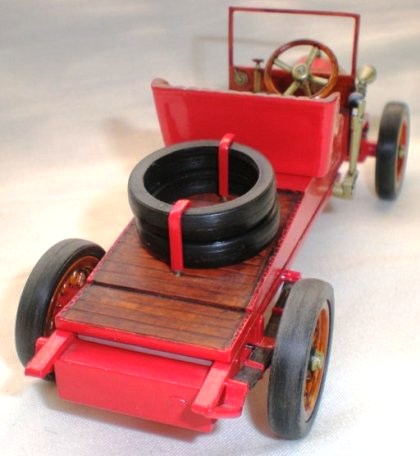 1/32nd scale kit.
Built by Ian.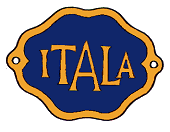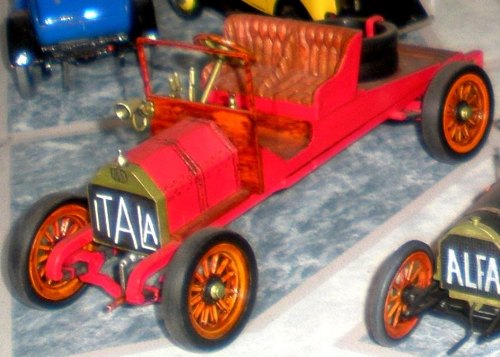 This model was built from an Italian Shell promotional kit in around 2003, the original kit being a 1960s Aviomodelli kit.. It doesn't have that many parts but looks good painted up. It is all brush painted with Humbrol enamels, then ink wasked and dry brushing techniques were used to help give some life to the model. the wood effect is done in the same wys as for the 1906 Rolls-Royce.
RETURN TO -