1905 Vauxhall 7-9 h.p 3-Cyl. side valve engine 1435 cc.
Alexander Wilson set up as a maker of small marine engines & pumps on South bank of the Thames near Vauxhall Iron Works. He adopted as the company crest, a Wyvern, of Fulk le Brent, a successful soldier of fortune in the time of King John, who had lived close to Wilsons factory site. Wilson did very well for nearly 40 years, then retired, although he still practised as a consultant engineer.
Around 1896 F.W. Hodges who had worked under Wilson thought there were possibilities in road transport and experimented with various engines and small cars. In 1902 Hodges, joined by J.H. Chambers built a single cylinder light car so satisfactory it was put into production in 1903.
At the 1905 Motor Show Vauxhall exhibited the 3-cyl, 7-9hp model at £375 including lamps and all accessories - these were rarely included in the price by other makers.
Also in 1905 finding expansion impossible Vauxhall moved to Luton. By a fantastic coincidence, Luton was the original home of Fulk le Brent! So the Wyvern was still appropriate. Another event of paramount importance was the addition to the staff of Lawrence Pomeroy Snr.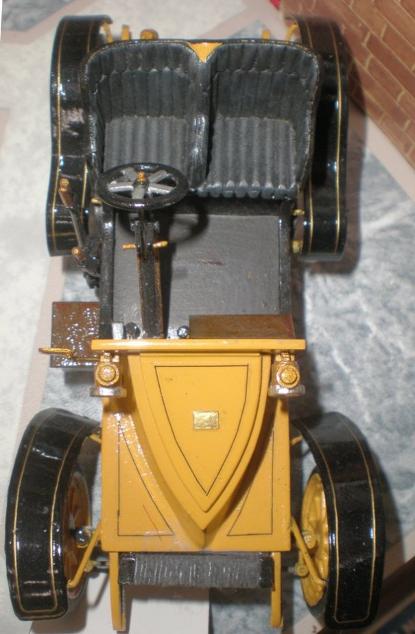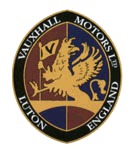 Scratchbuilt
1/24th scale.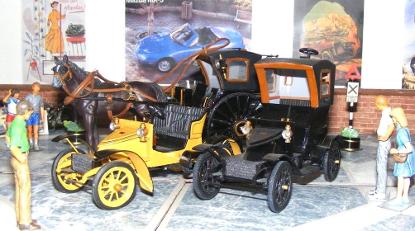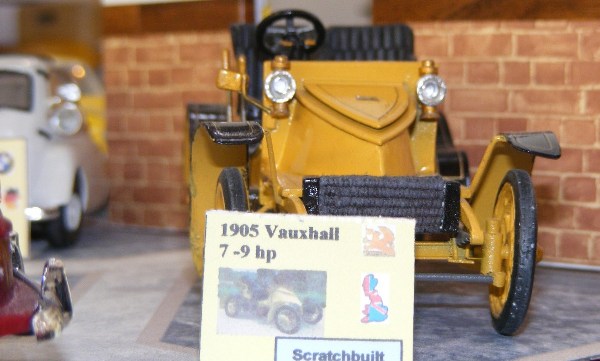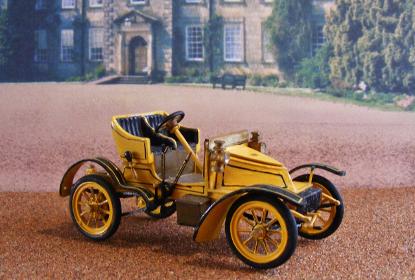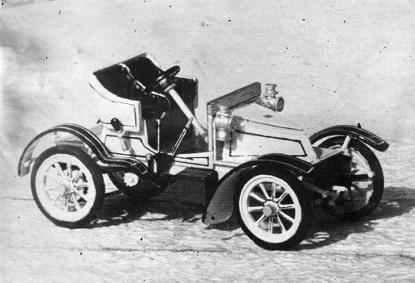 This model was scratch built at the same time as the Vauxhall Motor cab and the Fordor Hansom cab models, around 2008, enabling all common and interchangeable parts to be made at the same time. Working in this way keeps all these parts to the same dimensions and enhances the look of being from the same factory. The cab sections of the Hansom and the motor cab are the same, as is the chassis of the motor cab and the 1905 3cyl car.
All are spray painted with Halfords car paints. The front tube style radiator was common place up to this point but 'Honeycomb' radiators were already starting to take over.
The model in the bottom two photo's is a 1960s conversion based on the early Airfix 1/32nd scale kits and scratch built parts. The eagle eyed will spot parts from the 1904 Mercedes and the 1902 de Dietrich. The model is painted with Humbrol enamels applied by brush, the standard of hobby technology for that time.
RETURN TO :-