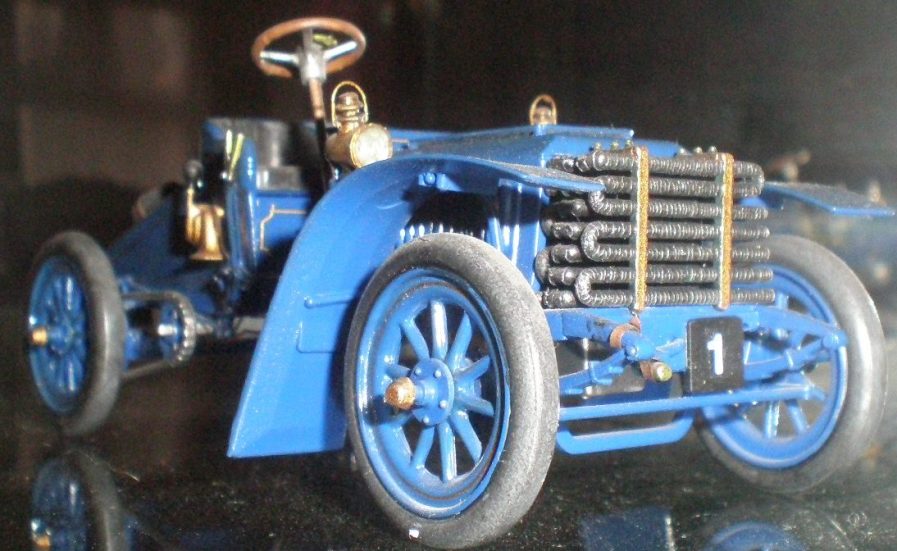 'Dietrich and Cie' of Luneville built it's reputation in the manufacturer of railway stock. In 1896 they started building motorised vehicles. Their first three-wheelers were designed by Leon Bollee's older brother Amedee Bollee. Shortly after them, a young Ettore Bugatti was also employed to design a range of models for the new make. These Bugatti designed cars were to be driven by two, four and six-cylinder engines.
Our model is a 5.7Ltr, 33hp, engined vehicle that took part in the 1903 Paris-Madrid-Paris race. An event that was halted at Bordeaux, the end of the first stage, due to an inordinate amount of tragic accidents. The race was embroiled in controversies and problems right from it's proposal. French Authorities were no longer keen on racing being held on public roads but political and economic pressure made the government relent on it's opposition. The King of Spain was very enthusiastic about the idea and might have been offended by French refusal, and France was the foremost motoring country in the world so to veto the race could be bad for French industry and prestige. The race attracted the cream of motor car manufacturers and drivers as well as a vast field of amateur racers. They were set off at one minute intervals with the starting order determined by the drawing of lots. 224 cars and motor cycles took over three hours to get underway. Enthusiasm amongst the French public was so great that the French soldiers set to keep order were completely overwhelmed, and totally ineffective, crowds swarmed over the roads in front of the speeding cars.
Rumours of incidents and crashes built at an alarming rate and by the end of the first stage 3 spectators and 5 participants were dead and over 100 people injured. Most remembered was Marcel Renault ,who died when his car failed to negotiate a bend at Cohué Vérac. His car hit a tree and threw him against the tree too, Marcel was knocked unconscious and died 48 hours later, never regaining consciousness.
It was all too much for the French Government, who held an emergency session, and despite many compromises being offered, no further racing was allowed.
Famous British racing driver, Charles Jarrot, had been first to depart, driving a de-Dietrich. He famously wrote an account of his experiences and it remains one of the most vivid renditions of the story of the "Race to Death". How motor racing had avoided such catastrophes for so long is a mystery. Jarrot's business was importing cars into Britain and exploiting the 1904 Entente Cordiale between France and Great Britain he ran the advertising slogan,
"France's best gift to England: the De Dietrich!"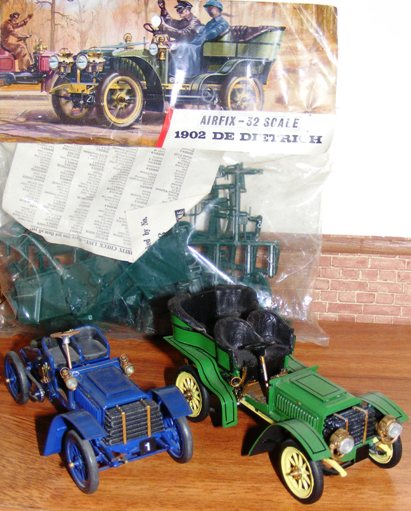 1/32nd scale kit.
Built by Ian.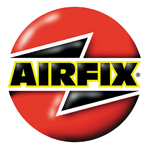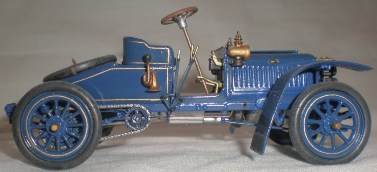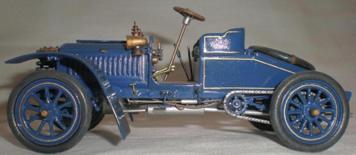 Converted from the Airfix deDeitrich kit in 1/32nd scale the model had much new detail added to. Hex NBWs, masking tape belts and fuse wire buckles are backed up by copper wire and even an electical capacitor to add detail.
RETURN TO -