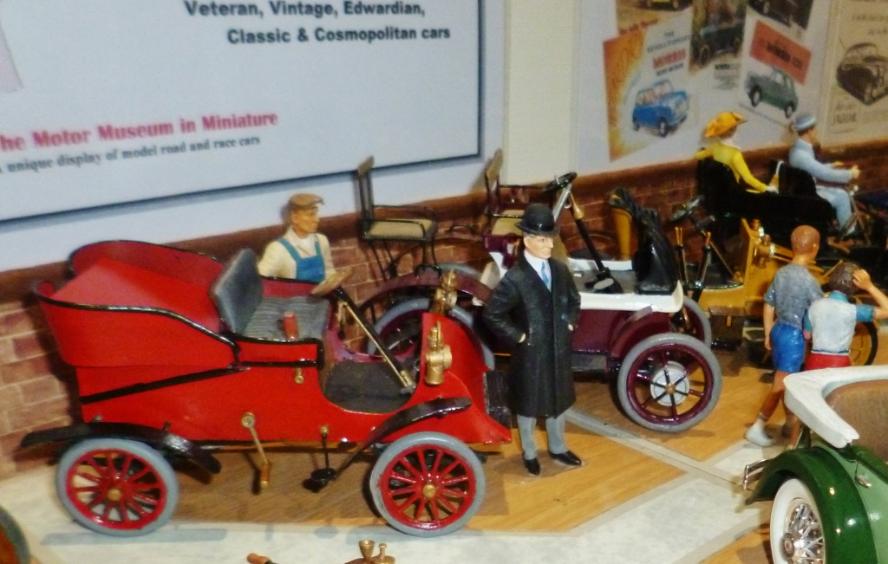 1903 Cadillac Model 'A'.
In March 1902 Henry Ford, and several of his investors, left the Henry Ford Company. William Murphy and Lemuel Bowen were left with a manufacturing company but no designer and being financially minded people decided to have the value of the company's assets appraised prior to liquidation of the company. For this task they called upon the services of Leland & Faulconer Manufacturing Company. Henry Martyn Leland, a competent engineer in his own right, duly went along and had a good nose around.
His report rather stunned Murphy and Bowen; instead of proffering advice to sell off the Henry Ford Company assets he suggested they continue manufacturing motor cars. In short, he thought it would be better to use the proven Leland and Faulconer single-cylinder engine in the existing Ford chassis but sell them as "Cadillac" automobiles. So it was, that the Cadillac Automobile Company was established on the 22nd of August 1902.
Why the name Cadillac? Well, they were in Detroit and Detroit was founded by the French explorer Antoine Laumet de La Mothe, sieur de Cadillac. Today this might be seen as a strange choice as we know much more of Antoine Laumet's shady past but in 1902 he was still considered a full-on hero by many people and would certainly have been a known name in the area. To this day the Cadillac company crest is based on Antoine Laumet's coat of arms.
Working out of the old Ford factory on Cass Avenue and Amsterdam street Cadillac produced their first car on the 17th of October 1902, although the precise date has also been quoted as the 16th (car #3!) or the 20th of October. The roots of these first Cadillac Model A cars, two-seat, 10hp Runabouts and Tonneaus, even their name, can be seen in that they are practically identical to the 1903 Ford Model A in appearance.
Henry Leland held almost a polar opposite opinion of car manufacturing to Henry Ford. While Ford thought mass production and low price was the route to success Leland believed small numbers of extremely high-quality machines was the correct path to success. As it happens, both were right!
Cadillac showed its wares to the world at the 1903 New York Auto Show. They were exceptionally well made and would prove to be very reliable. The visiting crowds were impressed enough for the company to garner over 2,000 firm orders.
Leland, around 60-years-old and still having a passion for perfection, was also one of the earliest proponents of parts interchangeability and coupled to high quality engineering would establish Cadillac as a top-flight prestige manufacturer, rivalling even Rolls-Royce, and win Cadillac the Dewar Trophy twice. Cadillac even coined a new advertising slogan building upon this reputation for high quality and innovation. "Standard of the World". It was a well-founded claim too, Cadillac were early manufacturers of full electrical systems, smooth changing "clashless" gearboxes, V8 engines and incorporated steel roofs.
The Model A series were sold as a two seat Runabout and Tonneau, initially completed in the October of 1902. They featured a 98-cubic (1609cc) inch engine single-cylinder engine which had an output of 10hp (7kW) a single-cylinder engine rated at only 6.5-horsepower, though they produced as much as 10 horsepower, developed by Henry Martyn Leland and built by Leland and Faulconer Manufacturing Company of Detroit, of which Henry Leland was founder, vice-president and general manager (both Leland and Faulconer were specialists in precision gear cutting before building their own line of vehicles). The revolutionary engine, measuring just 60x111 inches, affectionately called the "Little Hercules", was mounted horizontally under the left side of the front seat. It featured fully actuated valves and a copper water jacket around its cast-iron cylinder to aid cooling of the unit. Power went through a two-speed-plus-reverse planetary transmission, of Leland and Faulconer co. manufacture, and on to a single chain driven live axle, with differential and dual diff'-mounted brakes, driving the rear wheels. This system was sufficient to propel the car at a speeds up to around 35 mph.
High quality construction was evident in the all-steel frame and steel components built upon it. Flying in the face of many other constructors the only wood to be found on the car was in the artillery spoked wheels the car sported. Suspension was delivered to a solid front and live rear axle by means of semi-elliptic leaf springs. A lovely steering-wheel connected to steering gear also of Leland and Faulconer co. manufacture. If this car had a limiting factor then is was the fact it was only available in red; although the black trim, brass headlamps and white tyres added some variation to appeal to the eye.
As mentioned earlier sales at the New York Auto Show were strong, to the point that the sales staff declared the model sold out by half way through the show. A total of 2,497 units were produced in 1903 at a price of US$750 for the two-seat runabout, the detachable rear entrance plus-two seat tonneau body section could be purchased for $100 and a further $50 would get one a leather top. At these prices the cars were considered exceptional value. This basic design would remain in production, uprated and fitted with different bodies, including a light delivery vehicle, until 1908.
Cadillac became an immediate success with a thoroughly deserved reputation for high-quality luxury vehicles. So much so that General Motors purchased the brand in 1909 securing the future of the Cadillac name and put it on the very top tier of their multiple brand structure.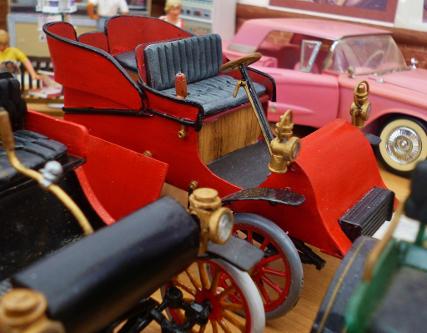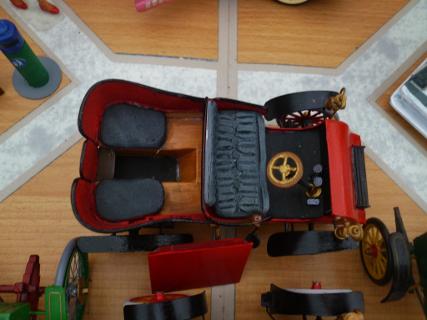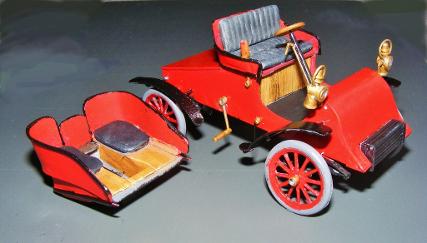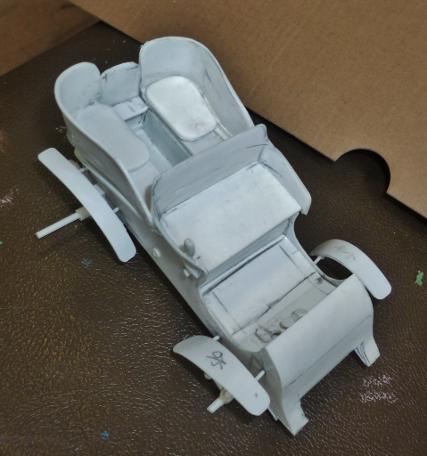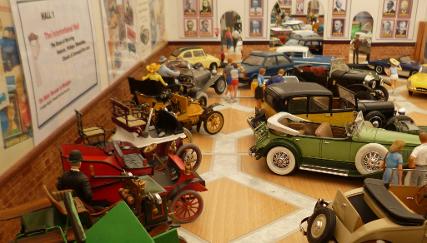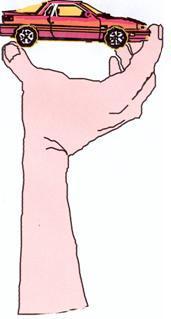 1/24th scratchbuild.
Built by Rod.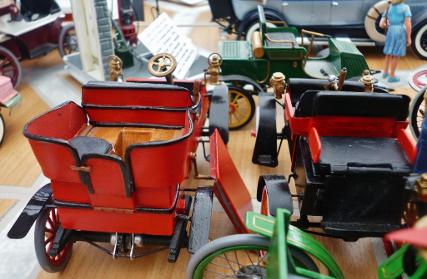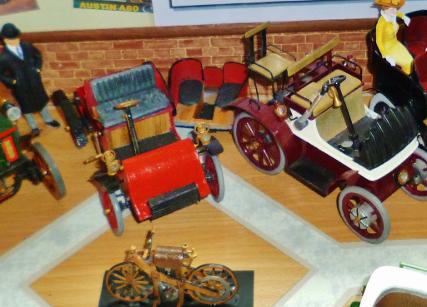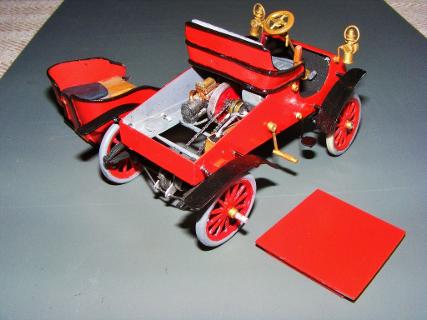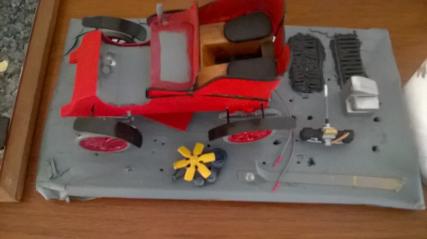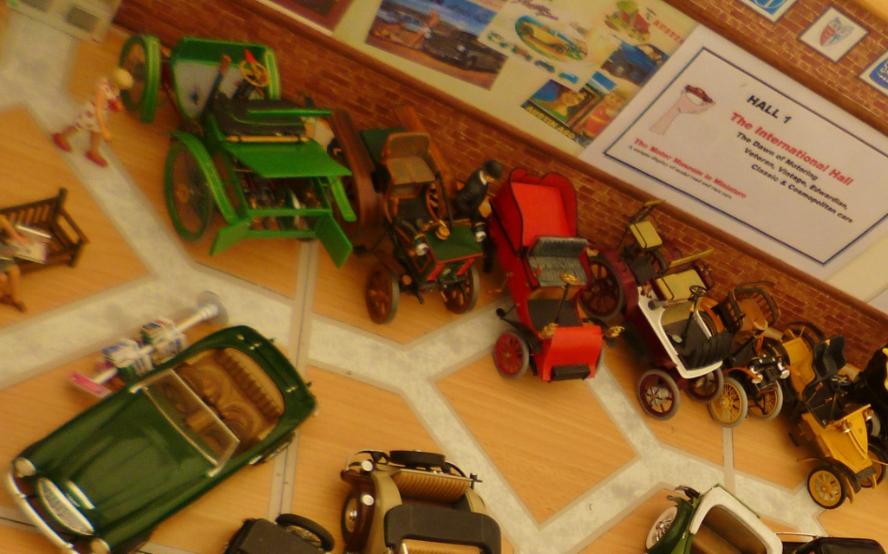 Rod, at the age of 83, entirely scratch built this model during September and October of 2018. It has all the features of the original car including the additional rear entry rear seat bodywork as an alternative for displaying at shows. Completing a set of early American production cars, it is one of the last models Rod could manage to scratch build before arthritis and rheumatism in his hands forced him to go back to kit building only.
The model is painted with Halfords acrylic spray primer and paints for the main colours. Detail painting is done with Humbrol enamels, Citadel, Revell and Deco-Art acrylics applied with a brush.
RETURN TO :-