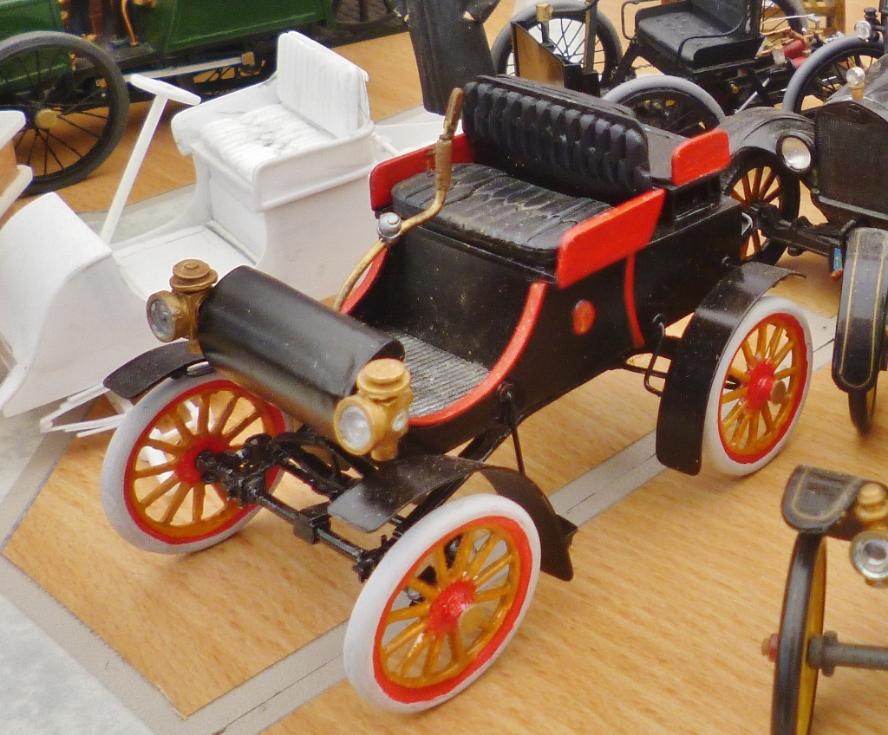 1901 Model R "Curved dash".
The World's first mass produced car was the 'Curved-Dash' Oldsmobile. The principles of mass production (a production 'line' and interchangeable parts), had already been applied to armaments in the American Civil War and in other industries, such as clocks. This idea brought down the prices for items and raised the U.S. standard of living as products could be purchased by the less affluent in the community too. Lowering the price of an item also widens the prospective sales market meaning increased profits for the company. This prospect makes mass production attractive to all industrial companies and Ransom Olds was not slow to see how he could apply this to motor cars, or automobiles, if you prefer.
Ransom Eli Olds was the youngest son of Pliny Fisk Olds and Sarah Whipple Olds. Wallace Samuel Olds was the eldest son, followed by daughter Emory Whipple Olds and 2nd son Wilbur Jason Olds. Originally the family lived in Geneva, Ohio where P. F. Olds was a blacksmith and store owner. In 1880, while "Ranny" was still a teenager the Olds family relocated to Lansing, Michigan, where Papa Olds and his eldest son (Wallace) set up as "practical machinists". A forge and Store were included in this family company, "P.F. Olds & Son", owned 50/50 between father and eldest son. Specializing in castings and steam engines the firm created around a dozen jobs for the small city of around 8,000 people which, at that time, had very little in the way of industry.
Ransom Olds had little interest in school much preferring to spend time learning the family trades of creating and repairing machinery, pattern making and general smithy work. He didn't finish high school but did pursue a business education attending a local business school where he completed a course in accounting. From 1883 R. E. Olds was working in the family firm as both a machinist and the bookkeeper. R. E. Olds preferred activity was tinkering with different forms of propulsion. Small gasoline burner steam-engines, gas internal combustion engines and electric motors all featured in Olds experimentation and it is suggested that Olds fitted a gas-burning engine in a small boat as early as 1887 and soon tried one out on a carriage too. Reportedly, Pliny Olds said of his son, "Ranse thinks he can put an engine in a buggy and make the contraption carry him over the roads. If he doesn't get killed at his fool undertaking, I will be satisfied."
Seeing the potential of Olds gasoline fuelled burner steam engines, lumber dealer Edward W. Sparrow and copper magnate Samuel L. Smith, were courted by Olds while he beavered away perfecting his ideas. During 1890 these two investors provided R.E. Olds with $30,000 capital with which to form "Olds Gasoline Engine Works". 1890 was also the year that Ransom bought his brother Wallace's share in the family firm and pushed it on to become incorporated; when his father retired in 1894 the entire firm came under Ransom Old's ownership.
Pushing on with automobile experiments Ransom Olds' first vehicle, a three-wheeled steamer. This was followed by a four-wheeled gasoline-powered steam car in 1896 for which Olds received his first patent. This was the first automobile to be driven in Lansing, MI, and attracted a lot of attention. While Olds continued to experiment with steam and electric power (with a mind to clean and quiet transport for lady drivers in the city), Ransom Olds perceived that the internal-combustion gasoline engine would be the best option for use in motor car production. On the 21st of August, 1897 Olds founded the Olds Motor Vehicle Company in Lansing, Mi. He soon realised that putting a pair of engines on a carriage increased the power, 15 miles per hour had become a real possibility.
With another $50,000 backing from Sparrow and Smith Olds set out to "build one carriage in as nearly perfect a manner as possible". This was a 5hp water-cooled twin cylinder car with dual speed planetary transmission that could move at a top speed of 18mph. Olds and his workers set to work producing four or five of the cars before Sparrow, and several workers dropped out of the project. Soldiering on the Olds Motor Works manufactured a total of around some 11 cars, including a prototypes two-cylinder 7bhp "Oldsmobile" expected to cost $1,250. Unsurprisingly the prospect fell short of the market and the new firm's future continued to look precarious. However, Smith remained convinced this product would garner a profit and in May 1899 put up a further $350,000 to create another company, "Olds Motor Works".
In putting up the money Smith and his two sons, Fred and Angus, wanted the firm moved to a specifically built car production plant on Jefferson Avenue, in their hometown of Detroit. Olds sold the former family company to finance his side of the business and agreed to the relocation from Lansing to Detroit.
Ransom E. Olds, similarly to Ford, had a simple thought that an affordable small car, properly reliable and built to high standards would serve commerce and society alike. Making money while raising living standards for both city and farm folks (allowing each to venture into the others world), had to be a good thing. Several ideas for body types made it to the prototype stage by March 1901, only for a major fire to raise the new plant to the ground. Automotive legend has it that a company "Time Keeper" sounded the alarm then "risked life and limb" to rescue one of the prototype vehicles. As destiny would have it (and legend too) this car was the "Curved-Dash" prototype. The fire destroyed the entire works costing a staggering $72,000 in losses, and, seeing his chance to return the firm to Lansing, Olds quickly returned to recommence manufacturing his cars there following the one saved prototype "Curved-Dash" as a pattern. This wasn't exactly true as it has since been shown that many of the original drawings avoided any involvement in the fire and that Olds had settled on the gracefully curved front of the single seat runabout prior to the event. Although "Olds Motor Works" did have a place in Detroit for a few years after production was from a new facility Ransom had constructed on the former site of the state fairgrounds, a 52-acre site gifted to Olds by the Lansing Chamber of Commerce.
It has since been stated by Lansing City chroniclers that the return of Oldsmobile production to Lansing was the "single biggest thing to happen to Lansing in its history …," and "….laid the groundwork for the Lansing of today". As far as Ransom Olds was concerned Lansing was the best town in America and he was to become very well known for his philanthropic work for the city over the decades to come. Some of that idea can be seen in the company's deliberate use of Clark bodies, also manufactured in Lansing and in turn creating more jobs for the city.
We are now at the point at which Ransom Eli Olds becomes what many consider to the founding father of the U.S. motor car industry. He employed the clever idea of using wheeled dollies to move the cars from work-station to work-station creating the vestiges of an assembly line. Olds still stuck to his philosophy of only utilising the highest quality components and manufacturing standards which did somewhat limit production figures. But, there is no doubt that the Oldsmobile Curved-Dash was the first American automobile to be produced in significant quantities, to be commercially successful and to be manufactured on an assembly line system.
It may also be important to consider the actual design of the curved dash in that turn of the century America wasn't a place that really needed the car. The public considered the automobile a noisy, unreliable item that cost too much and frightened the livestock. In creating a style that still looked like buggy and retained the same track as the rural wagons Olds scored a coup. People could relate easily to it as a vehicle, no doubt some thought 'if it breaks down we can still use by hitching up a team', and by holding to his quality standards the machine was so reliable that those thoughts quickly gave way to a level of emotional attachment working farmers had only ever reserved for their most dependable working animals. Practicality and affordability were the watchwords of the time.
The curved dash Oldsmobile was a simple machine very much of its time. In appearance it was a buggy sans horse, a graceful curving dashboard and buggy style seating added to the visual acceptability of the machine. A rectangular chassis frame of channel-section steel, topped by the traditional wood construction body, sat on 55-inch-wide tubular steel beam axles located by huge longitudinal leaf springs extending to the front and rear. The centres of the top springs were flattened to facilitate bolting to the frame while the ends kept the wheelbase fixed at a relatively short 60 inches. The steering mechanism was a tiller operated system consisting of a hub mounted centrally on the front axle with a small 'V' bracket that held the inboard ends of the steering arms. This system is more positive than a drag link and does give some wheel angle compensation too, making cornering a more stable proposition.
In 1901 Ransom Old's drive train started with the single cylinder side-valve engine mounted horizontally, amidships, under the seat. This original motor was 1563cc, having a bore and stroke of 127 × 152-mm, and it could turn out around 4hp. Cooling for the engine was by water with a tube and gill radiator vertically mounted under the floorboard. Once started by the crank the dual batteries provided sparking through a "trembler" coil and fed power to drive the rear wheels with the help of a planetary two speed, and reverse, gearbox; the step between the gearbox and rear axle via a drive chain.
Speed was controlled by a foot lever and another foot pedal applied the braking control. This was by a clutch band that constricted on a flange on the drive sprocket. Further braking was available via a lever that operated a drum brake acting directly on the rear axle. There was no braking at all on the front wheels, something that would remain absent on all cars for at least another decade! The whole thing rolled on 28 inch wheels (Wood or wire spoke styles were both available) with 3 inch wide tyres.
As a whole, all fuelled up and ready for the road, the "Curved-Dash Olds" weighed 700 lbs and could march along at a speed of 20mph (32 kph) top speed. If you filled the four-gallon fuel tank to the brim, and reigned in the speed, the Olds could manage some 40mpg giving a round trip journey of up to 180 miles. Considering a horse drawn vehicle was limited to a speed of around 10 mph with walking brakes needed for recuperation one can quickly see the advantage of a machine that moves faster, for longer, without food and rest stops.
In 1904 it was clear that the "Model R" Curved-Dash was struggling to compete with the larger, higher powered competition now coming onto the American automobile market. Ransom Olds and Fred Smith disagreed about how the future of the company should progress. Smith wanted to produce updated, and uprated, curved dash models while Ransom still wanted to pursue electric cars. Smith held the purse strings so Olds could do little without him. Therefore, Olds left the company. Moving on, literally down the road, Olds formed the REO Motor Company in 1905. REO was one of the motor industries leading firms just two years later have built a 25% market share. Olds Motor works, followed Smiths plan and produced more expensive, fancier cars with more power.
From 1905 the Olds Curved Dash had a two-cylinder horizontally opposed engine of 127 × 152-mm bore × stroke, this unit was rated at 7hp. Apart from the wheel base being extended to 66 inches the cars were very similar, an evolution rather than a revolution. The new vehicle was designated "Model 6-C". Olds struggled and never achieved the same levels of sales it had previously enjoyed. They did try some different markets by making a light-delivery van version which cost $200 more than the standard car, still held at $650. The firm even tried selling a "railway inspection" version with suitable wheel and track adjustments to run on the railroads. In 1908 Olds Motor Works became part of William Durant's fledgling General Motors group. The Oldsmobile Motor Division remained part of GM until the brand was discontinued in 2004.
It did at least out live REO. That firm continued to grow and diversify. In 1938 it was reorganized as REO Motors, Inc. making busses and trucks, later merging with Diamond T in 1954. Diamond-REO Trucks, Inc. built on its great reputation for top quality commercial vehicles, but, quality comes at a price and when the fuel crisis' and economic downturns of the late 1960s and 1970s REO went down with Diamond T, becoming a footnote to "Curved Dash" story.
Produce between 1901 and 1907 the Curved-Dash production figures give a clear indication of the model's success. Despite the fire in 1901 386 cars were produced, the next year's figures saw a massive jump to 2,500 units sold in 1902. In 1903 there was a further escalation in sales to 4,000 units. Production figures become uncertain after that but it is generally thought they were on a downhill slope. Total production of the Curved-Dash series is thought to be over 19,000.
Interesting optional extras which helped boost sales were a folding top of either rubber or leather, and, a "storm apron" to help with keeping the weather at bay. A second seat, behind the first seat, allowed for two more passengers to carried sitting back to back with the driver and front passenger. There was also a "speed meter" available, so Olds was one of the first firms to consider mounting instruments on the "dash board" in America.
From 1901 to 1905 the curved dash runabout of was far and away the best-selling U.S. car. Rugged and reliable the curved dash might have been a little pricey at $650, but if it did falter most blacksmiths had the skills needed to fix any problems. The little buggy with a motor slipped easily into the American psyche, opening the door for the whole American love affair with the motor car and speed generally. Driving became woven into the American way of life.
We should also remember the lengths which were taken to ensure everyone heard about the Oldsmobile. In 1901 test driver Roy D. Chapin made a week-long journey from Detroit to New York to increase public awareness. Considering the US only had 200 miles of properly surfaced roads this was quite an undertaking. A point well made as the reason for being in New York was the second national automobile show. The long-distance reliability trials ideas were a great advertising boon, you don't have to pay for advertising space when the papers are putting your brand over their front pages! Other such events of note were the 60 day trek from San Francisco to New York run in 1903, completed by an Oldsmobile curved-dash, and the 4,000-mile run from Portland, Oregon, to New York held in 1905. "Old Scout" and "Old Steady", as the two Oldsmobiles were christened, completed America's first transcontinental auto race.
Motor sport also provided opportunities to build brand awareness. In 1903 Ransom Olds built a racing car for driver H.T. Thomas. Called "the Pirate" this car had a low, light weight design and bullet shaped fluid tanks which helped it set a world land speed record for its class at Daytona Beach, Florida in 1903; 54.38mph. The design ideas behind "the Pirate" influenced the look of Indy race cars for several years thereafter.
Perhaps the biggest vote of confidence in the Olds Curved-dash was paid by the U.S. Post Office. They purchased Oldsmobile light delivery van curved-dash vehicles to be their first mail "trucks." Quite and endorsement. If ever proof of the popularity of the Curved-Dash was needed then it comes in the form of popular music song. "In My Merry Oldsmobile" was a hit at the same time that Olds was the bestselling car in America. Ransom Olds ushered in the twentieth century using mass production to keep prices affordable, and motoring attractive, to the aspiring middle classes. But it was delicate time for the Automobile, if Olds could boast sales of 4000 cars in 1903 it must be balanced against the fact that more than 900,000 buggies and carriages were purchased that year. More worrying for Olds was the emergence of Ford and the public's' desire for more speed. The happy little Curved-Dash helped get America on the move, and gained enough notoriety to keep the brand alive from 107 years, but it was all-too-soon overtaken by more advanced thinking in a century that only ever kept getting faster.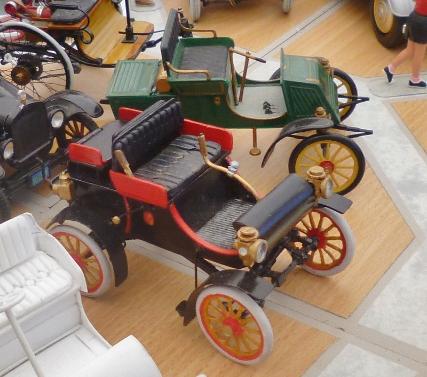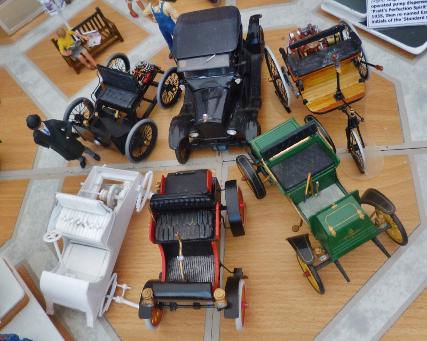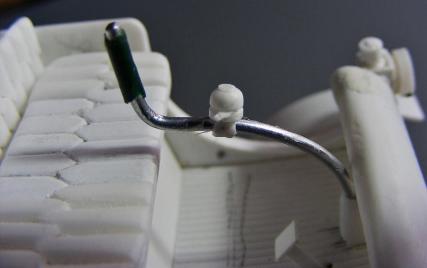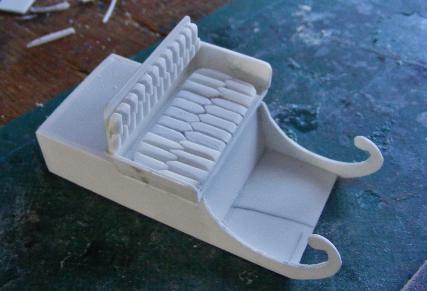 Scratch built model.
Built by Rod.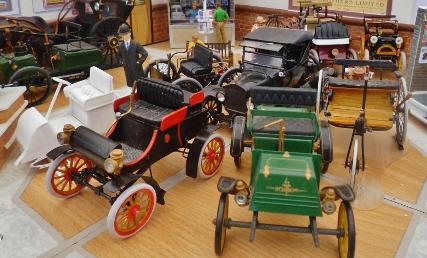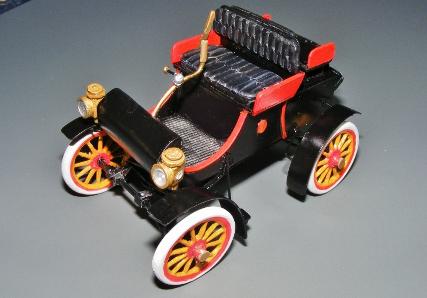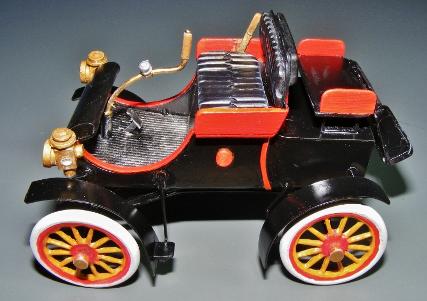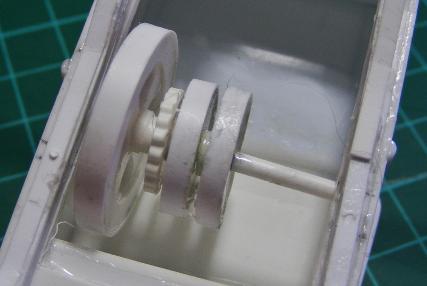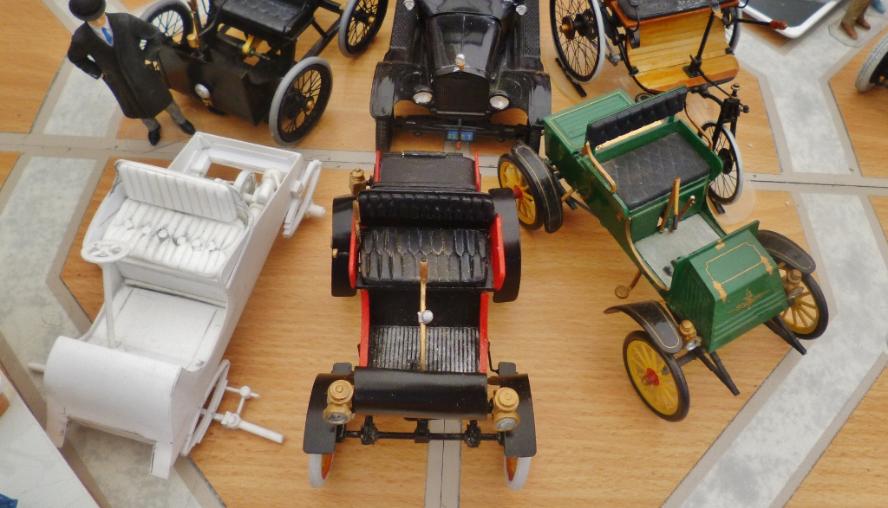 Rod built this model completely from scratch in early 2018. As can be seen in the above photo's this process requires attention to detail, skill and a lot of problem solving. That said, no one should be put off from having a go at scratch building, look for the shapes, make them then put them together.
One clever person once said "Scratch building is just like making a kit, you just have to make the parts as you go along". Of course, that is easier said than done, but gaining practical experience from having a go will soon see most average modellers capable of making an acceptable model from scratch.
Learn more about scratch building in our projects and articles pages.
RETURN TO :-