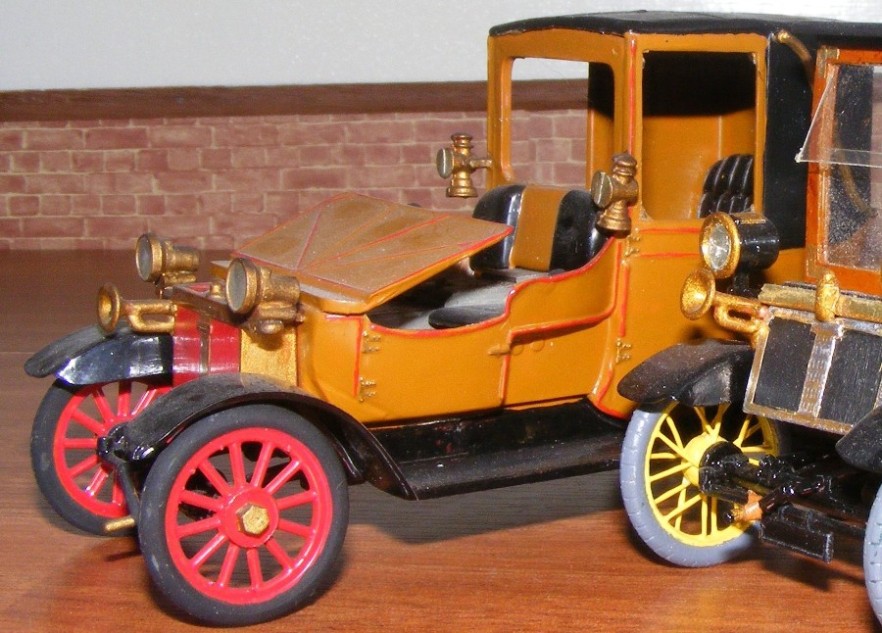 Frederick William Lanchester
His first car was produced in 1895 being remarkable in that it was not a copy of a foreign model, nor an adaptation of a horse drawn carriage, but a brilliant original design.
Further prototypes followed and in 1899 the Lanchester Gas Engine Co. founded with his two brothers, George and Frank. During 1900 six cars were produced at there factory at Sparkbrook, but cash-flow was a regular problem and in 1904 just when designing new 4-cyl engine and with their order books full, the company went Bankrupt. George reformed the company as Lanchester Motor Co Ltd. however Frederick resigned in 1913.
Our model is of a 1907 car which is part of the logical continuous development program at Lanchester. They didn't make a particular model run but developed the design further with each car built. Lanchester even called back earlier cars to have the latest modifications fitted, often free of charge!
Of the 33 Primary features of a car F.W. Lanchester was responsible for 18.
The features of the original 1899 car are:-
Engine

4-cyl. 2460cc with two counter-rotating crank shafts.

Horizontal valves closed by leaf springs.

Wick carburettor.-with

no jets.

Multi-plate self-adj. clutch in oil bath.

Fully automatic lubrication.

Transmission by 3 speed epicyclic gears to worm drive in the rear axle (features ahead of

their time).

Max. speed 50 mph.

Tiller Steering retained years after steering wheel was introduced.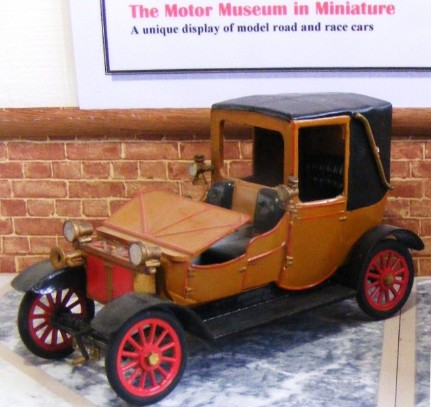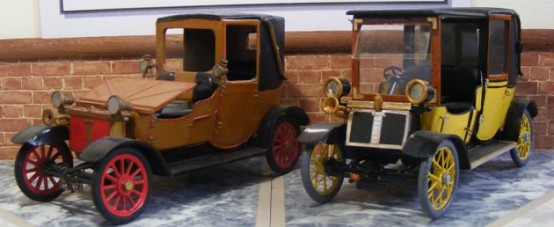 1/32nd scale kit.
Built by Rod.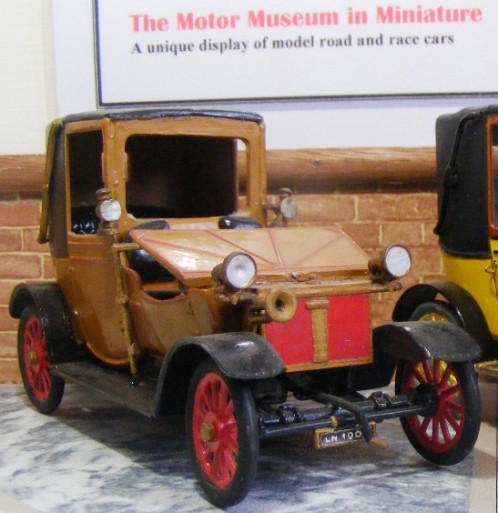 Rod built the Airfix kit back in the 1960s making this one of the earliest models in the museum collection. It is built with tube glue and Humbrol enamel paints, the common materials of the day for modellers. It is built more or less straight from the box, one can see the horn is opened out but the sink mark in the lamp is evident. Remember this is a time before modelling fillers were readily available, Plastic padding for window frame repairs was the best alternative!
In the mid '60s model making was a simple hobby for Rod, he did start getting model cars magazines and books which little by little led to the many conversions, opening doors and working steering that Rod added to what were then fairly simple Airfix kits. These were the first tentative steps that would see rod totally scratch building models by the 1990s.
Many years later, 2008 actually, Rod revisited the Airfix kit to create the conversion to the 1910 double Landaulette. Make a very interesting pair don't they?
RETURN TO -