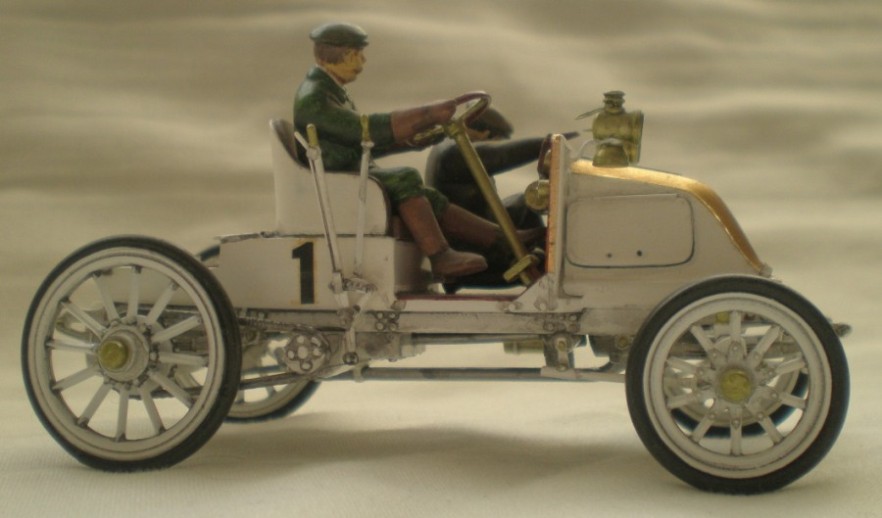 The Panhard and Levassor company became solid winners and more than that they broke new ground in the design of motor cars. Emile Levassor had died in 1897, possibly as a result of injuries he received in an accident when his car overturned in the 1896 Paris-Marseille-Paris race. Arthur Constantin Krebs was drafted into P&L as a designer in 1896 and succeeded Levassor as general manager in 1897.
In May 1896 he had patented a new car fitted with an electromagnetic gearbox and a layout of the front wheels which re-centred them when the steering wheel was let go of, today this is known as the Castor Angle. Panhard built 500 of these vehicles.
As designer for the 1898 race series he again put some very new ideas to work his designs. Tiller steering was dumped in favour of an inclined steering wheel. Electric ignition boosted the straight four cylinder 8 hp engine up to 18 hp. Although the front wheels were still smaller than the rear, they were becoming more equal and all four wheels sported pneumatic tyres.
Panhard et Levassor entered three cars for the Paris-Amsterdam-Paris race, the team leader was Fernand Charron. Charron started his sporting career as a successful cyclist, but was unable to resist having a go these fast, new machines. He took part in 18 races between 1897 and 1903, driving mostly for Panhard et Levassor, 5 of these races he won. This winning record is Marseille–Nice, Grand Prix de l'ACF and Paris–Amsterdam–Paris in 1898, Paris–Bordeaux in 1899 and the inaugural Gordon Bennett Cup race (Paris–Lyon) in 1900.
The 1898 Paris-Amsterdam-Paris race was run over a 943 mile course divided in to six stages. Fernand Charron winning time of 33:04:34 recorded an average speed of 26.82 mph. Fellow P&L driver Leonce Girardot came home second and the third member of the team Rene de Knyff was 4th.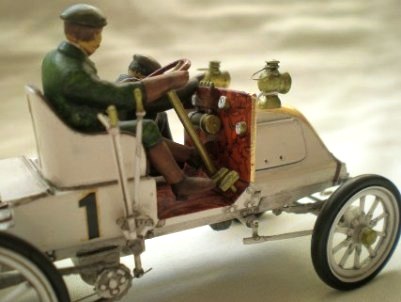 Scratch built model 1/32nd scale model.
Built by Ian.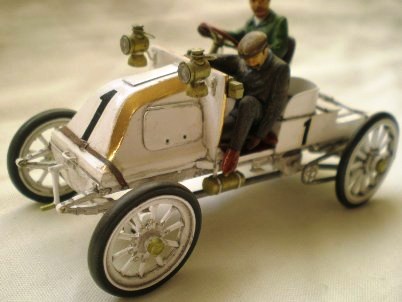 Built from a few parts salvaged from Airfix kits and scratchbuilding the rest Ian made this model in the late 1990s. It is brush painted with Humbro; enamels and detailed with gold bare metal foil, fuse wire and masking tape belts.
RETURN TO -