Williams had several seasons running other manufacturers chassis before joining up with Walter Wolf. The hoped for cash influx came with strings and Williams went out on his own again from 1977. Since 1978 setting up again, as Williams grand prix engineering, they have made some of F1's outstanding cars, winning multiple constructors and drivers championships.
Frank Williams was hooked on speed after a friend gave him a ride in a Jaguar XK150 in the late 1950's.
He set up Frank Williams Racing Cars in 1966 and supported Piers Courage to drive a Brabham for Williams through the 1969 F1 season before entering into a deal with De Tomaso for 1970. This didn't last so for 1971 Frank ran a March chassis for Henri Pescarolo and in '73 Henri destroyed Franks new Len Bailey designed Politoys FX3 in it's first race!
There was a short dalliance with Walter Wolf but when Frank was not really in charge he decided to move on. Patrick Head went with him and together they formed Williams Grand Prix Engineering.
The FW06 of 1978-9 was their first real chassis, the team lacked funding but this car did well enough to attract full support from Saudia airways.
1979 saw the Patrick head designed a ground effect car in the shape of the FW07, a car that served through 3 seasons and was extensively used by privateers. In fact it was so good that Alan Jones drove it to the 1980 world drivers championship, and the team took it's first constructers crown.
Our 1979 car carries the colours of the car practiced by Desire Wilson in the 1980 British GP. Des' remains the only woman to win an F1 race, unfortunately not a world championship qualifying round, but still including many of the contemporary F1 regulars of the time. It has to count as a first class achievement which, but for lack of opportunity, her ability would have given every chance of repeating.
For 1980 the FW07 was modified and termed FW07b. Most obvious differences are on the body work. The turning vanes in front of the rear wheels were removed and the sides smoothed over, especially around the main radiator outlets. The oil cooling radiator was repositioned and new ducting provided to improve airflow to the radiator.
Jones won four races on his way to the championship and Williams had nearly twice as many points as the 2nd place team (Ligier) in the constructers cup.
For Monaco Williams had a short courtship with Michelin rubber instead of Goodyear. This season saw several different configurations of nose and front wing as well as the return of the deflectors in front of the rear wheels albeit faired in more tidily.
Further improvements were made for the oil cooler radiator and ducting. A new mounting and positioning of the rear wing occurred and the rear wing end plates were extended further.
Jones was partnered by Carlos Reutemann again and the pair won two races a piece providing Williams with their second constructers championship in a row.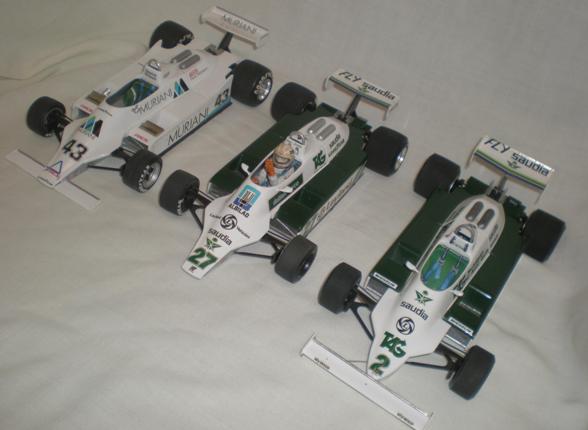 The three cars together all made from the same Tamiya FW07 kit demonstrating it's afore mentioned versatility. More versions of this car could be made as more kits can be obtained.

Williams FW11 1/20th scale Tamiya kit.
The 1986 season saw a Great battle within the Team as Mansell came right out of Piquet's shadow. The duo won 9 GPs and the team became constructors champions while Prost nicked the drivers title due to 'that' tyre letting go.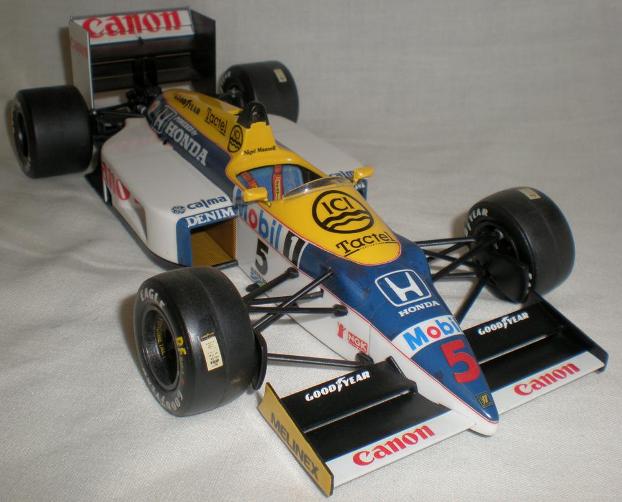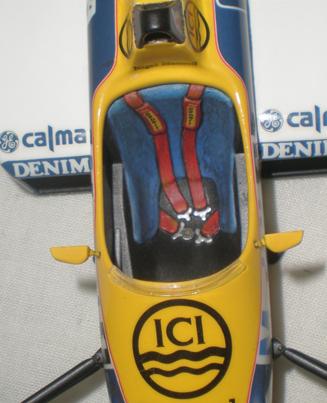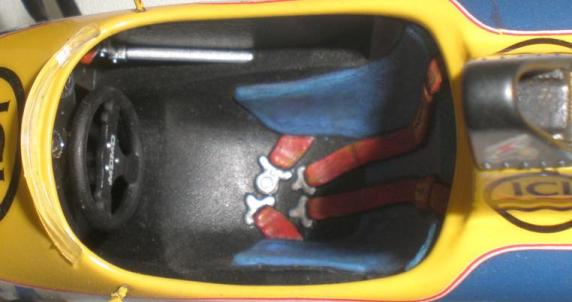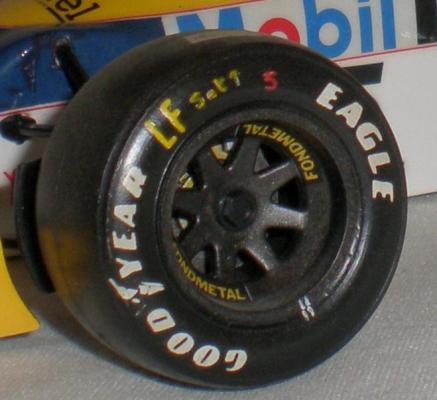 After an encouraging season in 1991, and reliability becoming almost assured for 1992, it became a record breaking season for Team, car and driver.
Patrick Head oversaw the development of the FW14b which now had had some body work revisions, as Adrian Newey improved on his own aero package, a computer controlled fully active ride system, with no springs or dampers, and Nigel Mansell.
Mansell was able to bully the absolute maximum out of the car, whether by bravery or brute strength is often debated, but, at some circuits, he was almost two seconds faster than his team mate, Ricardo Patrese, who was himself often a second ahead of the rest of the field!
Hasegawa 1/24th scale kit of the FW14b is a simple bodywork upgrade on it's FW14 kit. It needed a lot of additions and converting to better portray this legendary car.
In 1996 Damon Hill took his FW18 to the world title closely pursued by his young team mate, and another son of a legendary driver, Jaques Villeneuve. In keeping with Williams 'tradition' Damon departed the team at the end of the season but Villeneuve remained and capitalised to Williams-Renaults teams hard work. He took the world title in 1997.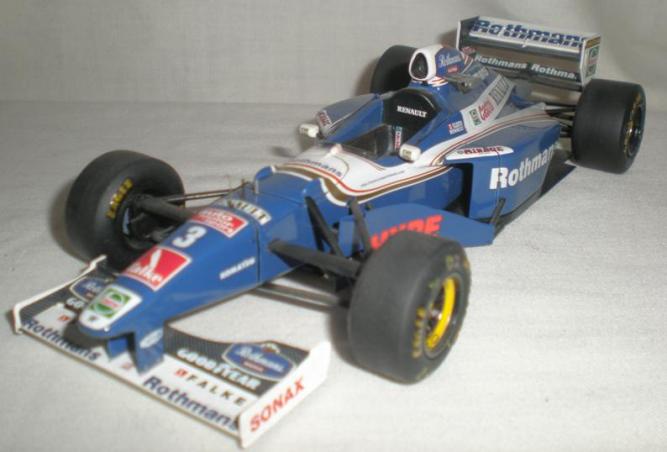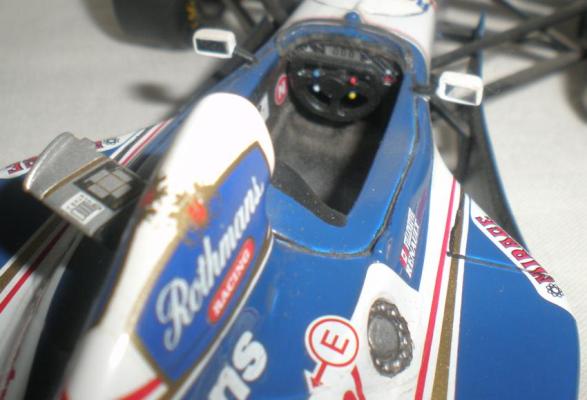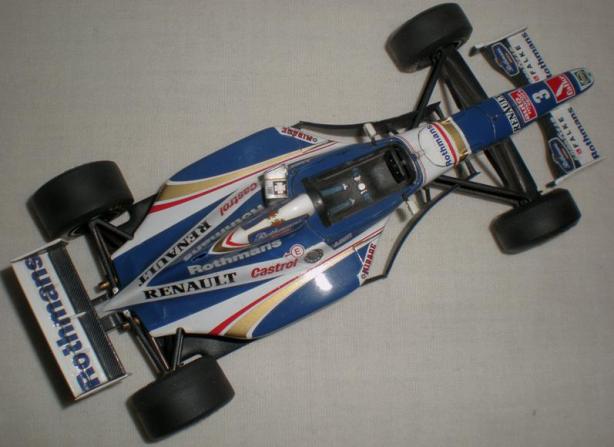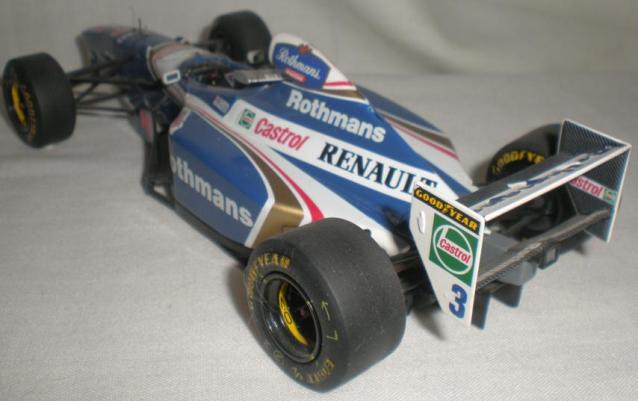 1997 saw Williams continue to lead the way, largely due to Renault power, the FW19 was driven to the drivers world championship that year by Villeneuve, despite Schumacher's questionable on track tactics.
Revell produced this car in 1/24th scale. While nobody can argue that these kits are not in the same class as some of the 1/20th scale resin model kits available they are affordable and can build into very nice representations of the cars.
Another of Revell's 1/24th scale kits. Not quite so difficult to build as the older Revell F1 car kits but still needing time and attention.
The Aero age is evidenced on this car by the various flip ups and winglets, a trend that got worse before it got better. Also evident are the groves in the tyres. A rule brought in to try to slow the cars down and make racing safer.
The FW23 of 2001 took four wins during the season, three by Ralf Schumacher and one by Juan-Pablo Montoya.
Although Williams have faded from the top rank of grand prix teams they continue to be the spirit of the privateers of old. Going Racing is still important but they do it because they love it not just for money.
We wouldn't bet against them coming back to the top again.