Welcome to the Motor Museum in Miniature.
A unique display of model road and race cars.
Feel free to stroll through our halls and enjoy the world of motor cars, motor racing and making model cars.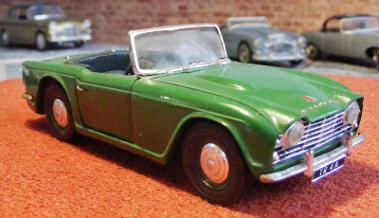 The Triumph TR4 was a Michelotti designed sports car which saw Standard-Triumph turn the successful TR2/TR3 models into a modern car with a new body design which was wider, lower and still very sporty.
Mechanically it was still an evolution of the TR3 but as the track was wider and it now had rack and pinion steering it felt more secure on the road. The full width grill looked much more modern and the higher more angular boot lid created a much larger luggage area.
The rear suspension was still a live axle on leaf springs which gave a hard ride. The TR4A had IRS and much improved the handling of this great little car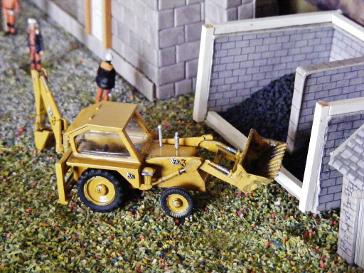 JCB is now a colloquial name for a TLB, that is Tractor, Loader, Backhoe; often just referred to as a backhoe for short
.
J.C. Bamford started in a lock-up garage with a second hand welding set and created a world beating company which now has 22 plants worldwide.
Always innovative, and building the best products they could, JCB launched the JCB3 series in 1961 and it's pioneering features elevated the firm to the world stage
and soon had them winning the Queens award for exports.
The Motor Museum in Miniature
As you move through the museum you will find many fine models, scratchbuilt and highly detailed. But you will also come across models that may not appear as impressive. This is for two very good reasons.
Firstly some of the models are very old now and reflect the level of knowledge and equipment available to the modeller at that time. Modelling supplies have come a long way from the era of tube glue and brushed on enamel paints. Part of the museum's philosophy is to show how much things have changed in the modelling world as well as in the motoring world, so some of our exhibits remain as they were first built, period pieces, a testament to the modelling technology of the time.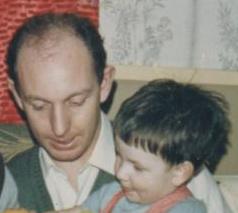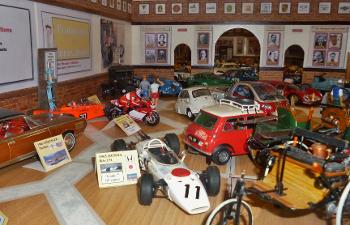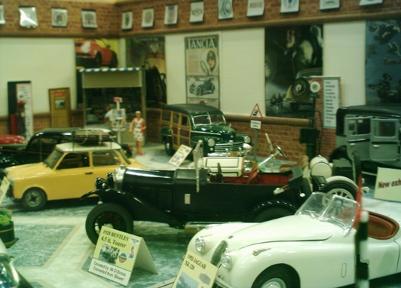 Secondly we want all our visitors to know that we didn't start off with some natural talent to deliver high quality model cars, we had to start as novices and learn just like everyone else. We are not afraid to show you our "lesser" models, or admit our mistakes, because we want you to feel encouraged to keep trying. It's easy to say 'if I can do it, so can you', but there was a time when we both looked at other peoples models and said 'I could never do that'.
Well we did do it, and so can you. Of course we still make mistakes and we are never totally happy with a model, but that is the spur that keeps us all trying that bit harder with the next model we build.
A word of warning though, when the drive for 100% accuracy and perfection start taking the fun out of modelling, take a step back and have a good think about things. We start making models we like for the pleasure they give us, it is a hobby for most of us and it's our standards we should measure ourselves against. As long as you're happy with your model if somebody else comes along and enjoys it too, that's an additional bonus.
Enjoy you're modelling, Rod and Ian
The next show we are displaying at is.....
Model Spectacular 2016
Sunday 11th September 2016
at the Shire Oak Academy,
St. Marks Road Entrance,
Walsall Wood,
Walsall.
West Midlands. WS8 7AQ
More information at
Follow our current projects on FaceBook, the motor museum in miniature is waiting to show you what we are up to. Watch us going through the build processes, warts and all, till the finished article makes the step up to this site.