Welcome to the Motor Museum in Miniature.
A unique display of model road and race cars.
Feel free to stroll through our halls and enjoy the world of motor cars, motor racing and building model cars.
This months new pages; another Japanese car, this time one that founded another Asian dynasty.
Whenever British sports cars get discussed this manufacturer's name will be mentioned; sometimes contentiously, but always deservedly. A
rguably Britain's first real "Supercar" makes its debut on the Museum website too. To remind us that the internal combustion engine has revolutionised far more than just the passenger and commuter world a
leviathan of the roads provides a link into the haulage and construction world of transportation.
You can see the details by clicking on the photo's below.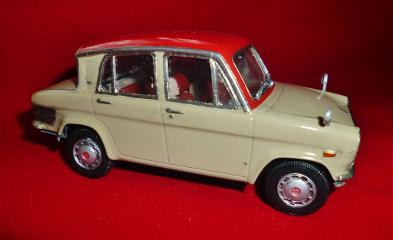 1962 Mazda "Carol".
Mazda's roots go back to the troubled history of artificial cork manufacturer Toyo Cork Kogyo Co., Ltd, founded in Hiroshima, Japan, in 1920.When it collapsed Jujiro Matsuda, worked with Hiroshima Saving Bank and other business leaders in Hiroshima to set up Toyo Kogyo Co., Ltd. to work in the tool manufacturing arena.
When you consider Mazda took 29 years and 4 months to reach its half-millionth unit then just 2 years and 2 months to record its millionth, the incredible success of the Carol becomes clear. Mazda entered a period of rapid expansion and were on the road to becoming a household name worldwide.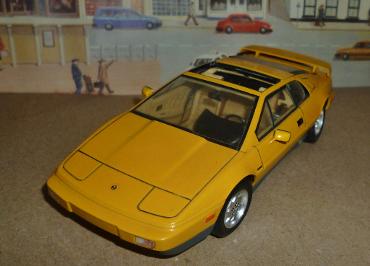 1987 Lotus Esprit Turbo SE.
"The first Esprit came off the production line in June 1976 and the stood out from the crowd immediately. A light weight fibreglass body with such modern design looks was mated to a steel backbone chassis carrying a 160bhp, Lotus 907 4-cylinder, 2ltr engine and the Lotus' design team's suspension designs. In all it made for a stunning car with legendary ride and handling that took it to very edge of the "Supercar" bracket. Less than 1000 kg going from 0-60mph in 8sec's, and a top speed of about 133 mph, wasn't as blistering as the new supercars of the continent, and actually didn't meet Lotus' own predictions of 0–60mph in 6.8 seconds and a top speed of 138 mph, but it was very good and the looks were to die for. Sales of the Esprit were good and it turned heads everywhere it went.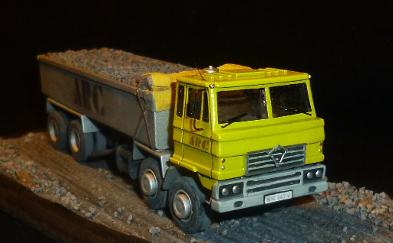 1980 Foden S10 "Haulmaster".
Foden announced its badly needed new models at the Scottish Motor Show of 1977, and had them on exhibition at the Birmingham Motor Show of 1978. The Haulmaster range was intended for the UK market and the Fleetmaster series for export. Contemporary reactions were very positive.
Foden had struggled back into profit through both 1977 and 1978 and the new Fleetmaster/Haulmaster should have pushed the company on to greater stability. This was not to be the case and in July 1980 Foden were required to call in the receivers.
Fortunately, PACCAR International took over the company renaming it Sandbach Engineering Co, later returning to the "Foden Trucks" name in 1983. They took Foden back into solvency by focussing on the tremendous skills and experience the Cheshire work force could take into the bespoke commercial vehicle market.
The Motor Museum in Miniature
As you move through the museum you will find many fine models, scratchbuilt and highly detailed. But you will also come across models that may not appear as impressive. This is for two very good reasons.
Firstly some of the models are very old now and reflect the level of knowledge and equipment available to the modeller at that time. Modelling supplies have come a long way from the era of tube glue and brushed on enamel paints. Part of the museum's philosophy is to show how much things have changed in the modelling world as well as in the motoring world, so some of our exhibits remain as they were first built, period pieces, a testament to the modelling technology of the time.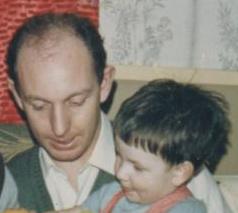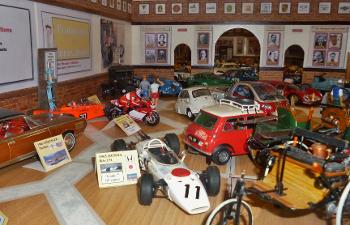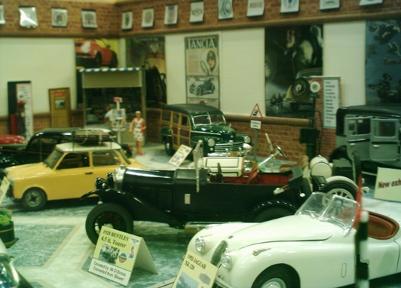 Secondly we want all our visitors to know that we didn't start off with some natural talent to deliver high quality model cars, we had to start as novices and learn just like everyone else. We are not afraid to show you our "lesser" models, or admit our mistakes, because we want you to feel encouraged to keep trying. It's easy to say 'if I can do it, so can you', but there was a time when we both looked at other peoples models and said 'I could never do that'.
Well we did do it, and so can you. Of course we still make mistakes and we are never totally happy with a model, but that is the spur that keeps us all trying that bit harder with the next model we build.
A word of warning though, when the drive for 100% accuracy and perfection start taking the fun out of modelling, take a step back and have a good think about things. We start making models we like for the pleasure they give us, it is a hobby for most of us and it's our standards we should measure ourselves against. As long as you're happy with your model if somebody else comes along and enjoys it too, that's an additional bonus.
Enjoy you're modelling, Rod and Ian
The next model show we are displaying at is.....
S.C.M.M.C. Militaire 2018
Sunday 25th February 2018.
Malbank 6th form college
Welsh Row,
Nantwich.
Cheshire.
CW5 5HD
More information at
Follow our current projects on FaceBook, the motor museum in miniature is waiting to show you what we are up to. Watch us going through the build processes, warts and all, till the finished article makes the step up to this site.