Welcome to the Motor Museum in Miniature.
A unique display of model road and race cars.
Feel free to stroll through our halls and enjoy the world of motor cars, motor racing and making model cars.
News of interest; are support of home town Signpost Centre doing model making with youngsters in the Community was a great success. Model making is a great hobby and reaching out to others is always part of our philosophy. We are delighted to report that all the kits were used up and a great many children left with beaming simles.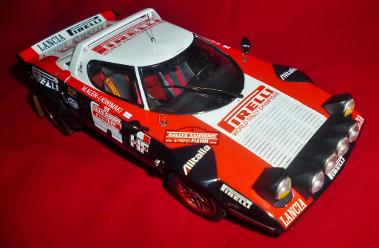 The Lancia Stratos HF, or tipo 829 for any purists looking in, was an immediate hit with car lovers across the world. In rally racing it was almost unbeatable and despite rule changes which cut the engines prodigious power out put it continued to win races into the 1980s.
Indeed it proved to be a rather adaptable machine and as well as rallies it graced the LE Mans 24hrs endurance Grand Prix, the Targa Florio and Group 5 silhouette racing too.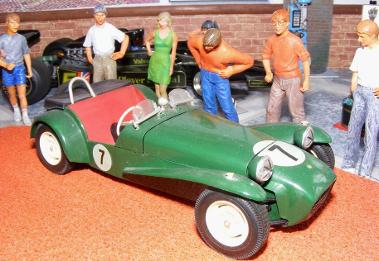 The Lotus Seven series 2 was quickly up rated with a bigger engine to become the "super" model. the Series 2, with its full wings, gained admiring glances from those it happened upon but when the 1340cc Cosworth modified
Ford
engine was put in the new model really achieved the "motorcycle performance" Chapman had been looking for.
Between 1960 and 1968 Lotus turned out around 1310 units before the series three came on line.The car was so successful that in 1973 the Rights to the Seven were sold to the Caterham car co. who continued to improve on the basic concept without changing the overall appearance for decades. In fact the Lotus/Caterham Seven is still one of the worlds most copied styles and kits of these cars and there lookalikes continue to be sold to this day.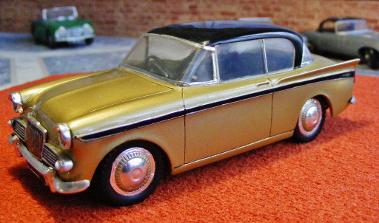 Having already revived Humber, Hillman and commer it was the Rootes Group that stepped in to rescue Sunbeam in 1935. Rootes joined the Sunbeam and Talbot names together to offer a range of more upmarket sporting cars based on the Hillman series, and they were produced at Talbots London Factory from 1938.
Sunbeam's Rapier was based on the Hillman Minx but gave improved performance and specifications until the late 1960s when it was replaced by an all new fastback version.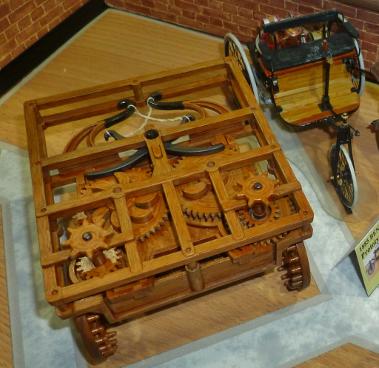 The polymath Leonardo da Vinci is best known for his paintings and sculptures but there was far more to this renaissance genius than art. His mind mused on flying, submarines, transport methods and weapons of war; not forgetting botany and map making!
In the codex of his work between 1478 and 1519 are a series of sketches for an automobile, well a self propelled vehicle at least. There isn't a full plan so the numerous versions built by museums around the world are all different depending on how the makers have interpreted the plans.
They all work though, proving da Vinci's ideas were sound.
The Motor Museum in Miniature
As you move through the museum you will find many fine models, scratchbuilt and highly detailed. But you will also come across models that may not appear as impressive. This is for two very good reasons.
Firstly some of the models are very old now and reflect the level of knowledge and equipment available to the modeller at that time. Modelling supplies have come a long way from the era of tube glue and brushed on enamel paints. Part of the museum's philosophy is to show how much things have changed in the modelling world as well as in the motoring world, so some of our exhibits remain as they were first built, period pieces, a testament to the modelling technology of the time.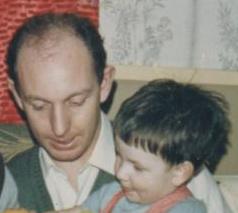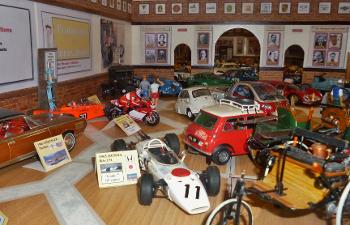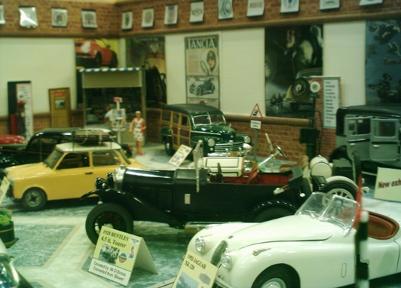 Secondly we want all our visitors to know that we didn't start off with some natural talent to deliver high quality model cars, we had to start as novices and learn just like everyone else. We are not afraid to show you our "lesser" models, or admit our mistakes, because we want you to feel encouraged to keep trying. It's easy to say 'if I can do it, so can you', but there was a time when we both looked at other peoples models and said 'I could never do that'.
Well we did do it, and so can you. Of course we still make mistakes and we are never totally happy with a model, but that is the spur that keeps us all trying that bit harder with the next model we build.
A word of warning though, when the drive for 100% accuracy and perfection start taking the fun out of modelling, take a step back and have a good think about things. We start making models we like for the pleasure they give us, it is a hobby for most of us and it's our standards we should measure ourselves against. As long as you're happy with your model if somebody else comes along and enjoys it too, that's an additional bonus.
Enjoy you're modelling, Rod and Ian
The next show we are displaying at is.....
Fantastic Plastic 2016
A.S.V.C./IPMS Wombourne Annual show & competition
Sunday 4th September 2016
at the........
The Community Centre,
Church Road, Wombourne,
WV5 9EZ
More information at
Follow our current projects on FaceBook, the motor museum in miniature is waiting to show you what we are up to. Watch us going through the build processes, warts and all, till the finished article makes the step up to this site.