Welcome to the Motor Museum in Miniature.
A unique display of model road and race cars.
Feel free to stroll through our halls and enjoy the world of motor cars, motor racing and building model cars.
This months new pages include German and British classics from the 1950s and a car that set Toyota on the road to being the largest car manufacturer in the World.
You can see the details by clicking on the photo' below.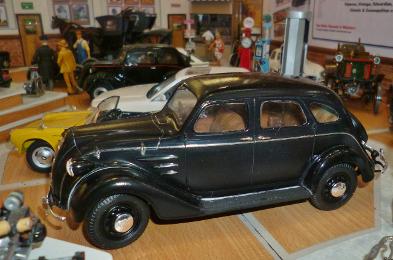 1936 Toyoda "Model AA" sedan.
The Toyoda company never had any links with the automotive industry. It was a Spinning and Weaving Company set up by Sakichi Toyoda in 1918. His 1924 invention, the Toyoda Model G Automatic Loom was, a revolution in that it automatically stopped when a problem occured, saving production time as the fault is fixed quickly and yarn as it isn't using up this resource continuing to produce an imperfect fabric.
Sakichi Toyoda's son, Kiichiro Toyoda, was appointed a director of the Toyoda company but his interests were in motor cars, not the family business. He travelled widely across the United States and Europe studying the motor industry and production techniques. When Sakichi Toyoda's cousin encouraged him diversify as silk demand was falling Toyoda gave in to his son's pressure and looked seriously at the motorcar.
1950 Jaguar XK120.
In 1949 Peter Walker was second in the Silverstone Production Car Race. The following year Walker and the number 28, XK120 reg' JWK977, won the 1950 running of the same event from Tony Rolt, Leslie Johnson spun on some oil but recovered to finish 8th giving Jaguar the team prize. Walker's average speed was 131.773kph for the one-hour race.
For the 1951 race there were 11 XK120s entered with all Jaguars top drivers in teams of three for the team trophy. The impressive youngster Stirling Moss won the race and Peter walker, in the number 27 XK120, had a rotten race ending up 15th overall.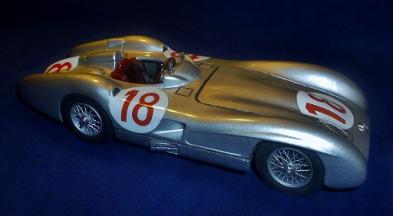 1955 Mercedes-Benz W196 "Type Monza".
When the Mercedes W196 debuted for the 1954 French Grand Prix at the high-speed Reims-Gueux circuit they were in an all-enveloping aerodynamic body. Exploiting a loop hole in the regulations Mercedes hoped to gain valuable seconds by minimising drag, especially at high speed circuits.
The enclosed bodywork proved to be a problem at twisty circuits as the drivers couldn't see the wheels to accurately position the cars. At Silverstone even the great Juan Manuel Fangio damaged his car hitting the corner markers. Mercedes realised they would need an different body to help the drivers compete at places like Monaco where seeing the corners is vital.
Mercedes did use the stream lined bodywork again at the high-speed Monza circuit and from then on this style was christened the "Type Monza". In 1955 Mercedes once again used the aerodynamic bodies for the 26th Italian GP. Fangio had a new version of the body but Moss ran in one of the 1954 cars bodies.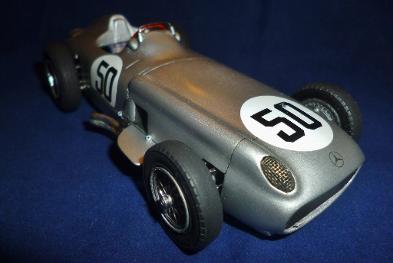 1955 Mercedes W196 Piero Taruffi
The W196 F1 design was as cutting edge as it could be in 1954. Rudolf Úhlenhaut and his talented group of engineers, Hans Scherenberg, Ludwig Kraus, Manfred Lorscheidt, Hans Gassmann, and Karl-Heinz Göschel, created a highly innovative chassis and Uhlenhaut continually pushed his team to upgrade and evolve the W196, also the car to make a second consecutive the F1 World Championship a reality.
The engine remained well ahead of anything any other Grand Prix team had and the chassis was improved. The inboard front brake drums mover back to a more conventional position which added cooling and reduced brake fade at high braking circuits. The reduction in weight from the removal of the drive shafts must have helped too. The wheels were changed for 55 to and a variety of sizes and tyre types were made available. All in line with Mercedes age old system of adjusting the cars not only to the circuits needs but to the drivers preferences too.
In total 14 W196 chassis were produced in a varying wheelbases and forms.
The Motor Museum in Miniature
As you move through the museum you will find many fine models, scratchbuilt and highly detailed. But you will also come across models that may not appear as impressive. This is for two very good reasons.
Firstly some of the models are very old now and reflect the level of knowledge and equipment available to the modeller at that time. Modelling supplies have come a long way from the era of tube glue and brushed on enamel paints. Part of the museum's philosophy is to show how much things have changed in the modelling world as well as in the motoring world, so some of our exhibits remain as they were first built, period pieces, a testament to the modelling technology of the time.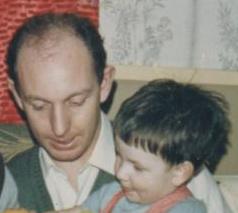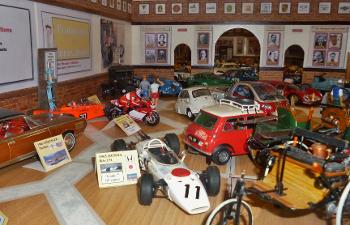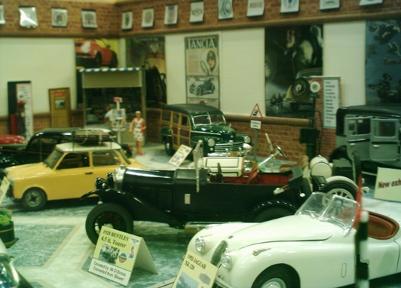 Secondly we want all our visitors to know that we didn't start off with some natural talent to deliver high quality model cars, we had to start as novices and learn just like everyone else. We are not afraid to show you our "lesser" models, or admit our mistakes, because we want you to feel encouraged to keep trying. It's easy to say 'if I can do it, so can you', but there was a time when we both looked at other peoples models and said 'I could never do that'.
Well we did do it, and so can you. Of course we still make mistakes and we are never totally happy with a model, but that is the spur that keeps us all trying that bit harder with the next model we build.
A word of warning though, when the drive for 100% accuracy and perfection start taking the fun out of modelling, take a step back and have a good think about things. We start making models we like for the pleasure they give us, it is a hobby for most of us and it's our standards we should measure ourselves against. As long as you're happy with your model if somebody else comes along and enjoys it too, that's an additional bonus.
Enjoy you're modelling, Rod and Ian
The next model show we are displaying at is.....
S.C.M.M.S. Model Spectacular 2017
Sunday 10th September 2017.
The Shire Oak Academy,
St. Marks Road Entrance,
Walsall Wood,
Walsall.
West Midlands.
WS8 7AQ
More information at
Follow our current projects on FaceBook, the motor museum in miniature is waiting to show you what we are up to. Watch us going through the build processes, warts and all, till the finished article makes the step up to this site.