Welcome to the Motor Museum in Miniature.
A unique display of model road and race cars.
Feel free to stroll through our halls and enjoy the world of motor cars, motor racing and making model cars.
May Day event
The Motor Museum in Miniature is proud to be working with Cloverlands Model car museum to provide an attraction for visitors to Montgomery,
Powys, on the 1st of May 2017.
Our usual display will be augmented with specialist displays and models that we can't usually display in the 1/24th scale museum setting.
200+ of our hand crafted models will be on display along with the hundreds of models in the Cloverlands museum itself. The history of motoring and the skills of the model maker will come to life in the exciting collaboration.
For more information on the Cloverlands model car museum visit :-
New pages in the museum have been added for two vehicles from our collection, you can see the details be clicking on the photo's below. Don't forget to look at the collections via our "Visit the halls" page.
Alfred 'Friedl' Neubauer.
The legendary Alfred Neubauer; "The Man of a Thousand Tricks", and one of the most dynamic and domineering personalities of the Grand Prix racing era was actually of Czech heritage. He was the sort of character that combines all the regular F1 team managers and moguls we know today, rolls them up into one big ball, then adds another dimension of passion on top of that.
Neubauer is arguably the most innovative team manager motor racing has ever seen. An unmistakable man festooned with stop watches, usually holding a red and black flag, a strangely jolly figure he stood out from the totally ordered and disciplined Mercedes-Benz team working around him. But if Mercedes didn't win, all Neubauer's conviviality evaporated and a thorough post mortem of events would begin immediately.
Neubauer had a short racing career and his experiences of isolation while driving in a race turned his mind to solving the organisational problems encountered during a race, particularly from the drivers point of view. When he was able to push Daimler-Benz board into creating a proper racing department, with him as the team manager, he came up with a system of signs and coloured flags to inform drivers of events on the track and to convey his tactical racing thoughts.
"The Fat Controller" not only ruled his drivers on track but drilled his pit crews until they could service cars in the minimal amount of time needed, decades before the slick pitstops we now see as normal in F1 and Indy racing.
Neubauer also recruited only top quality drivers, regardless of their background or nationality. German divers like Rudolf Caracciola were an easy pick for the team, but when Neubauer not only promoted a mechanic, Hermann Lang, but signed up a Briton, Dick Seamen, the other drivers and the Nazi Party were thrown into fits of apoplexy.
But "the Rennleiter" was right and when Lang and Seamen proved to be winners the Daimler-Benz board and the German political elite were more than happy to use the Mercedes racing machine to further their own ambitions.
Alfred Neubauer was a man of complex contradictions, bravery and humour. His story is inextricably bound within that of the Mercedes racing story from the 1920s through until the 1950s. His tutelage produced race wins, championships and unbeatable records over decades of top flight racing.
The Motor Museum in Miniature
As you move through the museum you will find many fine models, scratchbuilt and highly detailed. But you will also come across models that may not appear as impressive. This is for two very good reasons.
Firstly some of the models are very old now and reflect the level of knowledge and equipment available to the modeller at that time. Modelling supplies have come a long way from the era of tube glue and brushed on enamel paints. Part of the museum's philosophy is to show how much things have changed in the modelling world as well as in the motoring world, so some of our exhibits remain as they were first built, period pieces, a testament to the modelling technology of the time.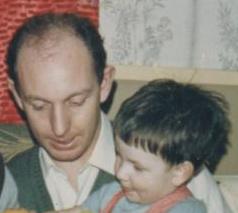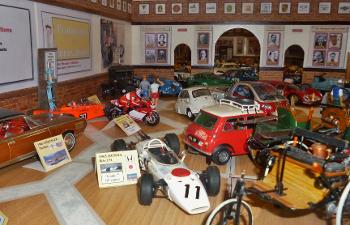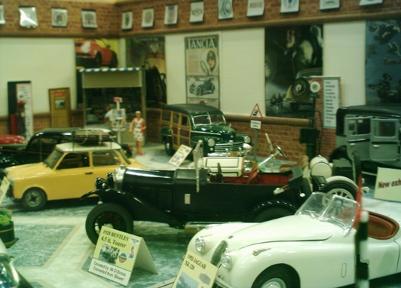 Secondly we want all our visitors to know that we didn't start off with some natural talent to deliver high quality model cars, we had to start as novices and learn just like everyone else. We are not afraid to show you our "lesser" models, or admit our mistakes, because we want you to feel encouraged to keep trying. It's easy to say 'if I can do it, so can you', but there was a time when we both looked at other peoples models and said 'I could never do that'.
Well we did do it, and so can you. Of course we still make mistakes and we are never totally happy with a model, but that is the spur that keeps us all trying that bit harder with the next model we build.
A word of warning though, when the drive for 100% accuracy and perfection start taking the fun out of modelling, take a step back and have a good think about things. We start making models we like for the pleasure they give us, it is a hobby for most of us and it's our standards we should measure ourselves against. As long as you're happy with your model if somebody else comes along and enjoys it too, that's an additional bonus.
Enjoy you're modelling, Rod and Ian
The next show we are displaying at is.....
Midland Expo 2017
Sunday 23rd July 2017
at the Leasowes Leisure centre, Leasowes High School, Kent road,
Halesowen.
Birmingham.
B62 8PJ
More information at
Follow our current projects on FaceBook, the motor museum in miniature is waiting to show you what we are up to. Watch us going through the build processes, warts and all, till the finished article makes the step up to this site.