Many of the motorcycle names of the past grew from the bicycle industry and some went on into the arena of four wheeled transport. In this collection we will show you our models from the the simple bicycle to the high tech racing motor cycles of today. Some have great importance to the world never mind the automotive world, be they technical firsts or have had a social influence, two wheeled transport now takes its an equally important place in our story of the automobile.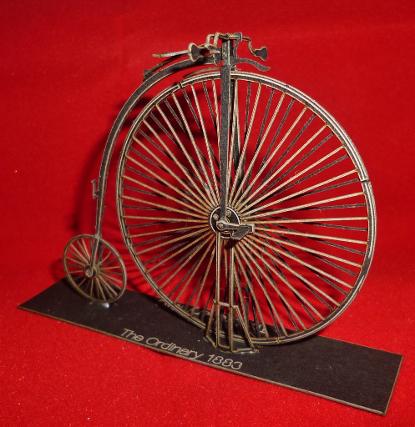 1883 Singer "Ordinary" bicycle
1/24th scale Aerobase kit.
The importance of the penny-farthing is all the design and technology advances it holds. Improvements in metallurgy allowed a strong light frame to be made from hollow steel tubing. Tensioned spoke wheels were invented by Frenchman Eugene Meyer in 1869. Ball bearings made rotating unions smoother, rubber pedals gave more grip and solid rubber tyres cushioned the ride far more than metal rimmed wheels.
Suddenly bicycles were lighter and smoother to ride than ever before and these design/invention steps would directly come to bare in Benz first three wheeled car.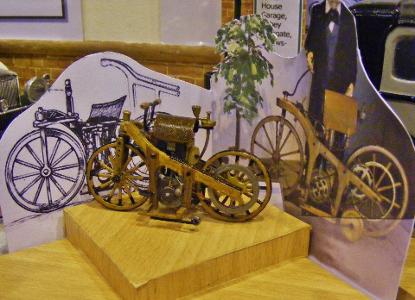 1885 Daimler "Reitwagon"
1/24th scale scratch built model.
Gottlieb Daimler's 1885 patents include the "Reitwagen", the world's first true motorcycle. Other people had put steam engines into two wheel frames earlier but this was the first gasoline-driven internal combustion engine to power a two wheeled machine.
Essentially a wooden bicycle frame with foot pedals removed, but two small spring-loaded outrigger wheels added, the Daimler Reitwagen ("riding wagon") or Einspur ("single track") the machine is actually a hot bed of ideas and was really a stepping stone in Daimler and Maybach's route to creating a motor car.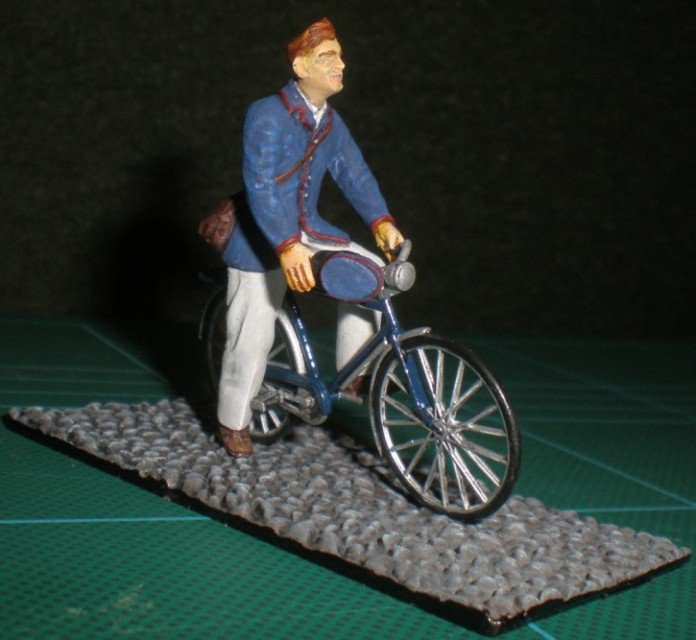 1930's French Postman and Bicycle
1/35th scale Tamiya kit conversion.
As bicycle design polarised around equal sized wheels front and rear, a chain crank and pedals driving a chain ring on the rear wheel, every day working bicycles started to look rather similar. So much so that by the 1930s, from a distance and without makers logos, a Sunbeam & Bianchi look identical and both were being sold all over Europe. Our model could easily be either of these to brands or any of several other French brands too.
The list of French bicycle firms is long and includes illustrious names like Michaux, Hurtu, Gitane, and Renault.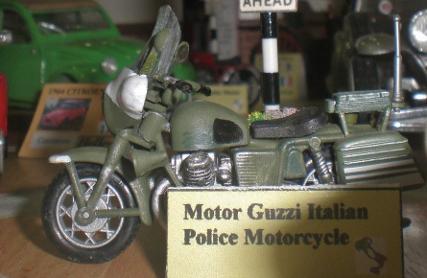 1972 Moto Guzzi V750 "Ambassador"
1/24th scale Grisoni kit.
War can throw together strange partnerships that might otherwise not of happened. People from different socioeconomic backgrounds can find themselves forming strong relationships that remain throughout their lives and lead to marvellous achievements. Just such legend is Moto Guzzi.
Established in 1921 by Carlo Guzzi, Giorgio Parodi, and his father Emanuele Vittorio Parodi, Moto Guzzi is the oldest European motorcycle manufacturer with a continuous production history. The company headquarters are in Mandello del Lario, by Lake Como in Italy, and because of the huge influence Moto Guzzi has had on Italian motorcycling manufacture, its many innovations and impressive racing pedigree, Mandello del Lario has become a Mecca for motorcycle enthusiasts the world over.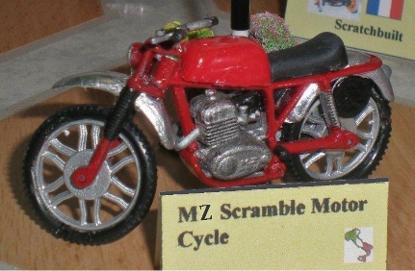 1975 MZ GS 250 Scrambler
1/24th scale Grisoni kit.
MZ had a turbulent excistance right from it's earliest days as Motorradwerk Zschopau making a small steam car, the Dampfkraftwagen, or DKW.
The Trademark DKW became the company name and its Motorcycles became very famous through their use by the German army under the Nazi regime. After WWII the company found itself in Communist territory and had to fight for it's existence again.
MZ emerged again thanks to it's sporting interests and the designs of Walter Kaaden and for quite some time proved a force to be reckoned with motorcycle trials and competition scrambling.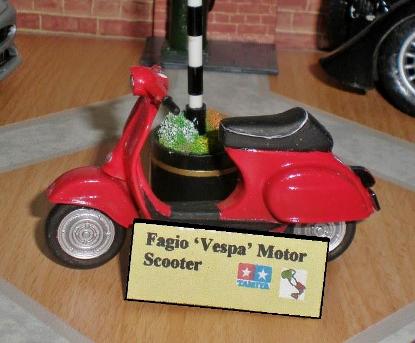 1979 Piaggio Vespa 50s
1/24th scale Tamiya kit.
The first scooter built by Piaggio was the MP-5, produced in April 1946, at the 'Enrico Piaggio factory' in Pontedera. When the next model was in prototype Enrico looked at the MP 6 and exclaimed, "It looks like a wasp!". Thereafter Vespa came to mean scooter, as well as wasp.
The Vespa breakthrough really came in 1963 when the Italian government passed a law making all vehicles over 50cc carry a number plate. The latest Vespa "50" was exempt, while vehicle sales overall fell by 28% sales of Vespa scooters rocketed.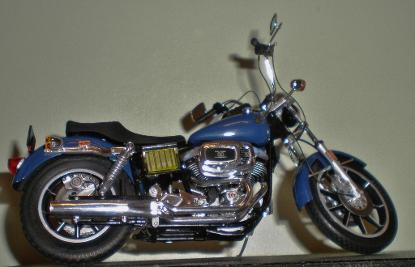 1979 Harley-Davidson Fat Bob FXE/F80
1/12th scale Imai kit.
Harley-Davidson, or simply Harley, is an American motorcycle company, founded by William S. Harley Arthur Davidson Walter Davidson William A. Davidson in Milwaukee, Wisconsin in 1903.
Harley's iconic status has grown out of it's history of heavyweight, large displacement, air-cooled cruising motorcycles and despite intense global competition the customization options of the Harley-Davidson has given us the long lasting chopper motorcycle style.
After this period of restructuring the 1979 FXEF "Fat Bob" was introduced. Fat for the look of its dual gas tanks, and Bob on account of its bobbed fenders.
1980 Piaggio Vespa 200e "Paris-Dakar".
1/24th scale Tamiya kit conversion.
Probably not the first mode of transport you might think of for a Paris-Dakar rally challenge but in the end the little Vespa proved that, at least statistically speaking, you have a better chance of finishing the 'Dakar' on a Vespa than in any four wheeled vehicle.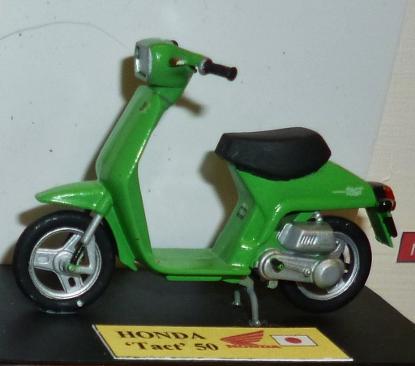 1980 Honda "Tact 50" scooter
1/24th scale Tamiya kit.
Honda's "Tact 50" made its market debut in September 1980. It arrived in North America in 1983 where it was marketed as the 'Aero' family of scooters. The Tact's rather small fuel tank seriously limits its range to between 36-50 miles, making fine for short journeys around town but excludes it from any long distance commuting. But would you buy a scooter if you wanted a cruising machine?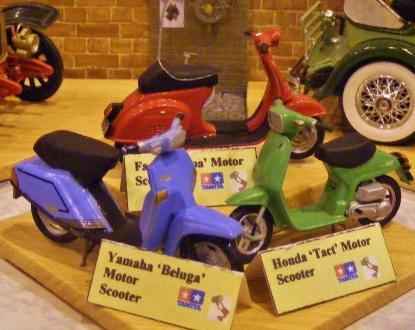 1983 Yamaha CV50E "Beluga" scooter
1/24th scale Tamiya kit.
Marketed from 1981 to 1987 the CV80E was a 2-stroke 80cc scooter which had certain innovations that would become commonplace on scooters that followed. CVT transmission, 2-stroke oil injection, electric start and auto-choke all featured on the Beluga.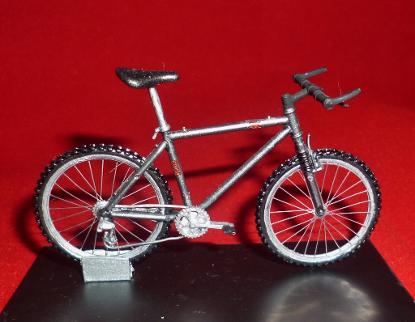 1996 Trek 8000 SHX mountain bike
1/24th scale Fujimi kit.
The Trek 8000 SHX is a mountain bike weighing in at around 25 pounds. It first went on sale in 1993 and four versions were sold over the rest of the 1990s.
The advent of piezoelectrics and tiny Lithium batteries created a revolution in how bicycles were controlled, Carbon fibre and Magnesium became much more affordable and Aerodynamics were studied as much for riders as the machines they rode. The 1990s saw a real revolution in cycling and a new resurgence too. Mountain cycling was the fun "dangerous" side of a brave new world.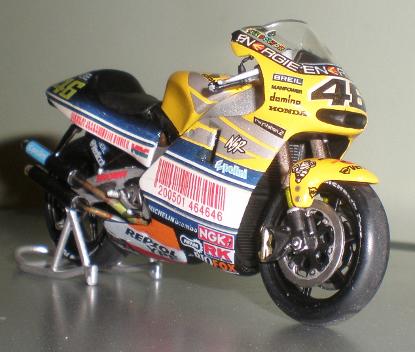 2001 Honda NSR500 GP
1/24th scale Airfix kit.
The Honda NSR500 racing bike series ran from 1984 till 2001. Created by HRC (Honda Racing Corporation) for the 500cc Grand Prix class. Honda won ten World Championships including six in a row from 1994 to 1999. The NSR500 is the most outstanding 500cc GP racer having more than 100 wins to its credit. Honda's 500cc two-stroke V4 engines power was the main key to success. Under constant development the NSR500 became increasingly sophisticated and a long list of world champions owe a lot to the NSR concluding with Valentino Rossi in 2001.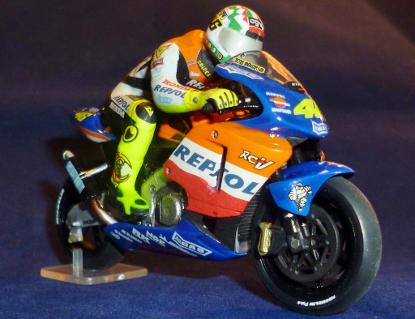 2002 Honda RC211V MotoGP
1/24th scale Airfix kit.
When the motor cycle racing regulations changed from 500cc Grand Prix reg's to the new MotoGP championship allowing four-stroke engines as large as 990cc (60 cu in) and between 3 and 6 cylinders Honda's NSR500 became obsolete.
Honda used all the latest materials and design ideology to produce a machine that would later be included in "CycleWorld's" top six most influential bike's ever.
The RC211V proved it's worth by taking defending 500cc world champion Valentino Rossi to his second top flight title. Riding for Repsol Team Honda Rossi won 11 races and scored and amazing 355 points, 140 points more than 2nd place in the championship, Max Biaggi.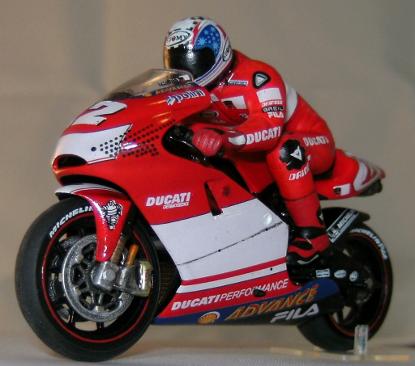 2003 Ducati "Desmosedici" GP3
1/24th scale Heller kit.
In the early 1970s Ducati abandoned GP Motorcycle racing and for many years the 500cc class was dominated by two-stroke engines, a technology far removed from the four stroke road-going Ducatis. In 2002 the introduction of the new MotoGP Championship brought new technical rules encouraging Ducati back into the world of Motorcycle racing.
Design work started in 2001 with Ducati Corse test-rider, Vittoriano Guareschi, then putting in the practical track work to make the bike ready for its unveiling at the Italian GP, at Mugello, in 2002. His work continued right through to the 2003 MotoGP World Championship season.
This page is under construction we are sorry for any disappointment. More models will be added in the coming months so please do come back and visit us again.