Japan was emerging from centuries of self enforced isolation at the turn of the 20th Century. It was learning quickly about industrialisation and their automotive industry was lagging behind the rest of the world. As America, Germany and Britain exported cars into Japan the entrepreneurs and powers that be both saw the opportunities for Japan and started to learn from these imported models.
As Japan chased it's imperial desires the need for mechanical transport grew and the Government actively encouraged companies to diversify into vehicle manufacturing. In time, and after the national humiliation of the second world war, the Japanese exploited their greatest asset, their attitude to perfection in everything they do, and conquered the world industrially rather than militarily.
Still the home of the worlds largest automobile manufacturing company Japan has given us some beautiful designs and made of technology work where others had found dead ends.
Here is our collection of Japanese cars, highlighting a different approach to design and manufacturing.
Click on the photo's for more information on each vehicle.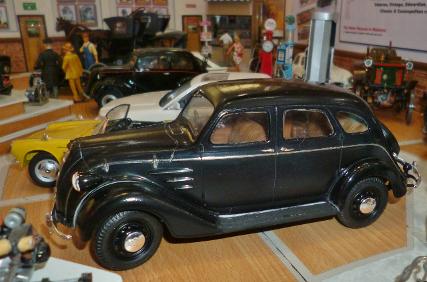 1936 Toyoda "Model AA" Saloon.
1/24th scale Tamiya kit
In 1929 Toyoda sold the patent and production rights for his automatic loom to the British firm of Platt Brothers garnering a princely sum of £100,000. This funding was passed to Kiichiro Toyoda so he could lead development of a petrol engine and mechanical vehicles. In 1933 Kiichiro Toyoda became the first director of the Toyoda automobile department and, in due course, the Toyota industries Co., Ltd.
Researching into the gasoline-powered engines had begun in 1930 and the first production unit, the type A engine, was built in 1935 and the G1 truck went on sale, primarily to the Japanese government, from August 1935.
1955 Daihatsu CM10T
1/32nd scale Arii kit.
Although often dwarfed by the better known Japanese auto manufacturers Daihatsu is actually the oldest car manufacturer in Japan. Daihatsu Motor Co., Ltd. is known mainly for it's small cars and off-road vehicles. Originally the Osaka company was founded in 1907 and called Hatsudoki Seizo Co. Ltd and built engines for power plants. In 1951 it was re-branded as Daihatsu and started exports to Europe in the 1960s but sales didn't really take off until the 1980s.
Like Mazda Daihatsu made three wheeled trucks for the versatility they offered in the tight crowded cities of Japan.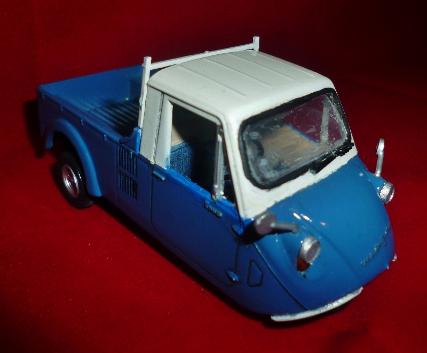 1958 Mazda K360 trike
1/32nd scale Arii kit
Mazda began as the Toyo Cork Kogyo Co., Ltd, founded in Hiroshima, Japan in 1920. Toyo Cork Kogyo was renamed to Toyo Kogyo Co., Ltd. in 1927. In the late 1920s the company had to be saved from bankruptcy by Hiroshima Saving Bank and other business leaders in Hiroshima. In 1931 Toyo Kogyo moved from manufacturing machine tools to vehicles with the introduction of the Mazda-Go auto-rickshaw, the first 'vehicle' manufactured by Mazda.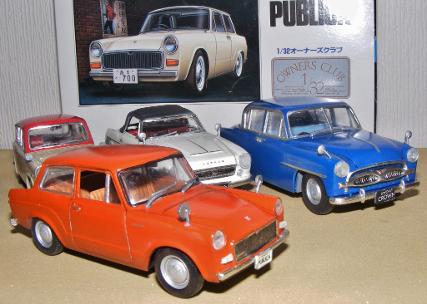 1961 Toyota Publica.
1/32nd LS kit.
Today the Toyota group of companies are the largest automotive manufacturers in the world. The roots of this success started with the prototype "Publica" of 1956. This vehicle, and the processes involved in its development, led to the highly successful Starlet and today's market leading Yaris.
From 1961 the Toyota Publica could be purchased ¥360,000 (US$1,000) 2-door vehicle in a range of body styles such as the usual sedan, convertible and coupé. This range was supplemented with an estate/station wagon, and even a pickup which went on to outlive the other models by almost 10 years and started Toyota on the road to other pick up and van models like the MiniAce.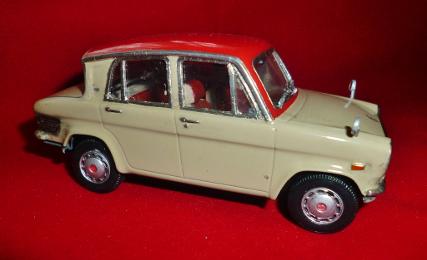 1962 Mazda P360 "Carol".
1/32nd scale Arii kit.
The diminutive R360 two seat coupe was a great success and was followed by a model for the small family. On the 23rd of February 1962 the P360 "Carol" was introduced. Named for a "a joyful song" this new idea in micro-minis certainly struck a chord with the buying public.
In May 1962 a better equipped DeLuxe 4-door version, the subject of our model, was added to the range and the innovative mechanicals of the "Carol 360" led to Mazda capturing 67% of the Kei (small car class) market in its first year.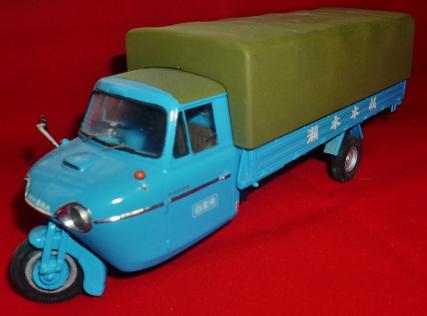 1962-72 Mazda T2000
1/32nd scale Arii kit.
The tadpole shaped T2000 was in production from 1962 to 1972 and was basically unchanged throughout its production. With just 80 hp it's hardly a powerhouse but it was enough to do the job. By the 1970s Mazda was selling to the rest of the world and the demand for stronger, more powerful four wheeled trucks saw Mazda move away from this typically far Eastern style of vehicle.
Built and donated by John Jenkins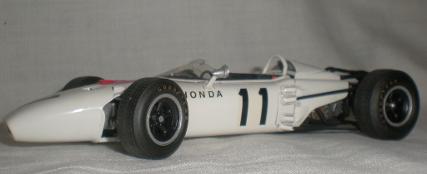 1965 Honda RA272E F1
1/24th scale Hasegawa kit
Tadashi Kume was the designer behind the RA272. It was a fairly ordinary semi-monocoque chassis with tubular rear sub-frames and inboard springs at the front. The 1.5Ltr V12 engine was noticeable mainly for its technical advancements, although rather wide and heavy it had 48-valves, needle roller crankshaft bearings and was transversely mounted. Reportedly it gave 230bhp at 13,000 rpm. The engine could even be safely revved to 14,000 rpm, unusually high for any 1960s engine design. The Honda V12 had startling acceleration and often led on the 1st lap or away from the standing start.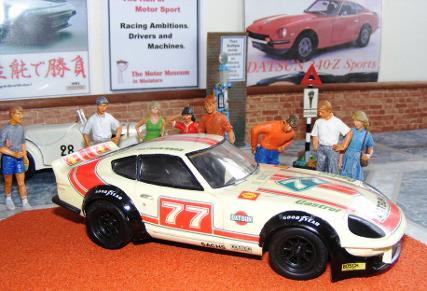 1975 Datsun 280z
1/24th scale Airfix kit.
It surprises most people to learn that Datsun-Nissan have a long and very good pedigree in motor racing; A history that stretches back to 1948 when their first sports miget car took to the track.
They hold records in SCCA racing, have over 200 IMSA Victories, class wins at le Mans and 4 consecutive victories in the Daytona 24hrs race. the Fairlady 'Z' series has won the Safari Rally outright 7 times and has many rally podiums to accompany that record.
The 280z was introduced to North America in 1975, with a 2.8ltr engine featuring Bosch fuel injection, and the later 280zx won the IMSA GTU title with 9 wins in 13 races in 1979; the same year Paul Newman won the group C production Championship in a Bob Sharp racing 280zx.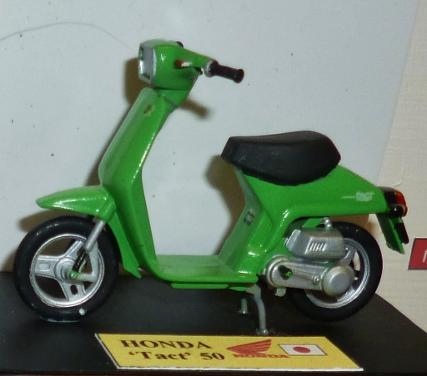 1980 Honda "Tact 50" scooter
1/24th scale Tamiya kit.
Honda's "Tact 50" made its market debut in September 1980. It arrived in North America in 1983 where it was marketed as the 'Aero' family of scooters. The Tact's rather small fuel tank seriously limits its range to between 36-50 miles, making fine for short journeys around town but excludes it from any long distance commuting. But would you buy a scooter if you wanted a cruising machine?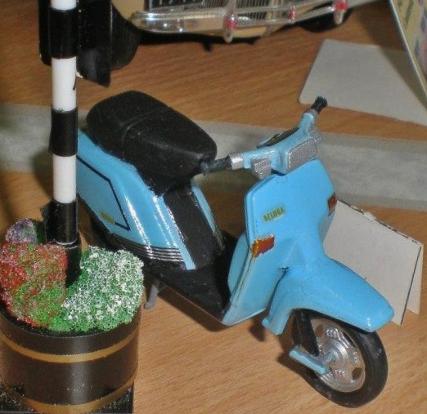 1983 Yamaha CV50E "Beluga" scooter
1/24th scale Tamiya kit.
Marketed from 1981 to 1987 the CV80E was a 2-stroke 80cc scooter which had certain innovations that would become commonplace on scooters that followed. CVT transmission, 2-stroke oil injection, electric start and auto-choke all featured on the Beluga.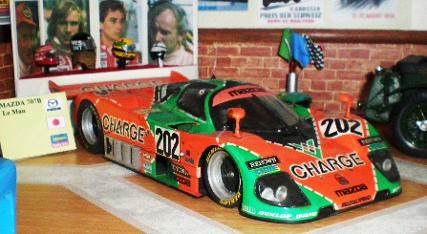 1989 Mazda 767b
1/24th scale Hasegawa kit.
The Mazda 787B was designed for Group C sports prototype racing in the World Sportscar Championship, All Japan Sports Prototype Championship, the 24 Hours of Le Mans and IMSA GTP regulations. Powered by Ma zda's R26B Wankel rotary engine the car lacked the overall pace of Mercedes-Benz, Jaguar and Porsche, as well as Nissan and Toyota in the Japanese Championship; but were reliable and that allowed them to contend for their respective championships.
Because of its similar dayglow orange and green livery the 767B is often mistaken for the 1991 Le Mans winning 787B. Our model is 767B #202 chassis number 002, sponsored by 'Charge', which finished 2nd in class and 9th overall in the 1989 Le Mans 24hrs race.
2001 Honda NSR500 GP
1/24th scale Airfix kit.
The Honda NSR500 racing bike series ran from 1984 till 2001. Created by HRC (Honda Racing Corporation) for the 500cc Grand Prix class. Honda won ten World Championships including six in a row from 1994 to 1999. The NSR500 is the most outstanding 500cc GP racer having more than 100 wins to its credit. Honda's 500cc two-stroke V4 engines power was the main key to success. Under constant development the NSR500 became increasingly sophisticated and a long list of world champions owe a lot to the NSR concluding with Valentino Rossi in 2001.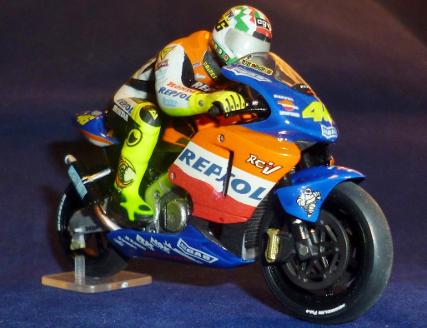 2002 Honda RC211V MotoGP
1/24th scale Airfix kit.
When the motor cycle racing regulations changed from 500cc Grand Prix reg's to the new MotoGP championship allowing four-stroke engines as large as 990cc (60 cu in) and between 3 and 6 cylinders Honda's NSR500 became obsolete.
Honda used all the latest materials and design ideology to produce a machine that would later be included in "CycleWorld's" top six most influential bike's ever.
The RC211V proved it's worth by taking defending 500cc world champion Valentino Rossi to his second top flight title. Riding for Repsol Team Honda Rossi won 11 races and scored and amazing 355 points, 140 points more than 2nd place in the championship, Max Biaggi.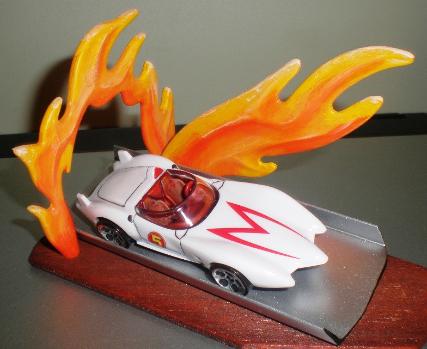 "Mach 5" from the 2008 film 'Speed racer'.
1/50th scale Hotwheels toy.
"Manga" is the word used for Japanese graphic (meaning pictorial) novels. They are much more than "Comics" and cover several different genres under the same heading. The word means, quite literally, "whimsical pictures".
Shueisha's 1958 Shōnen book was originally serialized in pictures back in the 1950s. In America a television series of 52 stories ran from 1967 to 1968, later some of the pictorial stories were re-released there as Speed Racer Classics by NOW Comics. Other companies including DC Comics division re-ran the stories as Speed Racer: The Original Manga. The Stories all centre around auto racing and when the concept was put to film it proved popular. "Speed Racer" the Movie was a transformation of Tatsuo Yoshida's 1960s "MachGoGoGo", Japanese animated TV series.
This page, like most of them on our site, is the subject of ongoing work to add more of our collection to the site. We are sorry for any disappointment if the vehicle you wanted to see wasn't here. More models will be added in the coming months so please do come back and visit us again.