Ettore Bugatti
........showed a remarkable affinity with cars at a very young age. Born in Milan in 1881, he was successfully racing a twin-engined tricycle at the age of 18.Two years later he designed and built a four cylinder car. He worked as a designer for several companies including Duetz at Cologne. While there he is reputed to have designed and built a small car with a 1208cc motor.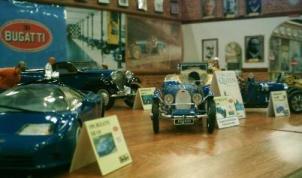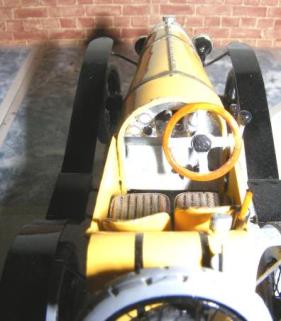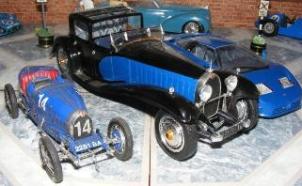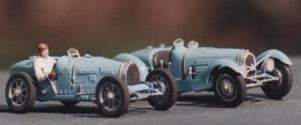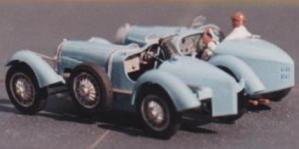 The museum has a series of Type 35's available for display. On the left is the Airfix 1/32nd scale kit of a 1925 Type 35b. It sits alongside a Pyro 1/32nd scale T59.
Type 59
Bugatti's last serious Grand Prix car, powered by a 3,257 cc twin-cam straight 8 engine. The rear suspension consisted of inverted semi-elliptic leaf springs and the wheel rims had external spokes and aluminium inner discs. It won minor GP's but was not truly successful.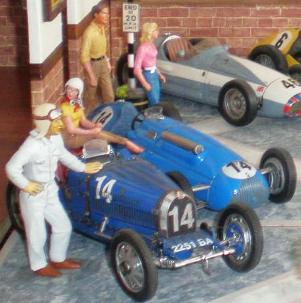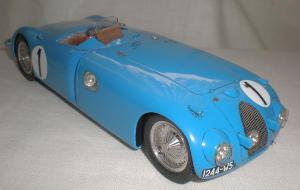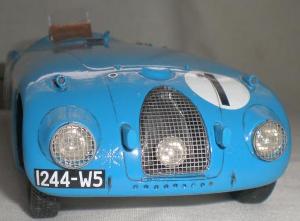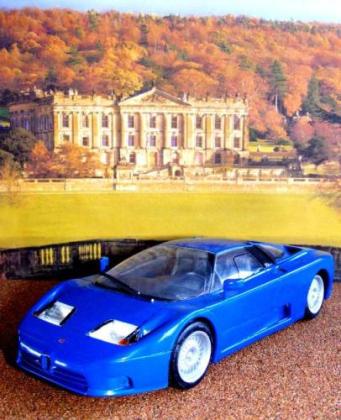 In these two photo's you can see the variety of cars produced by Bugatti. They all share an innate beauty and the quality of engineering was second to none.
The artistic side of the company was even in the GP cars, where it really wasn't needed at all, but the dash of a T35 is quite lovely to look at.
Although cars were still produced after the war Bugatti rather faded away. The final GP car wasn't a success and in the end the factory ceased production in 1956 and what was left was bought by Hispano-Suiza.
Bugatti re-emerged as a car manufacturer in 1991 with the release of the EB110 made by an Italian company owned by Romano Artioli, but this ultimately failed by 1995. In 1998 VolksWagon took over the Bugatti name and have produced several new models in the last decade.
1921 Bugatti type 13 'Brescia'
scratch built by Rod in 1/24th scale.
1926 Bugatti Type 41 "La Royale"
1/24th scale Lindberg kit.
Bugatti had dreamed of making the ultimate car to beat the world as far back as 1913. His dream came true with the type 41 Royale in 1926. They called it a whim, but for a whim it was pretty substantial: With a 15-litre engine and claimed 300bhp (twice as big as a Rolls-Royce), 180 ins. of wheelbase (longer than a long chassis 'Phantom' and the same as a London bus), and a bonnet of such length that a mini could be parked on it. It was a sensational car in its day.
But only six were made and only three were sold. Remaining engines were fitted into rail cars and one set a world speed record of 122 mph. The model replicates a car first sold in 1931 as a 2-seat roadster, the original owner had no intention of driving at night, as it had no lights. Later it was bought by King Carol II of Rumania, and the body rebuilt by Binder as a Sedanca de Ville featuring bullet proof glass and body.
thinking of BUYING A BUGATTI MOTOR CAR !
The first British Park Royal bodied Royale in 1933 cost £5,250 ..... you'll need a little more than that today!
The 35B came out in 1924 and became one of the most famous models of this Marque. It had the rare distinction of being capable of winning G.P's and also being available for sale to amateurs. Between the wars it was the most successful race car available, winning 12 major GP in 1926.
It can claim over 2000 racing successes during its period of manufacture between 1924-31. Driven in its hey day by such figures as Louis Chiron, Malcolm Campbell, and Tazio Nuvolari.
The engine was a straight 8-cyl. Supercharged unit of 2300 cc. giving 135 h.p. at 5300 rpm.
Cast Aluminium wheels with the brake drums integrally cast and 8 flat, but angled spokes to aid cooling airflow through the wheels.
1934 Bugatti Type 59
1/18th scale Bburago kit
Jean-Pierre Wimille drove no.10 in the 1934 Monaco GP. It is a tribute to the innovative ideas and quality overcame the drawbacks he placed upon the cars by steadfastly sticking to two seat bodywork and cable operated brakes.
1924 type 35b
1/24th scale Monogram kit
The same Monogram 35b kit this time built in GP trim. It was heavily detailed and many additions made.
The wheels had the "chrome" removed and been painted in aluminium then buffed up. This gives a more realistic effect.
The differences between the two cockpits are visible in these pictures.
A leather tool kit pouch is on the left side of the scuttle and a leather spark plug holder is on the right side of the scuttle, visible through the steering wheel spokes.
Note also the different mirror mount and the new scratch built brake and gear levers.
All the moulded on body securing pins and wiring were removed and replaced with proper ones. The effect adds a lot of realism to the model. The cables for the braking system have also been added.
Hellé Nice (born Mariette Hélène Delangle) had a varied work life as a model, dancer, down hill skier and a Grand Prix motor racing driver. She was introduced to Bugatti who thought she would be a good addition to his team of male drivers.
As she was very outspoken about her racing ambitions she got the chance to race against the men on equal terms (taking part in 5 GP in 1931 driving a T35c) and although she didn't win a GP she often placed better than some of the big names of the day.
1939 Type 57 'tank' le Mans Winner.
1/24th scale, is from the Profil24 kit
Bugatti had success in racing at le Mans and after winning the 1937 race decided it wasn't worth the effort and expense of doing it again. Why would you want to prove you can win it when you already have!
In 1939 Bugatti's son convinced him that they should continue the le Mans programme but Bugatti put in a limit of his own.
"as only one car can win you can only build one car"
One car was built, and it duly won!
1991 EB110
1/24th scale Heller kit.
The promising rebirth of the name in 1991 gave us the EB110. It was named to recognise Mr. Bugatti's 110th birthday by using his initials instead of a traditional 'type' number.
The companies aims outstripped it's resources and it nearly collapsed to leave us bereft again, but VW stepped in to rescue Bugatti and have produced some very modern super cars of outstanding quality to maintain the heritage of this most emotive brand name.