Hall One.
In the last quarter of the 19th century the race to create truly independent automotive transport was on. All sorts of experiments with other forms of power were undertaken before petrol, as we came to know it, finally won.
Some of the ideas tried include Clockwork, perpetual motion (using a system of weights & pulleys), water, gas, gun powder (!) crude oil, and refined oil - Benzine!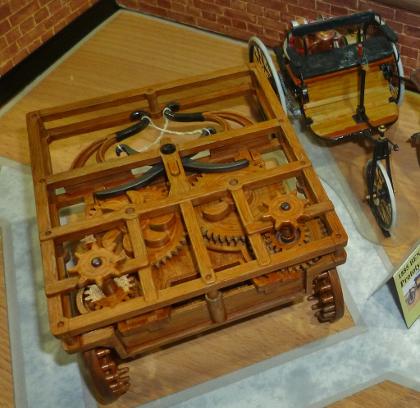 1478 da Vinci Self propelled cart.
Unknown scale Academy kit.
Leonardo di ser Piero da Vinci has been described as the archetype of the Renaissance Man. A polymath with interests and theories as diverse as plate tectonics and botany to helicopters and submarines it is a travesty that so many people think only of him as a painter and sculptor.
In the Codex Atlanticus, a 1119 leave volume of da Vinci's work covering 1478 to 1519, there is a diagram for a "self-propelling cart". Apparently da Vinci never made one of these machines but there are now numerous replicas in museums around the world; all different depending upon the builders interpretations of da Vinci's sketches.
What is important is that they work and prove the validity of the concepts with. There are of course shortfalls, but if da Vinci had built one of these carts it is certain he would have overcome them and probably added other improvements too.
If you were wondering, no this isn't the earliest example of a vehicle moving itself along the ground!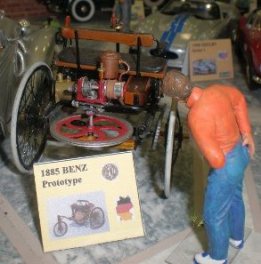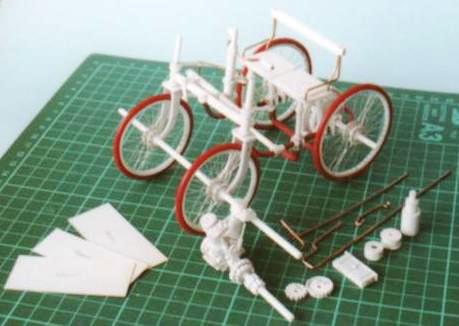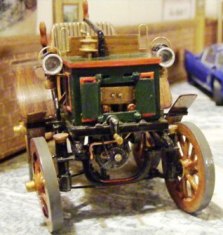 Frederich William Lanchester's first car, produced in 1895, was remarkable in that it was not a copy of a foreign model, nor an adaptation of a horse drawn carriage, but a brilliant original design. Further prototypes followed and in late 1899 Lanchester Gas Engine Co. Was founded with his two brothers, George and Frank.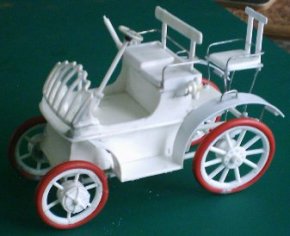 At the turn of the century, the American public was not really ready for the automobile. To a rural population used to the horse, early cars were big, noisy, unreliable and frightening. The fact that the Olds 'Runabout' looked very much like a buggy made it a likely candidate for success.
.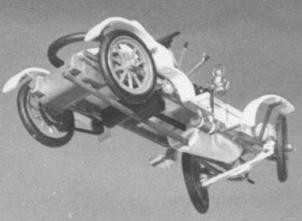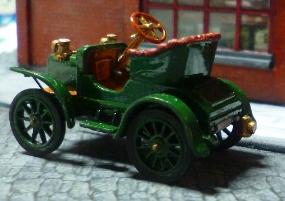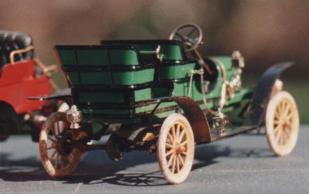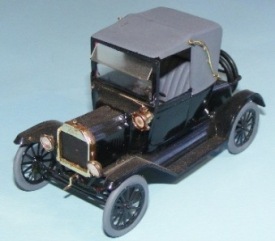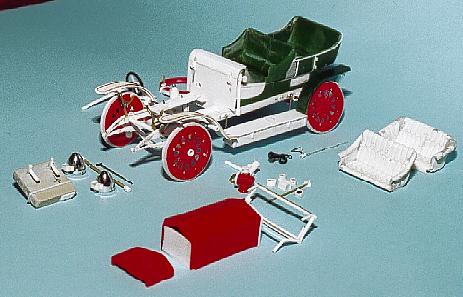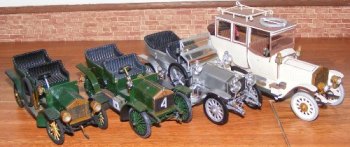 Covering the period from 1905 to 1912 these are the 1906 tourer, the Light 20 that won the I.o.M TT in 1905, the original 40/50 'silver ghost' and a limousine. The 40/50 conversion was a combination of both the 1906 and 1911 Airfix kits ,& a lot of scratch building by Rod.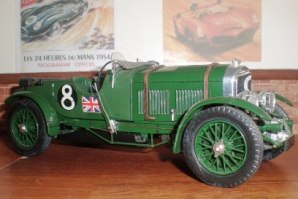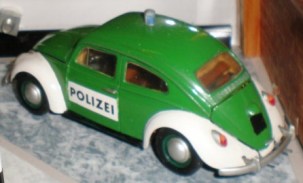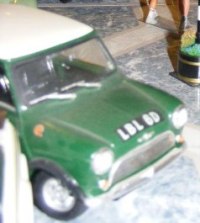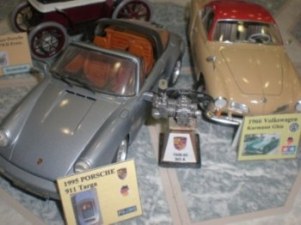 1995 Porsche 911 Targa Carrera 4 1/24th scale Fujimi kit
1966 Kharman Gia 1/24th scale Tamiya kit
In 1885 Benz gave us the first motor car.
Early car production was a combination of three existing industries – cycle makers ( the tubing and wheels), carriage builders (the body & seats) & engine manufacturers.
Benz himself had experience with bicycles and used similar technology when he created an automobile with wire wheels.
His 4-stroke engine had electric coil ignition, making it the first automobile designed to generate it's own power and not simply be a motorised horse carriage. This is the main reason Benz is regarded as the inventor of the motor car.
The Benz was granted a patent for his design and these documents are considered to be the birth certificate of the motorcar.
The 1886 Daimler car was a horse drawn carriage with an engine mounted in front of the rear seat.
The original horse shaft locations can still be seen projecting ahead of the front wheels.
This was the worlds first 4 wheeled motor car. It was improved continuously but he was behind Benz in establishing an industry.
Daimler's 1889 engine was a 2-cyl. Narrow V-engine, that revolved at 900 rpm. but with hot tube ignition!
1888 NSU Daimler
Stahlradwagen (Steel – or wire - wheel car).
The car was commissioned by Daimler to be built by NSU at Neckarsulm and was in effect their first production car, Just 10 were made using NSU expertise in making bicycles. The vehicle had a tubular steel chassis that carried the engine beneath the seat and drove a Zahnrad four speed gearbox. The surface carburetor also supplied fuel to the hot-tube ignition burners. Braking was by external contracting system operating on the right rear wheel only. The car was first shown to the public at the Paris World Fair in 1889.
1891 Panhard
Rene' Panhard experimented with cars in 1888, having set up to build engines for Daimler 2 years earlier in 1886, in partnership with Emile Levassor.
1893 The Panhard system (as it was referred to despite being designed by Levassor) was now well established - Front wheel steering, front mounted engines, transmission (chain) to driven rear wheels and all the passengers facing forward. This remained the basic design layout for cars for decades.
This car 4hp 1.3ltr engine.
By 1902 (9 years on) production had passed 1000 mark and cars were being sold in London by Hon. Chas. S. Rolls, who raced Panhards at this time.
1899 Renault Type A
Louis Renault, son of a button manufacturer, turned to cars and built a single cylinder De Dion engine powered prototype with shaft transmission as opposed to the more fashionable chain drive. Intended for his own pleasure it aroused much interest among his friends, who ordered replicas. The car has a unique feature for the period, it could be started from the drivers seat by the crank handle protruding from the dashboard, a feature popular with the lady drivers.
Renault set up Renault Freres in March 1899 with 40,000 francs capital put up by his brothers.
The car displayed at the Paris Automobile Salon in June brought in 60 orders. Renault then set up a factory and 179 cars were made in 1900, the first full year of production. This was the company's first production car.
1899 Lanchester
A 4-cyl. 2460cc engine with horizontal valves closed by leaf springs. Wick carburettor with no jets. Flywheel Magneto. Self adjusting multi-plate clutch in oil bath. Disc brakes. Fully automatic lubrication. Transmission by 3 speed epicyclic gears transmitting power to a drive in back axle. (Both features years ahead of their time.) suffering a little by having tiller steering it could still reach a top speed of 50 mph.
1900 Lohner Porsche electric 4 wheel drive car.
Lohner, of Vienna, were the company behind the very young F. Porsche's design. Each hub has it's own electric motor inside while the large square body holds the 1.8 tonnes of batteries.
1904 Olds Curved Dash
The 'Curved Dash' Oldsmobile was the first mass produced car. Ransome Eli Olds had been experimenting with steam cars since 1887. Why he had built a steam car in his fathers gas engine works we shall never know.
The fact it was ever produced at all was due to luck. A fire in March 1901 destroyed the entire works. A Time Keeper sounded the alarm and pushed one car out of the building. That single car was the prototype 'Curved Dash' Weighing 700 lbs. The 'Curved Dash' sat on a short 60-inch wheelbase. The engine developed 7 h.p. The transmission had 2 forward and reverse gears and sold for $650.
1904 Mercedes
This sports car had an innovative specification. A 4-cylinder 35hp 6 litre engine with mechanically operated inlet valves and low tension magneto ignition. Power was fed through a helical steel spring clutch to a 4-speed gearbox with a gate change.
Braking was by contracting band on the transmission and internal expanding drum brakes at the rear. All the wheels were of equal size and fitted with pneumatic tyres.
The chassis was of pressed steel construction and extended well beyong the front radiator, which was itself innovative in that it was of honeycomb construction and incorporated it's own integral water tank.
1905 Rover 6hp
Rover set the world standard for bicycle design in 1885 and the Rover name actually became the word for bicycle in several eastern European countries.
Like many cycle manufacturers Rover diversified into motor bikes and eventually cars. The 1904 Rover 8 was also a world first in that it had a backbone chassis, an idea used by the great Colin Chapman some 65 years later.
In 1905 Rover made a smaller lighter, cheaper car the 6hp, and also their first 4 cylinder engined car, clearly the company was expecting great things in their automotive ventures.
1909 Stanley Steamer
The Stanley Twins had never built a car before. Their experience had been with violin making and dry plates for photography. But they studied every book and previous design they could find (there wasn't much) before drawing up plans for the steam car.
By November 1898, after having built three cars, they entered one in the Horseless Carriage Meet at Boston, and went round the one-third mile track watched by five thousand cheering spectators. They averaged 27.4 mph - fast for 1898. One hundred customers put down deposits and suddenly the twins were in business. They bought a defunct bicycle factory and began turning out cars by the thousand.
Ford Model T
In June 1903 the Ford Motor Company was incorporated and Henry Ford could begin his mission to motorise the world.
The 1st of October 1908 is a significant date in motoring history, Ford launched...... the Model T.
For the sake of economy all other models were dropped but as the gamble paid off and the demand grew, the methods necessary for mass-production were applied. This was nothing new having already been applied in America to guns, watches and to motor cars by Henry Leland of Cadilac. The moving conveyer system was new though and Ford's Detroit factory was, at the time, the largest and most modern in the World.
Birth of a legend Rolls-Royce
Henry Royce was an engineer making electric cranes in Manchester. In 1904 he purchased a French 2-cyl. Decauville car, although not the worst of cars of the day, Royce was not satisfied with its mechanical crudity, so set to work to build himself a 2-cyl car of modest power, but great refinement, which soon went into production.
Charles Rolls was also a perfectionist. In the early days of motor racing he was a consistent competitor on Panhard and Mors cars. He also had a business for the sale of Panhard and other foreign cars. Rolls was delighted with the watch like precision of the little Royce car and the world famous partnership ensued. Rolls was killed in 1910 when his Wright aircraft crashed from only 6 feet off the ground. He had already lost interest in the Company that was saved only by the third partner, Claude Johnson.
In 1907 Claude Johnson, the organising genius of the firm proposed an extremely bold move. Henceforth production was to be standardised round one model only, the 40/50, soon to become known as the 'Silver Ghost', this model was to remain in production for 19 years. This was the first model to carry the famous Spirit of Ecstasy bonnet mascot from 1911 onwards.
1911 Renault AX
The AX was in production from 1908 to 1914 and was especially popular with Paris Taxi drivers. It had a 2 cylinder engine displacing 1,060cc. It weighed in at 750kg but the little engine had enough power to propel the vehicle at speeds of up to 34mph.
Bentley
Probably the most outstanding marque of the 45 that were launched in Britain immediately after World War 1. Formed in 1919 Bentley Motors Ltd lasted only 12 years, suffering severe financial problems for most of them. Despite this, 3,034 top quality cars were built, ten major races fell to Bentleys, and the marque became legendary.
Most famous of all the Bentleys was the 4½ Litre, in particular the supercharged 125 mph 'Blower'.
Although not the first make to supercharge their engines Bentley engineer Amherst Villiers was recognised as one of the best engine and supercharger designers.
W.O. Bentley himself was very unkind about the 'Blower' which was against all his engineering principles "….to super charge a Bentley engine was to pervert its design and corrupt its performance….when we want higher performance, we increase the engine size…"
1939 Citroen 15/6 Traction Avant
The 'Traction' was introduced at the 1934 Motor Show in 3 forms, the '7','11' & '22'. Andre Lefebvre was the man who organised the building of this revolutionary car in 13 months.
But Andre Citroens firm met financial difficulties in 1934 and the Michelin Co. took over the factory. Citroen then proceeded with a more powerful car and the 15 with 2867cc 6 cyl. in line engine appeared in 1938.
In 1948 the engine was designed to rotate 'clockwise'. Why it had rotated anti-clockwise before that date has never been known!
Volkswagen
literally means 'Peoples car'. Founded from the ambitions of two totally different characters Adolph Hitler, who was a car enthusiast intent on having a car for the masses, and Dr. Ferdinand Porsche, who shared the ambition of building a peoples car but had little else in common with Herr Hitler.
Hitler had heard of Porsche through his Auto-Union racing car designs and in May 1934 invited Porsche to submit proposals. The first prototype was completed in 1936 - in Porsche's own garage. Hitler was apparently satisfied and ordered the full backing for the project
The MINI
Announced in 1959 London Motor Show, the Mini was the most technically significant car in the history of the British motor industry.
A triumph of space saving, it was possible to seat 4 people in the two-door saloon, because the engine was mounted transversely, while the gearbox was located in its sump. The wheels were only 10 inches in diameter that saved interior space. Suspension was all-independent and, unusually, compressed rubber cones were used as the medium.
Road holding was good and the original car was capable of over 70 mph
Porsche
The decision to build sports cars under the Porsche name was taken in 1947 and the first was the 356. This car was replaced by the 911 series. The 25 anniversary of the 911's launch fell in 1988. That year witnessed, for the 1989 season, a 4-wheel drive version of the 911, designated the Carrera 4