Rallying developed out of the long distance City to City races at the dawn of the 20th century. When endurance tests such as these gave way to circuit racing the sports and road cars started having separate events from the specialised racing cars. Often these took stage form and sometimes including special stages such as hill climbs and off road tests.
Some of these events have become legendary and today are remembered in historic events of a slightly less frantic, but equally competitive, nature. Little but little the rally events have grown in stature and is starting to rival the established motorsport genres for fans and even TV viewer numbers.
This collection of vehicles is dedicated to the reliability trials, hill climbs, long distance events and the now familiar stage events that have proved the reliability and value of motor transport to the world; as well as the excitement and fun rallying now offers to participants (of all levels) and fans.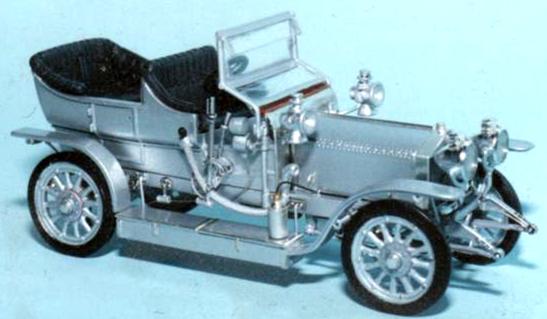 1907 Rolls-Royce 40/50
THE SILVER GHOST Serial No 60551
1/32nd scale Airfix conversion.
The model replicates the original Silver Ghost that was actually car No.13 in the 40/50 series. Its name came from its silver paint finish and silver fittings and was soon adopted for all 40/50s.
After this series of tests the car was driven up to Scotland to reconnoitre the route of the up and coming Scottish Reliability trials before returning to London again. On the 21st of June the car set of to Scotland along with other 40/50's one of which was driven by C.S. Rolls. At the trials the car won a gold medal in it's class, class 7, for 6cyl cars. This achievement is even more remarkable when we add the fact that all the other cars, bar two, were more powerful than the Silver Ghost.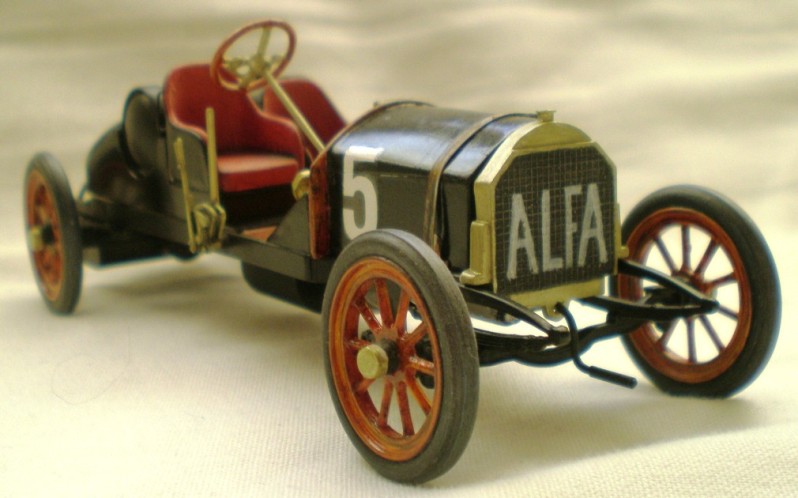 1910-13 ALFA hill climb car
1/32nd scale scratchbuild.
The A.L.F.A. company moved into motor racing soon after it was established, their first major race being the 1911 Targa Florio. Drivers Franchini and Ronzoni competed with two 24hp models. Nino Franchini dropped out after an accident on the 3rd lap and Ugo Ronzoni retired his car, also on lap 3, because he was exhausted!
A.L.F.A. offered it's cars to the public built with exactly the same specifications as these race models.
The first real success came at the 1913 Parma Poggio-di-Berceto hill climb when Nino Franchini A.L.F.A. drove to 2nd place overall. Frachini covered the 53 km course in a time of 44m29.6s

1913 Vauxhall "Prince Henry"
1/32nd scale Airfix kit conversion.
The 1913 Vauxhall 'Prince Henry' takes it's name from the cars performances in the Prince Hienrich trials and is modelled in Hill climb trim.
It also took part in reliability and performance trials in Britain were it won stages, events and admirers.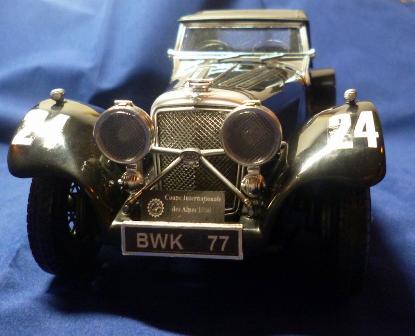 1936 SS 100 "Jaguar".
1/18th scale Bburago kit.

Perhaps the most venerated Jaguar SS 100 in competition was one owned and modified by the factory itself. Known to Jaguar enthusiasts as "Old No. 8;' from its chassis number 18008, it began as the 2.7-liter street car that won the top prize in the 1936 International Alpine Trial, a grueling long-distance Continental road rally.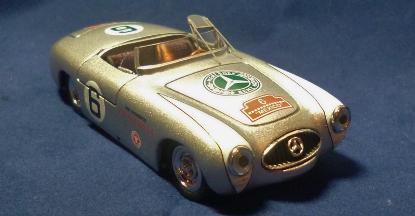 1952 Mecedes-Benz W194 300SL
1/43rd scale NewRay kit.
The W194 sports racing car was designed and built in 9 months. Many of the parts came from the company's newest 300 series car; a decidedly unsporting design! It didn't stop Rudolph Uhlenhaut and his team from designing a car that would be the foundation a 5 year spell of motor racing domination for Mercedes-Benz.
This is the Carrera Pan Americana spyder driven by John Fitch.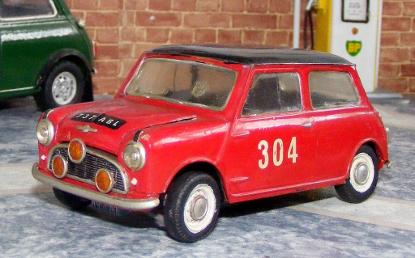 1962 Morris Mini Monte Carlo Rally.
1/32nd scale kit conversion.
Pat Moss, sister of the great Stirling Moss, won the "coupe des dames" in the 1962 'Monte' in a Morris 998 Mini, reinforcing not only the Mini as a car to be reckoned with but also that she to was as competitive as her brother.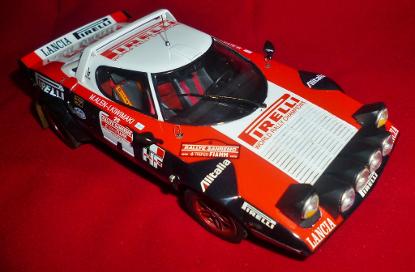 1978 Lancia Stratos HF "Rallye Sanremo winner".
1/24th scale Hasegawa kit.
The Tipo 829 Stratos was an immediate hit and became almost unbeatable in the 1970s. It's list of wins covers almost all the great rallys, and the cars ran at the Le Mans 24hr endurance race as well as in Group 5 racing.
Despite rule changes that actually reduced the engine power the Stratos could use and virtualy no development in its final few years the Stratos remained competitive and able to win into the 1980s. It is without doubt one of the most iconic rally cars ever built.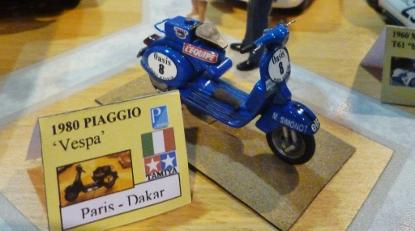 1980 Piaggio Vespa 200e "Paris-Dakar".
1/24th scale Tamiya kit conversion.
Probably not the first mode of transport you might think of for a Paris-Dakar rally challenge but in the end the little Vespa proved that, at least statistically speaking, you have a better chance of finishing the 'Dakar' on a Vespa than in any four wheeled vehicle.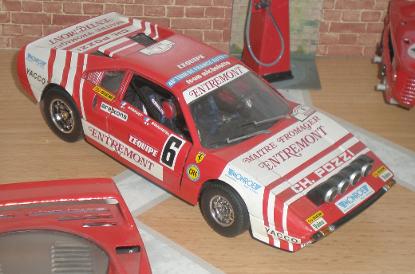 1981 Ferrari 308GTB
1/24th Bburago kit.
By the 1970s Ferrari had reduced there direct motorsport activity to Formula One and had little interest in other forms of motorsport. If they were to be involved in motorsports then it would be reasonable to assume they would favour sports car and endurance racing over rally eventing.
However Ferraris could be raced by privateers where ever the individual felt they could be used and it was just such a venture that led to the victory in the 1981 "Tour de France auto" by French Rally driver Jean-Claude Andruet.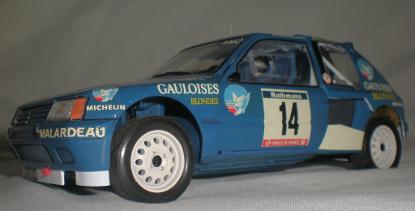 1985 Peugeot 206 T16 'Tour de Course'
1/24th scale Heller kit, super detailed.
The 205 is often credited with saving Peugeot's fortunes, before the 205 Peugeot was a conservative company preferring to build large saloons like the 504 and 505. The idea of the 205 came with Peugeot's 1978 buy out of Simca who had necessary experience in producing small cars. This gave Peugeot an option into the new hatchback market. A GTI version followed with, 1.6-litre and 1.9-litre, in-line four cylinder engines gave an excess of power. Peugeot spent time and money making sure the chassis could handle the power, making the 205 GTi one of the very best hot hatches of all time. Many motoring experts said The 205 GTI was the first front wheel drive car to be as rewarding to drive hard as any equivalent rear-wheel drive car.
2000 Fiat Punto Rallye
1/24th scale Racing43 kit.
The Fiat Punto supermini has been produced by Fiat since 1993 and is now in its third generation. It has always been popular with amateur racers, due to its low cost and the wide availability of spare parts, but several homologated competition versions have also been produced; like the Punto Rallye.
Our car represents a competitor from the 42nd Rallye San Remo, the Rallye d'Italia, 12th round of the FIA World Rally Championship.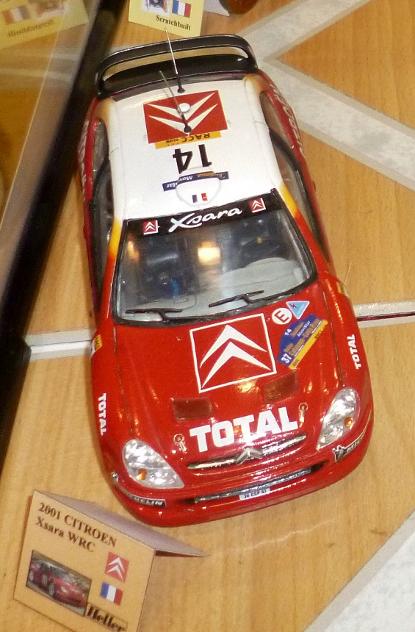 2001 Citroen Xsara WRC
1/24th scale Heller kit.
From 1998 changed it's focus from the endurance rallies to the shorter stage 'sports' rallies; starting with the French Rally Championship. The company they used was the 280hp, 2L engine, in the Xsara kit car and found they were very competitive.
Philippe Bugalski took the drivers titles in 1998 and 1999 followed by Sébastien Loeb winning in 2001, a very promising transfer into this sphere of the sport.
For 2001 Citroën moved up to the World Rally championship competing in selected events with the new Xsara T4 WRC. Again they had good results. Jesús Puras won in Corsica and Sébastien Loeb finished 2nd in his debut WRC rally in a San Remo.
2010 Ford Fiesta S2000
1/24th scale Belkits kit.
The Super 2000 challenge series in Rallying and touring cars was part of the FIA's push to reduce the costs of motor sport. Ford/M-sport's Fiesta S2000 went from the drawing board to running in a rally stage in just nine months and not only suited the then current S2000 and IRC regulations but was expected to form the basis of Ford's WRC challenge in the coming years, which it did.
The Fiesta S2000's competition debut was at the 2010 Monte-Carlo Rally in January of that year, and it led from start to finish. M-Sport went on to deliver 22 Ford Fiesta S2000 rally cars to customers as far flung as Finland, the Czech Republic, Ireland, Spain, South Africa, Poland, Portugal, Abu Dhabi and Italy.
Like Rallying itself this page will continue to evolve as more rally models are built, please come back and see how the collection grows.
If you would like to suggest a model you would to see in this collection feel free to e-mail us at,
rodian-mmim@hotmail.co.uk